2020 Upper Deck Goodwin Champions defines itself by not defining itself. The all-encompassing brand returns with a checklist spanning a variety of sports, history, literature, entertainment, pop culture, science and cats. In short, it's eclectic.
Once again, hobby boxes deliver three hits. Even these show variety. While autographs and memorabilia cards are among them, historical relics and manufactured patches are also mixed among them.

2020 Upper Deck Goodwin Champions Base Set Basics
Goodwin Champions has carved out a niche by covering lots of sports, both mainstream and far from it. The base set has 100 regular cards.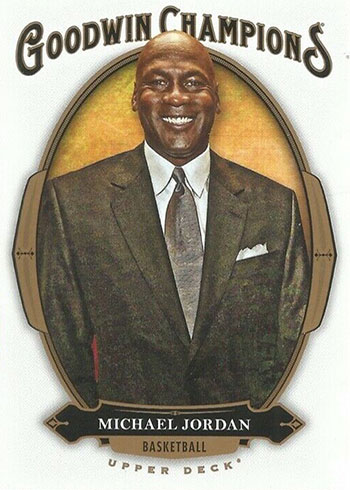 Following these are 50 additional Splash of Color short prints, which land approximately 1:4 hobby packs.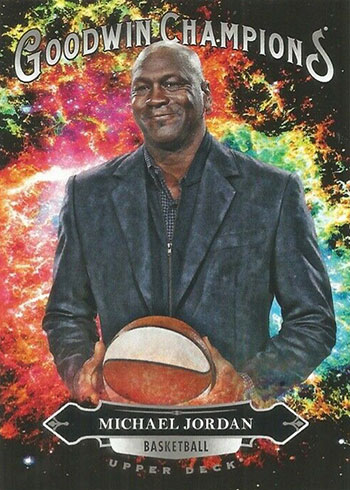 Base parallels stick with a mini format that has been in place for years. Regular Mini cards are 1:4 packs while Wood Lumberjack versions are 1:20. Black Wood Lumberjack Mini cards rank among the rarest in the product with each numbered to 8.
Splash of Color Lenticular parallels double as the UD Bounty program for 2020 Goodwin Champions. Those that finish the set are eligible for exclusive cards. Lenticular cards come in three tiers of rarity: Level 1 (1:40 packs), Level 2 (1:200) and Level 3 (1:800).
2020 Upper Deck Goodwin Champions Autographs
2020 Upper Deck Goodwin Champions has a variety of on-card autograph inserts.
Goodwin Autographs (1:50 hobby packs) lead the way with a checklist that's as varied as the base set. Signers include a couple of baseball's top prospects, Jasson Dominguez of the New York Yankees and Tampa's Wander Franco. Joe Burrow, the first overall pick in the 2020 NFL Draft is in the set. In basketball, Jalen Green, a possible top pick in the 2020 NBA Draft signs. Among the other signatures are 2019 U.S. Open winner, Bianca Andreescu, and Alex Morgan and Rose Lavelle of the U.S. Women's National Soccer Team. For wrestling, there's Mark Henry and writer Vince Russo, who helped oversee a lot of WWE's Attitude Era. Reaching into the broader realm of pop culture are Danny Trejo, Big Boi and a couple of Jeopardy greats, Ken Jennings and James Holzhauer.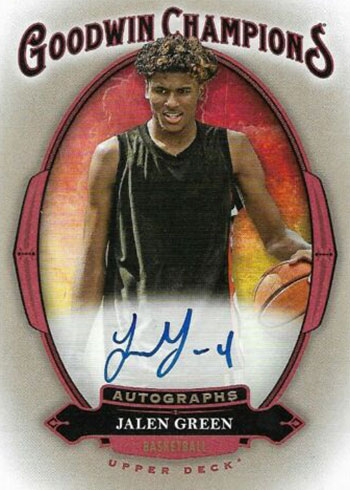 Putting different spins of these signatures are Horizontal Autographs (1:180) and numbered Inscriptions. Select cards also have Splash of Color Autographs.
Goudey Autographs are 1:480 packs. Sticking with the Goudey theme and even tougher are Sport Royalty (1:8,000) and Sport Royalty Dual Autographs (1:25,000).
Exquisite Collection Signature Kicks (1:8,767) combine pieces of sneakers with on-card autographs. Swatches in these are all considered premium pieces by Upper Deck and match the brand of the featured star. These are not game-worn sneaker pieces, though. Signature Kicks subjects include LeBron James, Ben Simmons, Jasson Dominguez, Megan Rapinoe, Alex Morgan and more.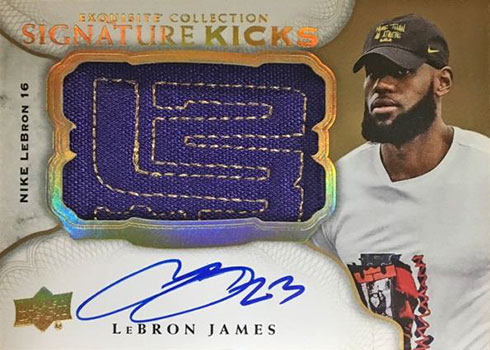 Genuine Hero Signatures (1:400) are back for another year, giving attention to real-world heroes who have made a positive impact through their service.
Memorabilia Cards
Many of the memorabilia cards in 2020 Upper Deck Goodwin Champions carry over from autograph inserts, only with swatches instead of signatures. The most straightforward of these are Goodwin Memorabilia (1:40). There are also Dual Swatch (1:300) and Splash of Color (1:600) versions. All of these sets also have Premium parallels.
Goudey Memorabilia (1:300) are joined by Sport Royalty (1:1,520) and Sport Royalty Dual (1:2,880) cards along with corresonding Premium versions.
Michael Jordan gets his own set of memorabilia cards with Jordan's Curtain Call Relics. Each of these have a piece of Chicago Stadium and a highlight from his final game there. These cards are tough with just 23 copies each. The final card in the set also has an autograph.
Memorabilia cards go beyond traditional materials. Aesop's Fables Illustration Relics (1:2,400) have cuts from vintage books.
New Heads of State cards (1:70) spotlight 50 world leaders from history. Each card has a vintage stamp embedded in it.
Museum Collection cards take on a space theme with a couple of varieties of cards, Space Relics (1:800) and Apollo 11 Film Cel Relics (1:7,013).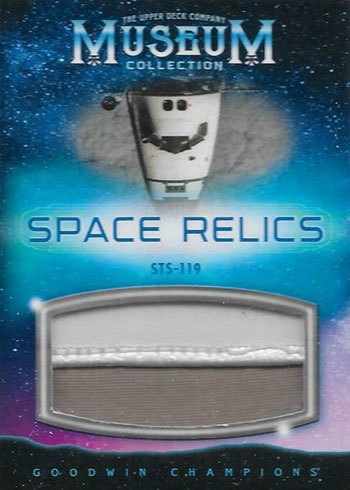 Money comes into play with Historic United States Currency Relics (1:1,245).
Additional Inserts
Goudey Collection cards highlight 50 athletes and personalities. Falling 1:4 packs, they're among the easier parts of the 2020 Upper Deck Goodwin Champions checklist to put together.
Manufactured patch sets have been a Goodwin cornerstone for years. This time around, there are two themes to chase. First are Cat Collection Patch cards, which highlight different types of felines. As usual, not all are available in equal quantities. In fact, there are five tiers: Level 1 (1:100), Level 2 (1:360), Level 3 (1:800), Level 4 (1:1,400) and Level 5 (1:7,500).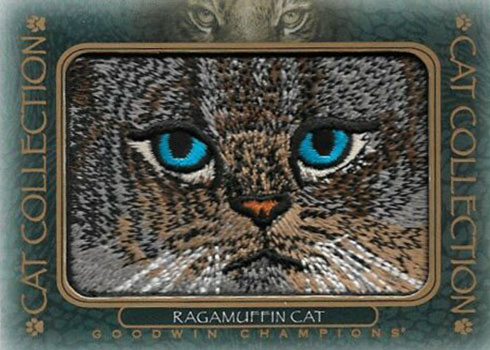 The other manufactured patch set takes a deep dive with a Sea Creatures theme. Also offered in five levels of rarity, odds range from 1:180 to 1:10,000 packs.
Between both sets, manufactured patch cards land approximately every other hobby box.
In addition to the Illustration Relics, Aesop's Fables also get Sketch Booklets (1:640) and Dual Sketch Booklets (1:1,920). These all have original artwork.
Fanimation, which has been a surprise insert set for the last couple of years in hockey, makes the jump to 2020 Upper Deck Goodwin Champions. Like hockey, these are extremely tough at 1:2,540 hobby packs.
2020 Upper Deck Goodwin Champions trading cards at a glance:
Cards per pack: 5
Packs per box: 20
Boxes per case: 16 (two 8-box inner cases)
Set size: 150 cards
Release date: July 22, 2020
Shop for 2020 Upper Deck Goodwin Champions boxes on eBay:
What to expect in a hobby box:
Autographs, Memorabilia Cards, Relics or Manufactured Patch Cards – 3 Total
Mini Cards – 7
Goudey – 5
Splash of Color Short Prints – 5
2020 Upper Deck Goodwin Champions Checklist
Base
Autographs
Memorabilia
Inserts
Updates