Keep Goodwin weird: An interview with Upper Deck's Grant Sandground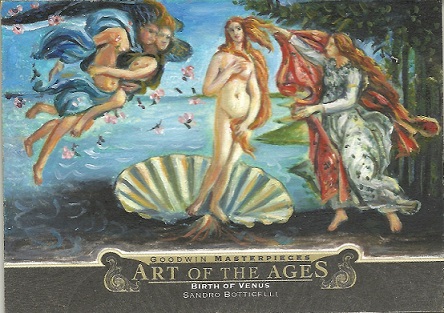 By Susan Lulgjuraj | Beckett Sports Card Monthly Editor
Upper Deck's Grant Sandground has been in the card industry for nearly 20 years. He's worked at a card shop. He worked at Beckett and now he's Upper Deck's Director of Product Development.
And none of his work experiences quite compare to creating Goodwin Champions.
"To me, it's the most fun product I work on every year," Sandground said. "The landscape we have to work with is so open. I enjoy being able to offer collectors something that they have never really seen before or trying to pursue before."
This year's version of Goodwin Champions includes the ever-popular Animal Kingdom Patch cards. It also expanded on art cards by having 3-by-5-inch cards that were actually painted – no reprints here. The Art of the Ages were an inspired attempt to bring something different to the product, and based on the reaction, it seems Upper Deck achieved it.
Related: Art of Ages cards sell for hundreds on secondary market
"I had great concerns that we could pull it off," Sandground said. "I was thinking there is no way I am going to let them pack out if it's horrible"
With 298 cards on the checklist, it seems to have worked out.
"I have been involved in trading cards my whole life," Sandground said. "When we saw the finished product come in, I could comfortable say they were the coolest cards I have ever seen. Internally, everyone who worked on this project, I don't think I have ever seen them so excited. We were all pinching ourselves."
Upper Deck employed about 10 artists to create the Art of the Ages cards that included such masterpieces as the Mona Lisa or Creation of Adam – iconic pieces of art that people the world over recognize.
But some art aficionados may have noticed some key pieces missing from the massive checklist. That's because Sandground says there is a good possibility the art set returns for next year's release.
"We definitely left out some significant paintings in the idea this would be a multiple-year thing," Sandground said.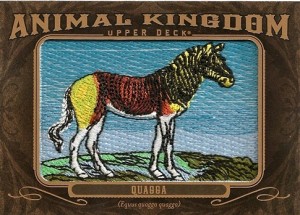 However, when you talk about Goodwin Champions, there is no way you can stop at the art cards. You have to go back to 2011, the start of the Animal Kingdom patch cards.
No one at Upper Deck predicted what would happen. Card prices exploded on the secondary market with some of the rarest cards selling for thousands of dollars. This reaction on the marketplace even took some of the most devout sports collectors by surprise.
Year after year, the Animal Kingdom cards are still some of the most popular. Upper Deck bases the rarity of the cards with their presence in nature – extinct creatures are the toughest pulls.
Initially, Sandground said he would be happy to see one of the cards sell for around $60. His sights were too low. He was pleasantly shocked when the first cards to hit eBay sold for more than $1,000.
So, why are these manufactured patch cards so popular?
"I have thought about this for a while and spoke about it to a lot of people," Sandground said. "In talking to the people who collected these things, it's the significant others. Most collectors are male between 30 and 60 years old. Their significant others often don't have interest. We tried to make cards our core consumers can show to kids or spouses. Then they were interested and said maybe you can collect those for me."
Goodwin also channels an otherworldly feel. It contained pictures from the Hubble telescope and actual meteorites. This year, Goodwin contains redemption cards for elements such as Boron, Silver and Zirconium. These cards are still being completed as the card production team puts them together in resin protection.
"The element relics play on theme with outer space stuff," Sandground said. "It goes into topics bigger than sports."
But sports are still a huge part to Goodwin Champions and its autograph checklist. The autos include people like Allen Iverson, Muggsy Bogues, Carl Lewis, Carly Patterson, Ernie Els, and Tony Hawk – going through a large range of sports.
O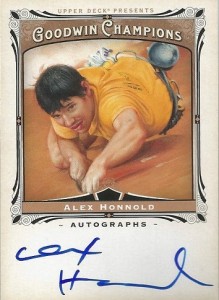 ne of Sandground's favorite autographs is of Alex Honnold, a 27-year-old free solo rock climber. He has been featured on 60 Minutes and National Geographic. Honnold is not the typical autograph collectors seek (his cards on eBay are inexpensive), but that's also what makes Goodwin Champions unique, Sandground said.
"His 60 Minutes piece will blow you away," Sandground said. "He climbs without ropes. It took us two years to track him down. His cards sell for a few dollars, but that's not the point. He's just doing amazing things."
What's next for Goodwin Champions?
In that regard, Sandground is keeping quiet, but has already started working on next year's product.
"Goodwin is such an oddball product that allows us a canvas to put anything out there," Sandground said. "We have a saying here at Upper Deck 'keep Goodwin weird.'"
Susan Lulgjuraj is an editor of Beckett Sports Card Monthly. You can email her here with questions, comments or ideas. Follow her on Twitter here. Follow Beckett Media on Facebook and Twitter.