Canadian Hobby Shop of the Week: 306 Sports Cards (Saskatoon, SK)
Paul and Stephanie Houk joined the world of sports card breaking online and fell in love with the community and process. Wanting to make things even better, they started their own group, 306 Sports Cards. The breaking eventually led to ownership of a brick and mortar shop. I recently caught up with Paul and Stephanie to discuss their shop and how they have transitioned from breaking to a physical shop.
Canadian Hobby Shop of the Week is brought to you by Universal Distribution, Canada's premier distributor of CCG's, sports cards and non-sports cards, trading card games, role-playing games, comics, toys, figurines and more.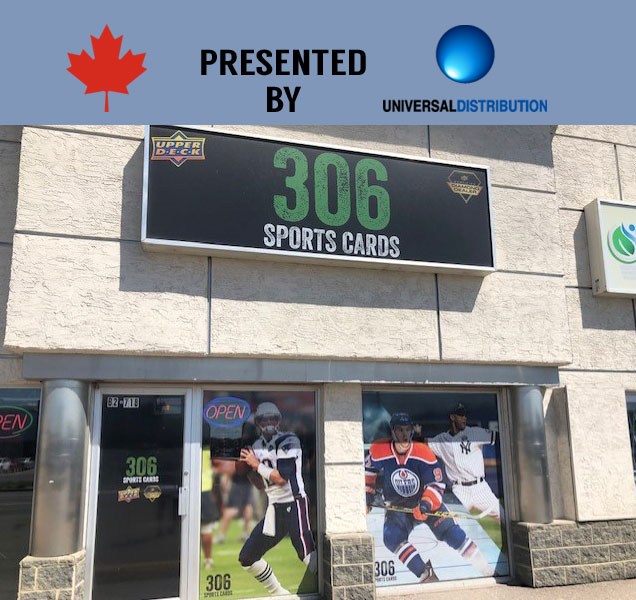 JOEY SHIVER – Thanks for taking the time to talk with us Paul and Stephanie. Can you tell us a little about your collecting background and what led to your decision to open your shop?
STEPHANIE HOUK – Paul has been collecting cards since he was a kid and never lost his passion for the hobby. We became introduced to group card breaks though Facebook. Paul was hooked and his love and excitement for collecting hockey cards was rekindled. During this time, we also uncovered that the group break setting had its flaws. Once after participating in a group card break, we did not receive the cards pulled. That moment changed everything and Paul became dedicated to starting his own group break community built on authenticity and trust.
In our personal lives, we were struggling after our daughter was diagnosed with a non-cancerous brain tumor. The drive to open a card shop grew as we attempted to manage our careers, shift work and medical appointments. The shop became a reality with the success and support of the incredible 306 community. We are forever humbled and grateful for the opportunity to serve them.
Our collection is currently being listed on eBay. Check us out at 306sportscards on eBay to see what we have in stock.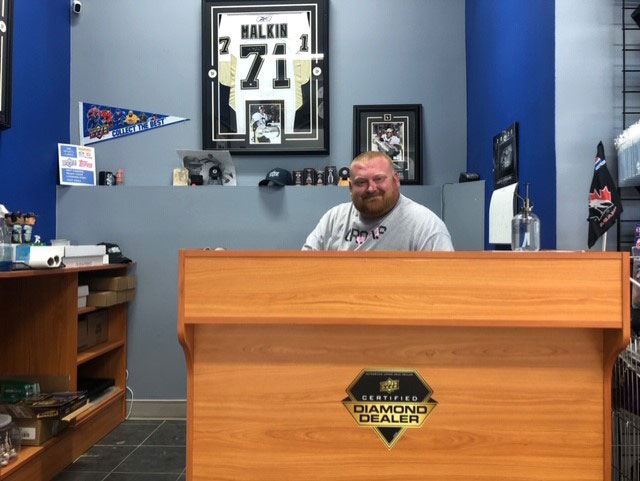 JS – Can you tell us a little about your store; your setup and what type of inventory you carry?
SH – Currently, most of our inventory is Upper Deck hockey. We carry a variety of years ranging from the '90s right up to 2020. While other sports are becoming increasingly popular, we attempt to bring in anything allocated to us by our distributor.
Our store set up has display cases to help our customers easily see what is available, including single packs. We carry all card collecting supplies and have been bringing in more memorabilia. We are a small store with a big heart.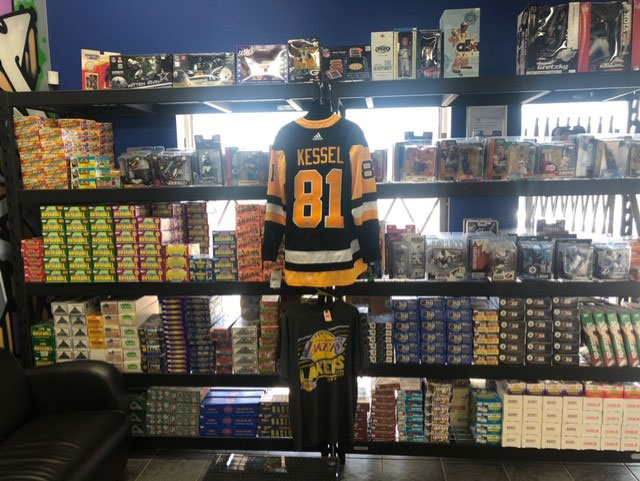 JS – While you have been closed during the COVID Pandemic, you recently reopened. Can you tell us a little about the challenges and what you have done to stay in contact with customers during this time?
SH – Throughout the pandemic, we examined every aspect of our business in order to keep our customers, staff, and ourselves safe. This included limiting the number of staff handling and shipping product. As a result, we were forced to work harder, smarter and safer. It saddened us to close our doors but the support from our online community was undeniably overwhelming. Social media has helped us connect with collectors when physical distance kept us apart.
JS – While you carry a variety of sports cards, what have been the most popular and in-demand in 2020?
SH – Black Diamond is by far one of most popular products we offer online. This year we hit a huge milestone in breaking 500 inners of Black Diamond. While we pride ourselves on the ability to carry all the latest Upper Deck hockey products, in 2020 we have definitely seen an influx of interest in basketball, baseball, football, and even soccer.
JS – You are located in Saskatoon and you are surrounded by Edmonton, Calgary, and Winnipeg. When it comes to the "Home Team," who would you say your collectors focus on in various sports?
P&SH – Our local community is stacked with CFL fans. Here in Saskatchewan, Rider Pride is #1! When it comes to hockey, we have noticed a lot of Edmonton Oilers collectors. Everyone is after Connor McDavid. The thing about collecting is, each customer has their own favorites. That's what excites us most about collectors, we get to build unique relationships with them based on their areas of interest.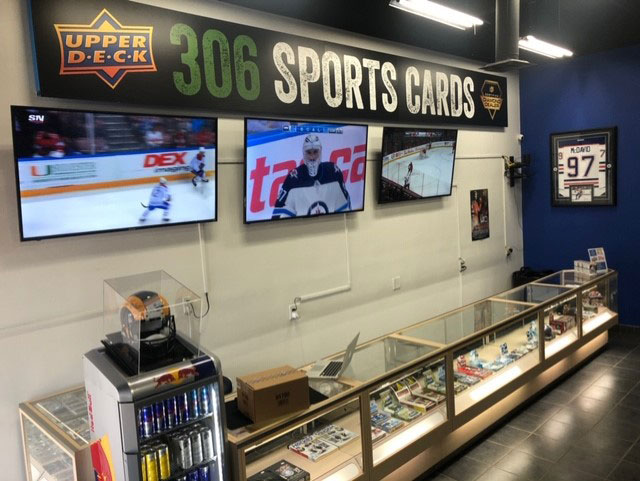 JS – How important is social media when it comes to running a small business?
SH – Social media is probably the most important aspect of our business, especially after the pandemic hit. Social media allows us to connect with our customers and increase awareness about our brand. With more than 3 Billion people around the world using social media platforms monthly, it's a no brainer.
JS – I see that you have a breaking component to the shop as well. How have customers responded to the 306 sports card group on FB?
SH – Our business started a bit backwards. We were involved in group card breaks and after that was established, we decided to open up shop. Our local customers love coming into the shop and watching breaks in person! Our online customers have helped us build a community of collectors through the Facebook group and word of mouth. We honestly can't say enough about the undeniable support of the group breaking community.
JS – In closing, can you tell us about any sales or upcoming in-store events you have scheduled for the next couple of months?
SH – While COVID has put a restraint on the number of people we allow into the store at one time and our upcoming events, we have been getting creative. We are saddened that we won't be able to fill the store this year on National Hockey Card Day. We love snapping pictures of all the local kids eating their free pizza and ripping packs.
Prior to the pandemic, we donated all of our opened/empty hockey tins to local minor hockey leagues and filled them with base cards. Now that things have changed, anyone can pop in with their kiddos and grab a tin. We love giving back to the Saskatoon and surrounding community!
We always have giveaways on our breaking group 306 Sports Cards Ltd. on Facebook. Currently we are giving away two monster jerseys in the group. Our future plans include mystery box giveaways on Facebook and Instagram. Follow us at 306 Sports Cards on either platform to get involved.
306 Sports Cards LLC.
Paul and Stephanie Houk
(306) 979-2273
718 Circle Dr. E
Saskatoon, SK
Facebook