2019-20 Upper Deck Series 1 Hockey Easter Eggs and Surprises
When is a surprise not really a surprise? When it comes to unannounced inserts in a major Upper Deck hockey card set. The 2019-20 Upper Deck Series 1 Hockey Easter Eggs come in several forms, mixing the familiar, new spins on popular inserts and a nods to 30 years of the flagship line.
Here's a look at what to be looking for in 2019-20 Upper Deck Series 1 Hockey that weren't on the company's original checklist.
2019-20 Upper Deck Series 1 Hockey Easter Eggs
Variations
Variations return, bringing with them short print versions of base cards that have a different photo than the regular base card.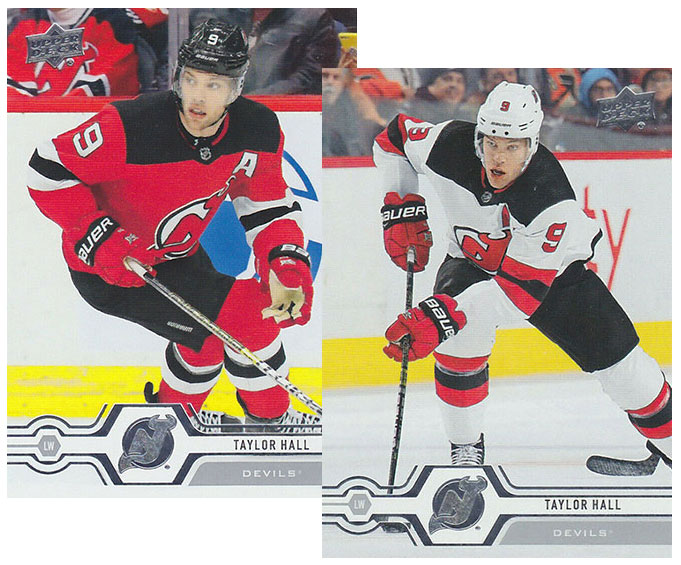 Curious who has them and how to tell them apart? We've got a gallery for that.
Fanimation
For the second year in a row, illustrated Fanimation inserts are an unannounced inclusion. The cards, which are printed on canvas-style stock, use illustrations to showcase players and the cities they play for.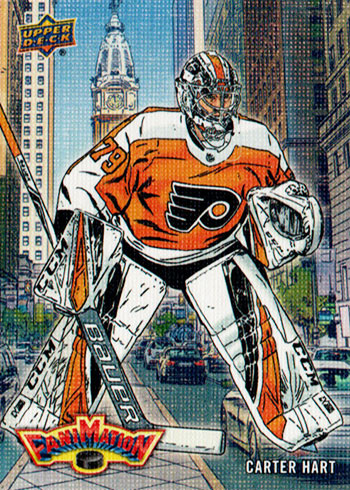 While a comparison to Panini's Downtown inserts can be made, Fanimation cards can be traced back to 1992 Upper Deck Football. Thematically, they were different back then as players were portrayed as super heroes, but the illustration idea was there from the start.
F-1 Rasmus Dahlin, Buffalo Sabres
F-2 Mitch Marner, Toronto Maple Leafs
F-3 Andrei Svecnhnikov, Carolina Hurricanes
F-4 Mikko Rantanen, Colorado Avalanche
F-5 Artemi Panarin, Columbus Blue Jackets
F-6 Ryan O'Reilly, St. Louis Blues
F-7 William Karlsson, Vegas Golden Knights
F-8 Leon Draisaitl, Edmonton Oilers
F-9 Chris Kreider, New York Rangers
F-10 Elias Pettersson, Vancouver Canucks
F-11 Jamie Benn, Dallas Stars
F-12 Brent Burns, San Jose Sharks
F-13 Zach Parise, Minnesota Wild
F-14 Oliver Ekman-Larsson, Arizona Coyotes
F-15 Anze Kopitar, Los Angeles Kings
F-16 Carter Hart, Philadelphia Flyers
Clear Cut Exclusives
The hobby-only Clear Cut parallels have a parallel of their own in Clear Cut Exclusives. These are also printed in acetate but have an Exclusive banner added. Unlike regular Exclusives parallels, these don't have serial numbers.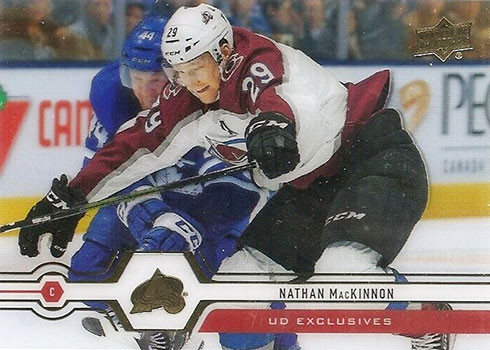 30th Anniversary Stamped Buybacks
The 2019-20 Upper Deck Series 1 30th Anniversary Buybacks take original cards from the flagship line and give them a special stamp. Cards go back as far as 1990-91 and Perhaps even more attractive to a lot of collectors is the fact that all are one-of-ones.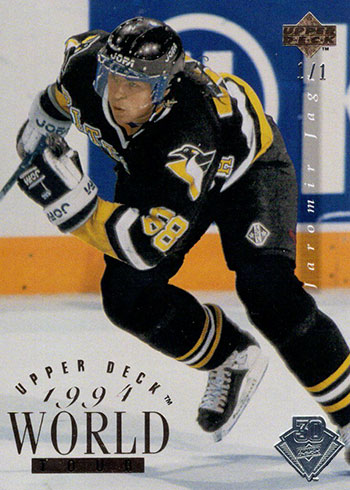 Upper Deck has not announced how tough any of the 2019-20 Upper Deck Series 1 Easter Eggs are to pull or their print runs.