Never tell me the odds: 2011 Goodwin Champions autographs & memorabilia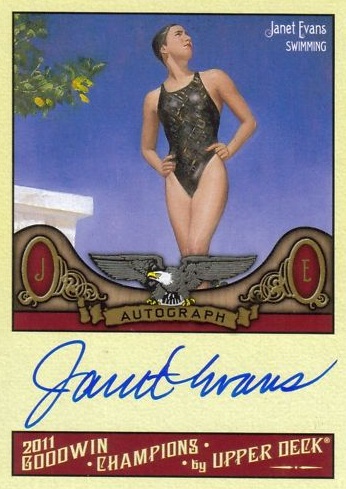 By Chris Olds | Baseball Editor
This year's Goodwin Champions set from Upper Deck has arrived packing a ton of athletes from all sports into its packs.
The eclectic mix includes plenty of autographs and memorabilia as well as some other surprises. We'll have more in a future Box Busters, but the company did release odds and groupings for its autographs, which might come in handy for some wondering what's tough and what's not.
There are some tough pulls out there — that might not seem like it on the auction block. Unlike Han Solo, you might want to know the odds so you can find a steal or two.
See it all after the jump…
AUTOGRAPHS (overall odds 1:20 hobby; 84 total cards)
GROUP A (1:1,577 hobby)
A-AO Alexander Ovechkin
A-DR David Robinson
A-FR Walt Frazier
A-GH Grant Hill
A-JB Johnny Bench
A-LB Larry Bird
A-MA Magic Johnson
A-NR Nolan Ryan
A-OL Hakeem Olajuwon
A-RC Randy Couture
A-RD Derrick Rose
A-TW Tiger Woods
GROUP B (1:729 hobby)
A-CF Carlton Fisk
A-HA Mia Hamm
A-IL Igor Larionov
A-JA Bo Jackson
A-JT John Tavares
A-LO Lou Brock
A-MU Stan Musial
A-PA Chris Paul
A-RO Dennis Rodman
A-RS Ryne Sandberg
A-WF Whitey Ford
A-WG Wayne Gretzky
GROUP C (1:339 hobby)
A-AB Amanda Beard
A-BM Bode Miller
A-BO Jon "Bones" Jones
A-BW Bill Walton
A-CA Steve Carlton
A-CN Cam Neely
A-HO Gordie Howe
A-LD Landon Donovan
A-LJ LeBron James
A-MJ Michael Jordan
A-MM Manny Machado
A-MW Michelle Wie
A-SC Sidney Crosby
GROUP D (1:246 hobby)
A-AS Annika Sorenstam
A-GL Greg Louganis
A-JM Julia Mancuso
A-JR Jim Rice
A-NL Nastia Liukin
A-OR Bobby Orr
A-RL Ryan Lavarnway
A-TP Tony Perez
A-WA Bubba Watson
GROUP E (1:72 hobby)
A-AW Abby Wambach
A-BE Layne Beachley
A-BL Bill Laimbeer
A-CP Candace Parker
A-DH Damien Hobgood
A-HS Hope Solo
A-HW Hayley Wickenheiser
A-LP Laffit Pincay Jr.
A-LW LeVon Washington
A-MD Matt Danowski
A-ML Johnny Miller
A-OC Dennis "Oil Can" Boyd
A-PR Paul Rabil
A-SM Mike Smith
A-SP Mark Spitz
A-TG Tyson Gay
A-TH Tim Hardaway
GROUP F (1:35 hobby)
A-AA Amber & Angela Cope
A-BS Billy Sims
A-CG Cammi Granato
A-CH Cody Hawn
A-CJ C.J. Hobgood
A-GB Gretchen Bleiler
A-HM Hunter Mahan
A-JE Janet Evans
A-JG Jonathan Garcia
A-JL John Lamb
A-JO Marion Jones
A-KK Kasey Keller
A-KV Kolbrin Vitek
A-LI Brittany Lincicome
A-MO Mike Olt
A-PE Carlos Perez
A-PL Pierre Lueders
A-PT Peter Tago
A-RM Ramon Morla
A-RY Robinson Yambati
A-YV Yordano Ventura
MEMORABILIA (overall 1:13 hobby; 51 cards)
GROUP A (1:14,613 hobby)
M-FDR Franklin Delano Roosevelt
M-HT Harry Truman
M-TR Theodore Roosevelt
GROUP B (1:179 hobby)
M-CD Clyde Drexler
M-DR David Robinson
M-JL Julius Erving
M-RD Dennis Rodman
M-RO Derrick Rose
M-SC Sidney Crosby
M-SY Steve Yzerman
M-TW Tiger Woods
M-WG Wayne Gretzky
GROUP C (1:31 hobby)
M-AI Troy Aikman
M-AM Alonzo Mourning
M-AO Alexander Ovechkin
M-AW Abby Wambach
M-BS Barry Sanders
M-EH Earl Campbell
M-GH Grant Hill
M-OL Hakeem Olajuwon
M-HO Hope Solo
M-JE John Elway
M-JM Johnny Miller
M-JO Magic Johnson
M-JR Jerry Rice
M-LB Larry Bird
M-LJ LeBron James
M-MD Matt Danowski
M-ME Mark Messier
M-MJ Michael Jordan
M-ML Mario Lemieux
M-PR Paul Rabil
M-RY Patrick Roy
M-YO Steve Young
GROUP D (1:22 hobby)
M-BJ Bo Jackson
M-CN Cam Neely
M-CP Chris Paul
M-DD DeWayne DeRosario
M-EL Eric Lindros
M-IL Igor Larionov
M-KK Kasey Keller
M-KS Kyle Skipworth
M-LD Landon Donovan
M-MC Michael Choice
M-MH Hunter Mahan
M-MM Manny Machado
M-NG Natalie Gulbis
M-PT Peter Tago
M-RB Ray Bourque
M-RW Russell Westbrook
M-TA John Tavares
MEMORABILIA DUAL-SWATCH VARIATIONS (overall 1:320 hobby; 11 cards)

GROUP A (1:87,680 hobby)
M2-TR Theodore Roosevelt
GROUP B (1:8,768 hobby)
M2-TW Tiger Woods
GROUP C (1:2,923 hobby)
M2-AO Alexander Ovechkin
M2-SY Steve Yzerman
GROUP D (1:877 hobby)
M2-JE John Elway
M2-LD Landon Donovan
M2-MJ Michael Jordan
M2-SC Sidney Crosby
GROUP E (1:585 hobby)
M2-JM Johnny Miller
M2-LJ LeBron James
M2-MM Manny Machado
MUSEUM COLLECTION RELICS (overall 1:2,237 hobby; nine cards)
GROUP A (1:54,800 hobby)
MR-AL Abraham Lincoln (Desk)
MR-AO Annie Oakley (Gun Handle)
MR-WHP The White House (Plaque)
GROUP B (1:16,237 hobby)
MR-NB Napoleon Bonaparte (Chair)
MR-WHB The White House (Wood)
GROUP C (1:6,959 hobby)
MR-LBJ Lyndon B. Johnson (Jacket)
MR-LN Lord Horatio Nelson (Battle Flag)
MR-SS Spirit of St. Louis (Medical Gauze)
GROUP D (1:4,473 hobby)
MR-EV Edward VIII (Handkerchief)