2020 Panini Contenders Draft Picks Football Checklist and Details
2020 Panini Contenders Draft Picks Football is a lot like its NFL counterpart. Autographs are the star, although there are other elements on the checklist as well. This set is all about college, though, showcasing the 2020 draft class as well as past and present stars from their school days.
Hobby boxes come with six autographs while retail blasters promise two.
2020 Panini Contenders Draft Picks Football Overview
2020 Contenders Draft Picks kicks off with its base set Season Tickets. This is where collectors will find veterans and retired stars in their college uniforms.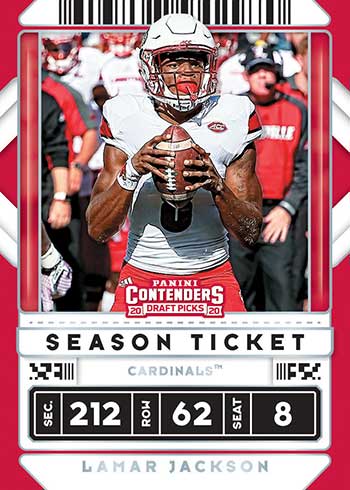 Parallels come in a variety of versions including Cracked Ice, a Contenders staple no matter the set, and Printing Plates. Retail fat packs are the only place to find Green parallels. If you're looking for Blue parallels, they're in blasters at a rate of approximately one per box.
Leading the signatures are RPS College Tickets. These have on-card ink from top prospects heading into the draft. The parallel lineup has several additional levels like Playoff Ticket, hobby-only Bowl Ticket, Cracked Ice Ticket, Diamond Ticket, Building Blocks Ticket and Championship Ticket.
College Tickets take the checklist even deeper as far as prospects and autographs go.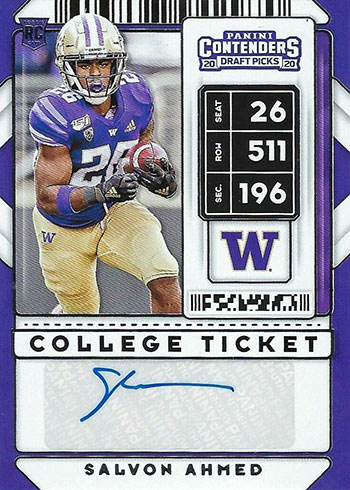 Circling back to the main base set, Season Ticket Signatures highlight such players as John Elway, Peyton Manning and Tim Tebow.
Other autographs include dual Collegiate Connections Signatures, School Colors Signatures and Game Day Ticket Signatures.
2020 Panini Contenders Draft Picks Football cards at a glance:
Cards per pack: Hobby – 18, FOTL – 18, Blaster – 6, Fat Pack – 18
Packs per box: Hobby – 6, FOTL – 6, Blaster – 7, Fat Pack – 12
Boxes per case: Hobby – 12, FOTL – 12, Blaster – 20, Fat Pack – 20
Set size: 320 cards.
Release date: May 29, 2020
Shop for 2020 Panini Contenders Draft Picks Football boxes on eBay:
What to expect in a hobby box:
Autographs – 6
Inserts and Parallels – 30 Total
What to expect in a 1st Off the Line box:
Autographs – 6
Inserts and Parallels – 30 Total
What to expect in a blaster box:
Autographs – 2
Blue Parallels – 1
Additional Inserts and Parallels – 5 Total
2020 Panini Contenders Draft Picks Football Checklist
Base
Variations
Autographs
Inserts