2021 Panini Contenders Draft Picks Football Checklist and Details
2021 Panini Contenders Draft Picks Football is one of the early sets out of the gate to dig into the year's rookie class, albeit with an entirely collegiate focus.
At the hobby level, autographs remain a big draw. Hobby boxes, which come with six packs, have six signatures. This means there should be one per pack. There's also 36 inserts and a half-dozen parallels per box.

2021 Panini Contenders Draft Picks Football Checklist Overview
The base set sticks with the Season Ticket theme that's been a Contenders cornerstone for years. Regular cards picture veterans from their school days.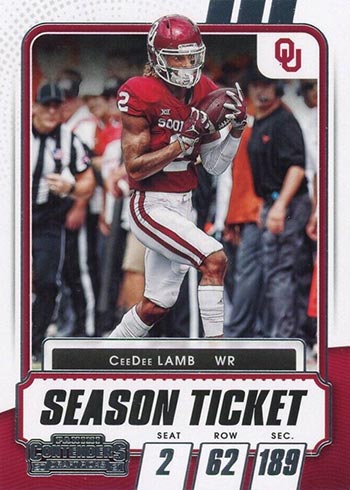 Parallels come in a variety of levels including Cracked Ice.
College Ticket Autographs are where a lot of the key content resides. These are the main cards in the product for the 2021 draft class. Ticket Stub and a variety of chromium Premium Edition cards are among the parallels.
The RPS College Ticket portion of the checklist highlights some of the top prospects heading into the season. Some have on-card autographs.
RPS players also have three additional variation versions. These can be identified on the back with a letter under the photo and next to the year. If this letter isn't present, it's the base autograph.
One of the autographs in 1st Off the Line boxes is an on-card Blue Shimmer parallel numbered to 27.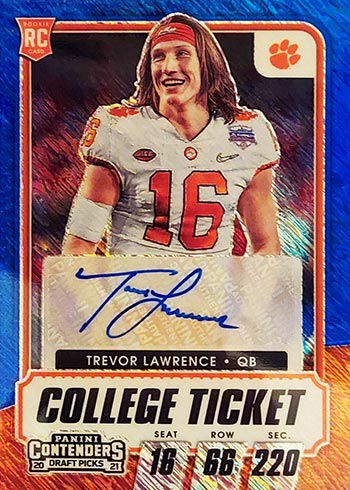 Campus Legends and case-hit Campus ID are among the inserts available in hobby packs.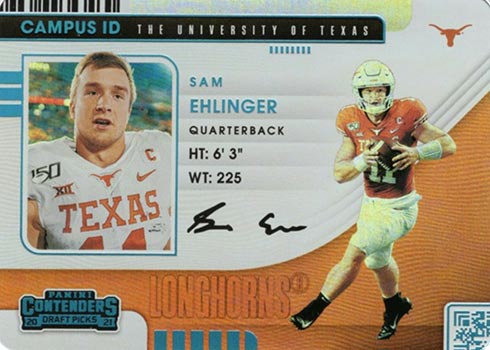 2021 Panini Contenders Draft Picks Football cards at a glance:
Release date: May 28, 2021
Cards per pack: Hobby – 18, 1st Off the Line – 18
Packs per box: Hobby – 6, 1st Off the Line – 6
Boxes per case: Hobby – 12, 1st Off the Line – 12
Set size: 304 cards
Shop for 2021 Contenders Draft Picks Football boxes on eBay:
What to expect in a hobby box:
Autographs – 6
Inserts – 36
Parallels – 6
What to expect in a 1st Off the Line box:
Blue Shimmer Autographs – 1
Additional Autographs – 5
Inserts – 36
Parallels – 6
2021 Panini Contenders Draft Picks Football Checklist
You can also download a customizable spreadsheet copy of the checklist that also includes school info:
Recent Panini Contenders Draft Picks Football sets: