Sports Artist Spotlight: Alvin Fall
It's only been a few months since the final seconds of Super Bowl LIV ticked off the clock, but already the game – won by the Kansas City Chiefs over the San Francisco 49ers – has spawned the favorite piece artist Alvin Fall has completed to date.
"My new favorite piece is my 'SB LIV MVP' painting," Fall says. "The painting depicts Patrick Mahomes and the Kansas City Chiefs winning Super Bowl LIV this past season. What I love most about the piece is that it blends two styles I've been working on. The 22″ x 30″ watercolor with colored pencil overlay painting is a combination of the abstract style I've been using in my new NFL Logo Series and the realism of my colored pencil illustration style."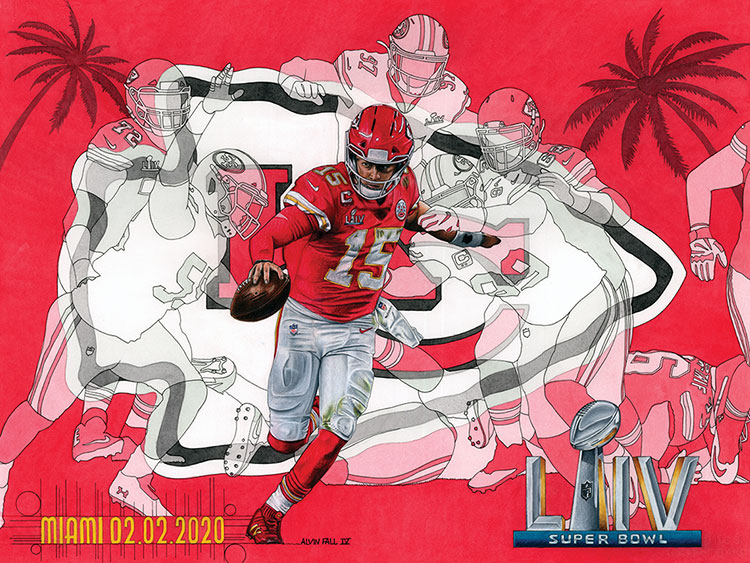 Fall grew up in Loveland, Colo., the son of a lifelong NFL fan. "My father . . . shared his library of vintage NFL Films and stories with me. I grew to love the lore of gritty oldtime players and historical games."
Meanwhile, his mother was a watercolor artist and passed on her talent to her son.
Fall remains influenced from the work of sports artist Daniel M. Smith, whose work has appeared in several Beckett titles. "As a kid I used to buy Beckett to cut out the full page images of D. Smith's airbrush artwork. His attention to detail and his ability to blend and shade, and his realism captured my imagination. His paintings looked like photographs!"
Alvin has officially licensed NFL artwork prints available on through the Deacon Jones Foundation.
He's been commissioned by the Tampa Bay Rays and the University of Arkansas, among others.