2020-21 Upper Deck Marvel Annual Checklist and Details
2020-21 Upper Deck Marvel Annual looks back on a year of comics. Characters are a major focus, but inserts delve into broader themes and happenings. Like recent Marvel Annual sets, this isn't one of the card maker's premium entertainment releases. There are some premium elements on the checklist but as a whole, this set targets a broader audience.
2020-21 Upper Deck Marvel Annual Checklist Overview
The base set has a total of 100 cards. All center on a different character. Parallels include Foilboard Holograms (/49), Holograms (/21) and Printing Plates (1/1).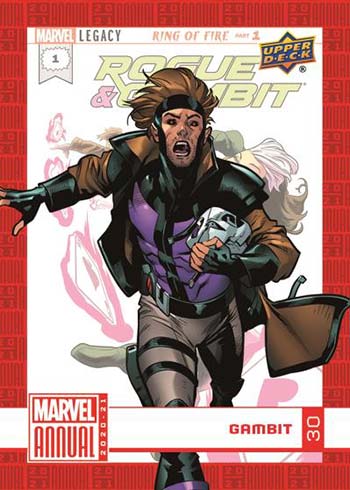 Every pack also has a Variant Cover parallel. Like comics, these use a different piece of artwork. Variant Covers come in four tiers of rarity ranging from 1:1.6 packs to 1:64 pack. Variant covers also have their own Printing Plates.
Inserts
In addition to a Variant Cover card, packs also average one other insert.
Splash-ticular cards lead the way as far as expected box hits. These recreate comic pages using lenticular technology. This gives artwork a 3-D look. Common cards combine to land 1:23 packs. SP (1:64) and SSP (1:256) are also available.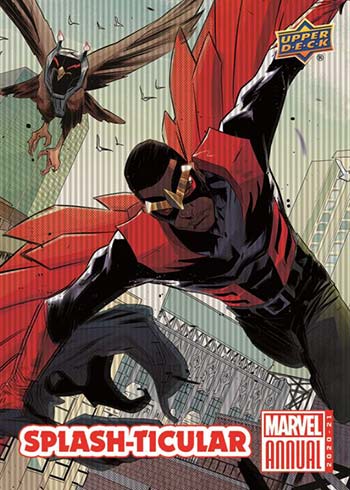 Five Star Rookies (1:10) highlight recent character debuts while Number 1 Spot (25 cards, 1:2) showcase covers from new comics. Other inserts include Humble Beginnings (10 cards, 1:5), which taken a 'then and now' approach to characters, and Annual Impact (10 cards, 1:5).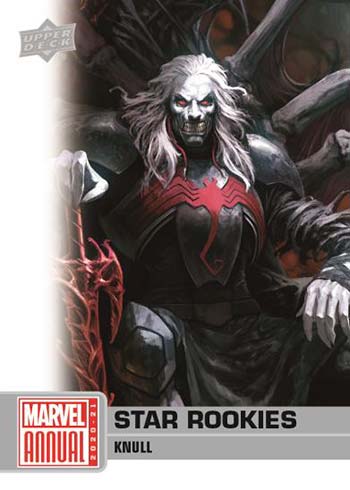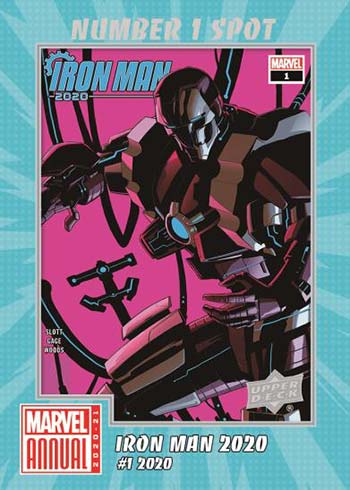 On the autograph front, there's Creator's Corner (10 cards, 1:160), which have signatures from writers and artists.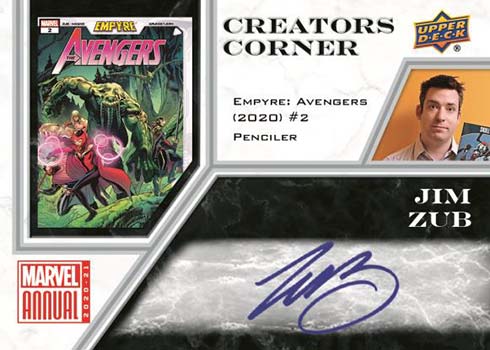 Sketch cards take on two forms. First are standard versions, which land 1:253 packs. Battle Booklet Sketch Cards (1:560) open up to showcase some of Marvel's epic rivalries.
2020-21 Upper Deck Marvel Annual trading cards at a glance:
Cards per pack: 5
Packs per box: 16
Boxes per case: 16 (two 8-box inner cases)
Set size: 100 cards
Release date: January 12, 2022
What to expect in a hobby box:
Splash-ticular – 1
Inserts – 16
Variant Parallels – 16
2020-21 Upper Deck Marvel Annual Checklist
You can also download a customizable spreadsheet copy of the checklist:
Please note that print runs for cards without serial numbers have not been announced.
Recent Upper Deck Marvel Annual releases: