2018 Upper Deck Marvel Annual 2017 Checklist Recaps Year's Biggest Comic Events
When you click on links to various merchants on this site, like eBay, and make a purchase, this can result in this site earning a commission.
2018 Upper Deck Marvel Annual 2017 trading cards take it back to the year that was. The set recaps everything from major events, character debuts, deaths (permanent or not) and more.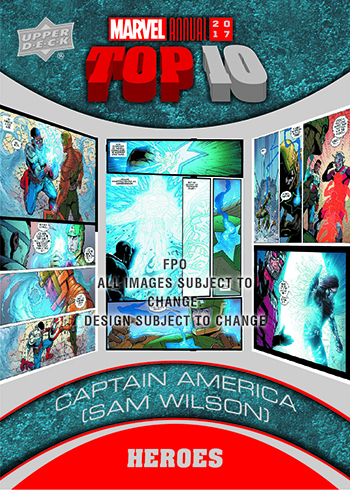 2018 Upper Deck Marvel Annual 2017 Base Set
The main 2018 Upper Deck Marvel Annual base set consists of 100 cards. The Secret Empire crossover is covered as well the Inhumans vs. X-Men storyline that concluded in the spring of 2017.
In addition to those are 50 short prints that bring the total number of cards to 150. One of the high number cards lands every other pack.
The 100-card shell set has a couple of foil parallels, Blue (1:3 packs) and Pink (1:20).
Inserts
Many of the inserts take on similar themes as last year's set. This includes five different Top 10 sets that count down specific themes like Top 10 Heroes, Top 10 Issues and Top 10 Villains.
Secret Empire Comic Covers highlight some of the most notable artwork to lead off issues over the past year. Rookie Heroes spotlight various debuts. On the flipside, there's In Memoriam, a more somber insert that's all about character deaths or those that stepped away from the world of heroics.
One the premium insert side, manufactured patch cards come in single and dual versions. They combine with sketch cards to land one per box.
2018 Upper Deck Marvel Annual trading cards at a glance:
Cards per pack: 5
Packs per box: 20
Boxes per case: 12
Set size: 150 cards
Release date: April 18, 2018
What to expect in a hobby box:
• Sketch Card or Manufactured Patch Card – 1 Total
2018 Upper Deck Marvel Annual 2017 Checklist
Base
Base Set Checklist
150 cards.
Parallels (#1-100 only):
• Blue Foil – 1:3 packs
• Purple Foil – 1:20 packs
1 Captain America
2 Daredevil
3 Gamora
4 Dazzler
5 Ironheart
6 Punisher
7 Mach-X
8 Psylocke
9 Winter Soldier
10 Songbird
11 Beta Ray Bill
12 Fixer
13 Hawkeye
14 Carnage
15 Electro
16 Enigma
17 Hulk
18 Gold Skull
19 Magik
20 Gwenpool
21 Thor
22 Citizen V
23 Star-Lord
24 Hercules
25 Moonstone
26 Iron Patriot
27 Medusa
28 Scarlet Spider
29 Mekara
30 Devil Dinosaur
31 She-Hulk
32 Superior Octopus
33 Jack Flag
34 Gorgon
35 Ghost Rider
36 Spider-Gwen
37 Scragg
38 Claire Temple
39 Hi-Vo
40 Maximus the Mad
41 Lockjaw
42 Madame Hydra
43 Storm
44 Forge
45 Arnim Zola
46 Aegis
47 Ms. Marvel
48 Baron Zemo
49 Idie Okonkwo
50 Mockingbird
51 Nova
52 Cloak
53 Dagger
54 Prowler
55 Hyperion
56 Rocket Raccoon
57 Crystal
58 Moon Knight
59 Kid Kaiju
60 Beast
61 Quasar
62 Spider-Man
63 Quake
64 Taskmaster
65 Wasp
66 Triton
67 Brother Voodoo
68 Angel
69 Kobik
70 Quicksilver
71 Misty Knight
72 Shang-Chi
73 Man-Thing
74 Cyclops
75 Jessica Jones
76 Drax
77 Black Widow
78 Ronan
79 Sharon Carter
80 Bullseye
81 Flint
82 Maria Hill
83 Fin Fang Foom
84 Doctor Strange
85 Jackal
86 Ultron
87 Elektra
88 Stinger
89 Elsa Bloodstone
90 Iron Fist
91 Demolition-Man
92 Emma Frost
93 Mosaic
94 Squirrel Girl
95 Karnak
96 Sabretooth
97 Fantomex
98 Gwen Stacy
99 Slizzik
100 Jean Grey
101 Thor SP
102 Blue Marvel SP
103 Spider-Man 2099 SP
104 Genesis SP
105 Iron Man SP
106 Groot SP
107 Moon Girl SP
108 Spider-Woman SP
109 Rogue SP
110 America Chavez SP
111 Ant-Man SP
112 Magneto SP
113 Hulk SP
114 Silk SP
115 Captain Marvel SP
116 Iceman SP
117 Spectrum SP
118 Doctor Faustus SP
119 Falcon II SP
120 Inferno SP
121 Madelyne Pryor SP
122 Iso SP
123 Kingpin SP
124 Colossus SP
125 Black Panther SP
126 Venom SP
127 Thanos SP
128 Black Bolt SP
129 Deadpool SP
130 Viv Vision SP
131 Atlas SP
132 Namor SP
133 Synapse SP
134 Spider-Man SP
135 Valkyrie SP
136 Patriot SP
137 Luke Cage SP
138 M SP
139 Red Hulk SP
140 Scarlet Witch SP
141 Shuri SP
142 Grid SP
143 Ulysses Cain SP
144 Mystique SP
145 Vision SP
146 Barf SP
147 Naja SP
148 Exodus SP
149 Warrior Woman SP
150 Captain America SP
Inserts
2018 Marvel Annual 2017 Inserts Checklists
Comic Patches Checklist
23 cards.
#CP-1 – CP-14 – 1:60 packs.
SP #CP-15 – CP-23 – 1:240 packs.
CP-1 Captain Marvel
CP-2 Doctor Strange
CP-3 Lockjaw
CP-4 Hulk
CP-5 Nova
CP-6 Falcon
CP-7 Viv Vision
CP-8 Wasp
CP-9 Storm
CP-10 Beast
CP-11 Karnak
CP-12 Magneto
CP-13 Daredevil
CP-14 Spider-Woman
CP-15 Ultron SP
CP-16 Old Man Logan SP
CP-17 Medusa SP
CP-18 Captain America SP
CP-19 Rogue SP
CP-20 Winter Soldier SP
CP-21 Superior Octopus SP
CP-22 Jean Grey SP
CP-23 America Chavez SP
Dual Comic Patches Checklist
23 cards.
#DCP-1 – DCP-14 – 1:60 packs.
SP #DCP-15 – DCP-23 – 1:240 packs.
DCP-1 Cyclops And Black Bolt
DCP-2 Hive And Doctor Faustus
DCP-3 Spectrum And Blue Marvel
DCP-4 Free Spirit And Jack Flag
DCP-5 Captain America And Madame Hydra
DCP-6 Magik And Colossus
DCP-7 Spider-Man And Jackal
DCP-8 Luke Cage And Iron Fist
DCP-9 Hercules And Mockingbird
DCP-10 Silk And Black Cat
DCP-11 Vision And Scarlet Witch
DCP-12 Cloak And Dagger
DCP-13 Crossbones And Sin
DCP-14 Groot And Rocket
DCP-15 Ultimate Spider-Man And Black Widow SP
DCP-16 Taskmaster And Black Ant SP
DCP-17 Blackout And Baron Zemo SP
DCP-18 Devil Dinosaur And Moon Girl SP
DCP-19 Thor Odinson And Thor SP
DCP-20 Hawkeye And Hawkeye SP
DCP-21 Captain Marvel And Ms. Marvel SP
DCP-22 Wolverine And Wolverine SP
DCP-23 Ironheart And Tony Stark A.I. SP
In Memoriam Checklist
5 cards.
1:16 packs.
IM-1 Black Widow
IM-2 Multiple Man
IM-3 Electro
IM-4 Jack Flag
IM-5 Cyclops
Rookie Heroes Checklist
5 cards.
1:16 packs.
RH-1 Ironheart
RH-2 Wasp
RH-3 Red Hulk
RH-4 Patriot
RH-5 Silas
Secret Empire Comic Covers Checklist
40 cards.
1:2 packs.
SE-1 Captain America: Steve Rogers #16
SE-2 Secret Empire #0
SE-3 Secret Empire Free Comic Book Day
SE-4 Secret Empire #1
SE-5 Secret Warriors Vol 2 #1
SE-6 Secret Empire #2
SE-7 Captain America: Steve Rogers #17
SE-8 Secret Warriors Vol 2 #2
SE-9 Secret Empire #3
SE-10 Secret Empire: Uprising #1
SE-11 Captain America: Sam Wilson #22
SE-12 Secret Empire: Brave New World #1
SE-13 Captain America: Sam Wilson #23
SE-14 Secret Empire #4
SE-15 Secret Empire: United #1
SE-16 Secret Warriors Vol 2 #3
SE-17 Secret Empire: Underground #1
SE-18 Captain America: Steve Rogers #18
SE-19 Secret Empire: Brave New World #2
SE-20 Secret Empire #5
SE-21 Mighty Captain Marvel #6
SE-22 Secret Empire: Brave New World #3
SE-23 Champions #10
SE-24 Avengers Vol 7 #9
SE-25 Secret Warriors Vol 2 #4
SE-26 Secret Empire #6
SE-27 Secret Empire: Brave New World #4
SE-28 Doctor Strange Vol 4 #23
SE-29 Secret Empire #7
SE-30 Captain America: Steve Rogers #19
SE-31 Captain America: Sam Wilson #24
SE-32 Avengers Vol 7 #10
SE-33 Secret Empire #8
SE-34 Captain America Vol 8 #25
SE-35 Secret Empire: Brave New World #5
SE-36 Secret Warriors Vol 2 #5
SE-37 Secret Empire #9
SE-38 Doctor Strange Vol 4 #24
SE-39 Secret Empire #10
SE-40 Secret Empire: Omega #1
Sketch Cards
47 artists.
1:120 packs.
Adam Angel
Alvin Cleofas
Armando Ramirez
Avi Kishudat
Basak Cetinkaya
Bekah and Adam Cleveland
BRiZL
Cesar Flores
Charlie Cody
Christos Papantoniou
Dan Curto
Dejon Parnell
Derec Donovan
Eric Lehtonen
Eugene Commodore
Fernando Pinto
Floris Hoolhorst
Gil Garcia
Ian Soto
Jason Meents
Jason Patterson
Joel Casimiro
Johnny Segura 3rd
Jose Ventura
Len Castro
Leon Braojos
Logan Monette
Mark Finneral
Mastajwood
Matthew Lopez
Matty Brown
Maxime ATTOU
Mayonnaise and Bread
Mike J. Sealie
Mouad Moustaid
Nathan Cole
Nguyen Dong
Phillip Bergquist
Rhiannon Owens
Rhiannon Owens
Richard Sensale
Ryan Crosby
Scott Adams
Skip Charron
Stephan Recksiedler
Walter Rice
Yen San
Top 10 Fights Checklist
10 cards.
1:10 packs.
TF-1 Daredevil and Karnak
TF-2 Heimdall and Gladiator
TF-3 Moon Knight and Lupinar And the Space Wolves
TF-4 Kimura and Wolverine
TF-5 Thor and Jean Grey
TF-6 Lucio and Ironheart
TF-7 Captain America and Captain America
TF-8 Wasp and Whirlwind and Beetle
TF-9 Magneto and Psylocke
TF-10 Iron Man and Captain America
Top 10 Heroes Checklist
10 cards.
1:10 packs.
TH-1 Winter Soldier
TH-2 Hawkeye
TH-3 Doctor Strange
TH-4 Daredevil
TH-5 Iron Man
TH-6 Spider-Man
TH-7 Kid Kaiju
TH-8 Black Panther
TH-9 Captain America
TH-10 Ant-Man
Top 10 Issues Checklist
10 cards.
1:10 packs.
TI-1 Avengers Vol 7 #4.1
TI-2 The Unworthy Thor Vol 1 #2
TI-3 Doctor Strange Vol 4 #18
TI-4 Champions Vol 2 #7
TI-5 Astonishing X-Men #1
TI-6 Black Panther and the Crew #3
TI-7 Daredevil Vol 5 #15
TI-8 Secret Empire #0
TI-9 America #1
TI-10 Moon Knight Vol 8 #14
Top 10 Story Arcs Checklist
10 cards.
1:10 packs.
TS-1 Secret Empire
TS-2 Inhumans vs. X-Men
TS-3 Death of X
TS-4 Monsters Unleashed
TS-5 Venomverse
TS-6 The Clone Conspiracy
TS-7 Weapons of Mutant Destruction
TS-8 Generations
TS-9 Grounded
TS-10 Worlds Collide
Top 10 Villains
10 cards.
1:10 packs.
TV-1 Captain America
TV-2 Baron Zemo
TV-3 Arnim Zola
TV-4 Black Cat
TV-5 Headmistress
TV-6 Thanos
TV-7 Leviathan Mother
TV-8 Ultron
TV-9 Malekith
TV-10 Superior Octopus
Comments? Questions? Contact Ryan Cracknell on Twitter @tradercracks or by email.