2019 Upper Deck Marvel Annual 2018 Checklist and Details
When you click on links to various merchants on this site, like eBay, and make a purchase, this can result in this site earning a commission.
2019 Upper Deck Marvel Annual 2018 is like a trading card digest of the year's comic events. From big storylines to character developments, it covers a lot of ground.
The product brings with it a lot of similarities to the past couple Marvel Annual sets. In addition to the overall themes, it also means the promise of either a sketch card or manufactured patch card per hobby box.
2019 Upper Deck Marvel Annual 2018 Overview
The base set has 150 total cards. One hundred of those make up the shell set. The other 50 are short prints, making things a little more challenging to put together. Foil parallel levels include Purple (one per hobby box) and Blue (six per hobby box).
Top 10 (1:10 packs) returns with a series of five different countdowns that rank such things as top heroes, villains, fights and storylines.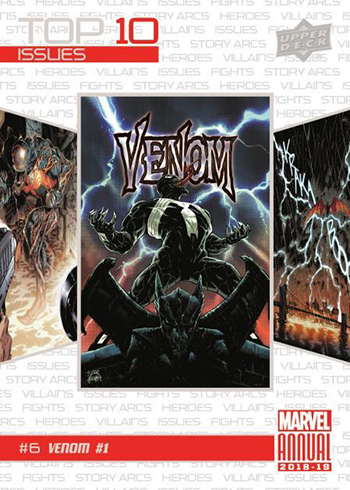 Other insert themes get into such specifics as Infinity Wars Comic Covers, Rookie Heroes and In Memoriam.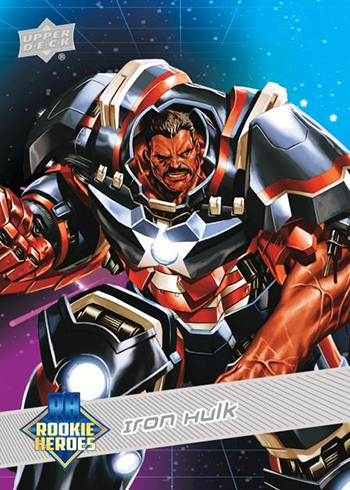 As for the premium inserts, sketch cards are all considered to be one-of-ones given their original art. Manufactured Patch cards come in a couple of forms including single- and dual-character.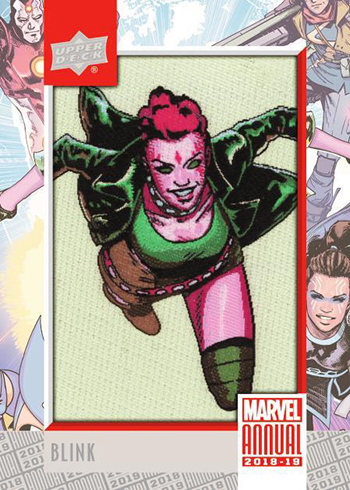 2019 Upper Deck Marvel Annual 2018 trading cards at a glance:
Cards per pack: 5
Packs per box: 20
Boxes per case: 12
Set size: 100 cards
Release date: February 20, 2019
What to expect in a hobby box:
Sketch Cards or Manufactured Patch Cards – 1
Purple Foil Parallels – 1
Blue Foil Parallels – 6
2019 Upper Deck Marvel Annual 2018 Checklist
Base
Base Set Checklist
150 cards.
SP (#101-150) – 1:2 packs.
Parallels:
Blue – (1:3 packs)
Purple – (1:20 packs)
1 Polaris
2 Rachel Grey
3 Jimmy Hudson
4 Aaron Davis
5 Wolvie
6 Rogue
7 Jarvis
8 Sabretooth
9 Rogue
10 Carol Danvers
11 Red Hulk
12 Crystal
13 Karnilla
14 Sasquatch
15 Hercules
16 Scarlet Samurai
17 Bruce Banner
18 Captain Marvel
19 Iron Heart
20 Wasp
21 Cyclops
22 Dagger
23 Amadeus Cho
24 Storm
25 Iron Man
26 Black Bolt
27 Medusa
28 Toni Ho
29 Vision
30 Cannonball
31 Kitty Pryde
32 The Final Host
33 Ms. Marvel
34 Black Widow
35 Doctor Anthony Stark
36 Pyro
37 Armor
38 Annie Parker
39 Voyager
40 Karnak
41 Iron Lad
42 Captain N'Yami
43 Leonardo Da Vinci
44 Ultron
45 Arno Stark
46 Synapse
47 Blade
48 Lady Deathstrike
49 She-Hulk
50 Lockjaw
51 Mockingbird
52 Squirrel Girl
53 Red Wolf
54 Speedball
55 Jessica Jones
56 Daken
57 Viv Vision
58 Enigma
59 Falcon
60 Quicksilver
61 Cloak
62 Drax
63 Jane Foster
64 Kraven
65 Puck
66 Maximus
67 Darkstar
68 Loki
69 Hank Pym
70 Gorgon
71 Wonder Man
72 Amanda Armstrong
73 Captain America
74 Miles Morales
75 Nadia Van Dyne
76 Beast
77 Brawn
78 Balder The Brave
79 Mary Jane
80 Havok
81 Doctor Strange
82 Iceman
83 Thor
84 Blink
85 Doctor Voodoo
86 Turk Barrett
87 Nova
88 Scarlet Witch
89 The Hood
90 Living Lightning
91 Red Guardian
92 Progenitor
93 Omega Red
94 Hawkeye
95 Valkyrie
96 Anole
97 Forge
98 Spider-Man
99 Black Panther
100 Phyla-Vell SP
101 Cosmic Ghost Rider SP
102 Odin SP
103 Death SP
104 Punisher SP
105 Scarlet Spider SP
106 Kaine SP
107 Sauron SP
108 Sharon Carter SP
109 Bucky Barnes SP
110 Selene SP
111 Banshee SP
112 Glob SP
113 Nature Girl SP
114 Thori SP
115 Shark-Girl SP
116 Dazzler SP
117 Broo SP
118 Iron Fist SP
119 Moon Knight SP
120 Wong SP
121 Psylocke SP
122 Pixie SP
123 Storm SP
124 Weapon H SP
125 Man-Thing SP
126 Diamondback SP
127 Black Cat SP
128 Cindy 65 SP
129 Snowguard SP
130 Warbringer SP
131 Blindspot SP
132 Pkzkrfmknna SP
133 Talisman SP
134 Angel SP
135 Miss Sinister SP
136 Blindfold SP
137 Magneto SP
138 Gentle SP
139 Namor SP
140 Honey Badger SP
141 Killmonger SP
142 Mysterio SP
143 Magik SP
144 101 SP
145 Daredevil SP
146 Nick Fury SP
147 Elektra SP
148 Kingpin SP
149 Normie Osborne SP
150 Old Man Hawkeye SP
Inserts
2019 Upper Deck Marvel Annual 2018 Inserts Checklists
Comic Covers Checklist
40 cards.
1:2 packs.
CC1 Avengers #675
CC2 Avengers #676
CC3 Avengers #677
CC4 Avengers #678
CC5 Avengers #679
CC6 Avengers #680
CC7 Avengers #681
CC8 Avengers #682
CC9 Avengers #683
CC10 Avengers #684
CC11 Avengers #685
CC12 Avengers #686
CC13 Avengers #687
CC14 Avengers #688
CC15 Avengers #689
CC16 Avengers #690
CC17 Marvel Legacy #1
CC18 Guardians Of The Galaxy #147
CC19 The Mighty Captain Marvel #128
CC20 Guardians Of The Galaxy #150
CC21 Infinity Countdown: Adam Warlock
CC22 Infinity Countdown: Prime
CC23 Infinity Countdown #1
CC24 Infinity Countdown #2
CC25 Infinity Countdown #3
CC26 Infinity Countdown: Daredevil #1
CC27 Infinity Countdown: Darkhawk #1
CC28 Infinity Countdown: Captain Marvel #1
CC29 Infinity Countdown #4
CC30 Infinity Countdown: Darkhawk #2
CC31 Infinity Countdown: Black Widow #1
CC32 Infinity Countdown: Champions #1
CC33 Infinity Countdown: Darkhawk #3
CC34 Infinity Countdown: Champions #2
CC35 Infinity Countdown: Darkhawk #4
CC36 Infinity Countdown #5
CC37 Doctor Strange #3
CC38 Infinity Wars Prime #1
CC39 Infinity Wars #1
CC40 Infinity Wars #2
In Memoriam Checklist
5 cards,
1:16 packs.
IM1 Mangog
IM2 The Mighty Thor
IM3 Lockjaw
IM4 Thanos
IM5 Maximus
Manufactured Patch Checklist
23 cards.
1:60 packs.
SP (#P15-P23) – 1:240 packs.
P1 Ghost Rider
P2 Iron Man
P3 She-Hulk
P4 Captain America
P5 Black Panther
P6 Captain Marvel
P7 Thor Odinson
P8 Ant-Man
P9 Wasp
P10 Spider-Man
P11 Red Goblin
P12 Venom
P13 Doctor Strange
P14 Iron Lad
P15 Blink SP
P16 Ms. Marvel SP
P17 Valkyrie SP
P18 Wolvie SP
P19 Voyager SP
P20 Vision SP
P21 Quicksilver SP
P22 Jean Grey SP
P23 Lockjaw SP
Manufactured Patch Dual Checklist
23 cards.
1:60 packs.
SP (#PD15-PD23) – 1:240 packs.
PD1 Red Wolf/Living Lightning
PD2 Rogue/Quicksilver
PD3 Peggy Carter/Ms. Marvel
PD4 Valkyrie/Wolverine
PD5 Normie Osborne/Red Goblin
PD6 Thor Odinson/Jane Foster
PD7 Kitty Pryde/Colossus
PD8 Doctor Strange/Black Panther
PD9 Savage Hulk/Ghost Rider
PD10 Captain Marvel/Dark Celestial
PD11 Challenger/Grandmaster
PD12 Viv Vision/Nova
PD13 Thor/Hercules
PD14 Hulk/Red Hulk
PD15 Nadia Van Dyne/Janete Van Dyne SP
PD16 Rocket Raccoon/Groot SP
PD17 Magus/Ego SP
PD18 Venom/Sym Soldier SP
PD19 Gamora/Star Lord SP
PD20 Iron Heart/Iron Man SP
PD21 Anti-Venom/Spider-Man SP
PD22 Miles Morales/Silk SP
PD23 Spider-Gwen/Kingpin SP
Rookie Heroes Checklist
5 cards.
1:16 packs.
RH1 Voyager
RH2 Trinary
RH3 Iron Hulk
RH4 Cosmic Ghost Rider
RH5 Snowguard
Sketch Cards Checklist
45 artists.
1:120 packs.
Scott Adams
Allen Adams III
Ari Arnaldsson
Justin Ayers
Mitch Ballard
Phillip Bergquist
Isiah X Bradley
Keegan Cahanes
Len Castro
Rodrigo Catraca
Aurelio Ceccacci
Skip Charron
Alvin Cleofas
D.J. Coffman
Nathan Cole
Eugene Commodore
Sophia Cox
Allen Douglas
Reid Fisher
Darke Imp
John Jett
KMP
KOOLAsHECK
Jay Lipson
Emil Nordtomme
Nacho Ortiz
Othell
Chris Papantoniou
Michael Parla
Gener Pedrina
J.P. Perez
Nick Perkins
Fernando Pinto
Poognasty
Vitor Prado
Armando Ramirez
Fernando Ramirez
Stephan Recksiedler
Erwin Ropa
Mike J. Sealie
JoJo Seames
Johnny Segura III
Richard Sensale
Chad Turner
Mike Van Orden
Top 10 Fights Checklist
10 cards.
1:10 packs.
TF1 The Mighty Thor vs. Mangog
TF2 Fin Fang Foom vs. Fin Fang Foombuster
TF3 Red Goblin vs. Spider-Man
TF4 Avengers vs. Challenger
TF5 Lightning vs. Grandmaster
TF6 Mighty Thor vs. War Thor
TF7 Elektra vs. Iron Fist
TF8 Daken vs. Jimmy Hudson
TF9 The Madrox Venoms vs. Hawkeye
TF10 Avengers vs. Lethal Legion
Top 10 Heroes Checklist
10 cards.
1:10 packs.
TH1 Black Panther
TH2 Spider-Man
TH3 Iron Man
TH4 Captain Marvel
TH5 Thor Odinson
TH6 The Mighty Thor
TH7 Doctor Strange
TH8 Rogue
TH9 Ghost Rider
TH10 Captain America
To 10 Issues Checklist
10 cards.
1:10 packs.
TI1 Invincible Iron Man #600
TI2 The Mighty Thor #705
TI3 The Mighty Thor #706
TI4 The Amazing Spider-Man #801
TI5 The Amazing Spider-Man #800
TI6 Venom #1
TI7 Infinity Wars Prime #1
TI8 X-Men Gold #30
TI9 Thor #1
TI10 Death Of Inhumans #1
Top 10 Story Arcs Checklist
10 cards.
1:10 packs.
TS1 Avengers No Surrender
TS2 Cosmic Ghost Rider
TS3 The Death Of The Mighty Thor
TS4 The Immortal Hulk
TS5 Damnation
TS6 Hunt For Wolverine
TS7 Infinity Wars
TS8 Go Down Swinging
TS9 The Life Of Captain Marvel
TS10 Death Of The Inhumans
Top 10 Villains
10 cards.
1:10 packs.
TV1 Va Nee Gast
TV2 Requiem
TV3 Red Goblin
TV4 Loki
TV5 The Controller
TV6 Dark Celestial
TV7 Thanos
TV8 Grandmaster
TV9 Challenger
TV10 Vox