2015 Upper Deck Marvel Vibranium Trading Cards Details
If you haven't heard of vibranium yet, you likely will by the time the Black Panther movie arrives in 2018. It's an important metal in the Marvel Universe, kind of like Kryptonite in the DC realm. It has been mentioned in several recent Marvel blockbusters, but it's likely to take on greater importance in the future. 2015 Upper Deck Marvel Vibranium trading cards adopt the fictional metal as a focal point the runs through the product.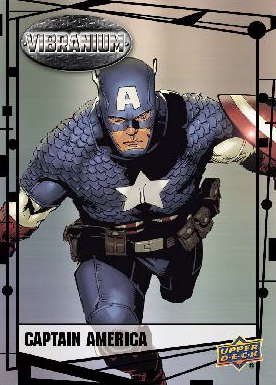 Using chromium card stock like the style used in 2014-15 O-Pee-Chee Platinum Hockey, the set brings with it a certain shine that's been a sports staple for years but not explored much in comic cards.
Each box has 20 packs of five cards, delivering one premium insert plus several basic inserts and parallels.
Base Set
2015 has been a year of many major events in the Marvel comics. From the Spider-Verse to Secret Wars storylines to the apparent end of the Fantastic Four, there's a lot going on. New heroes have emerged while others have taken a backseat. The 2015 Upper Deck Marvel Vibranium base set recaps the year in the Marvel Universe through 90 cards.
Cards center on characters but delve into comic happenings.
All base cards have five different parallels done in chromium: Raw (1:3 packs), Molten (/299), Refined (/99), Radiance (/50) and Bar (/5). Each box should have at least six parallels.
Premium Inserts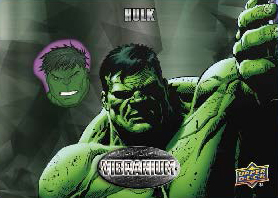 Each box of 2015 Upper Deck Marvel Vibranium has either a sketch card, autograph or manufactured patch card.
Sketch cards take a different approach. Rather than being being everyday card stock, they come with the reflective style that runs throughout the release.
Patch cards focus on faces of the characters at the forefront of the Marvel Universe. Like other Upper Deck manufactured patch sets, not all are available in equal numbers.
Autographs come from Marvel creators with some cards carrying multiple signatures.
Basic Inserts
A handful of basic inserts keep up with the set's themes and shine.
In Memoriam pays tribute to those in the Marvel Universe who passed away — at least for the time being. Other inserts include Hero Pow-Ore, When Worlds Collide and Universal Heroes. At least one of each of these should be in every box.
Rookie Heroes (1:27) is the toughest of the basic inserts.
2015 Upper Deck Marvel Vibranium at a glance:
Packs per hobby box: 20
Boxes per case: 12
Cards per pack: 5
Set size: 90
Release date: TBA
What to expect in a hobby box:
Sketch, Manufactured Patch or Autograph – 1
Hero Pow-Ore Inserts – 1
In Memoriam Inserts – 1
Universal Heroes Inserts – 1
When Worlds Collide Inserts – 1
Parallels – 6