The 2019 Topps Archives Baseball variations checklist isn't a big one. However, there are still some SSP cards to chase in the product.
A total of ten 2019 Archives cards get short prints that look a lot like the regular base cards only with a different photo. Most are veteran superstars. That said, rookie standout Vladimir Guerrero Jr. and a couple of Yankees legends, Babe Ruth and Derek Jeter, also appear.
Although not the toughest short prints this season, the 2019 Topps Archives Baseball variations aren't easy to pull, either. At the hobby level, they're 1:207 packs. Averaging things out, that's one SSP every eight or nine boxes.
Confirming Variations with the Code on the Back
Still wondering if you have a variation? Flip the card over and go directly to the code at the end of the fine print. That code changes between different types of cards. For the purposes of 2019 Topps Archives SSP cards, these are the two you need to know:
1958 Base: 5053
1975 Base: 5058
1993 Base: 5064
Variation: 5070
So if you have a card with a code ending in 5053, it's a regular base card. Same for 5058 and 5064. Each base design has its own code.
However, if it's 5070, then you have one of the variations. Here, the code doesn't change based on the card design. All have the same one.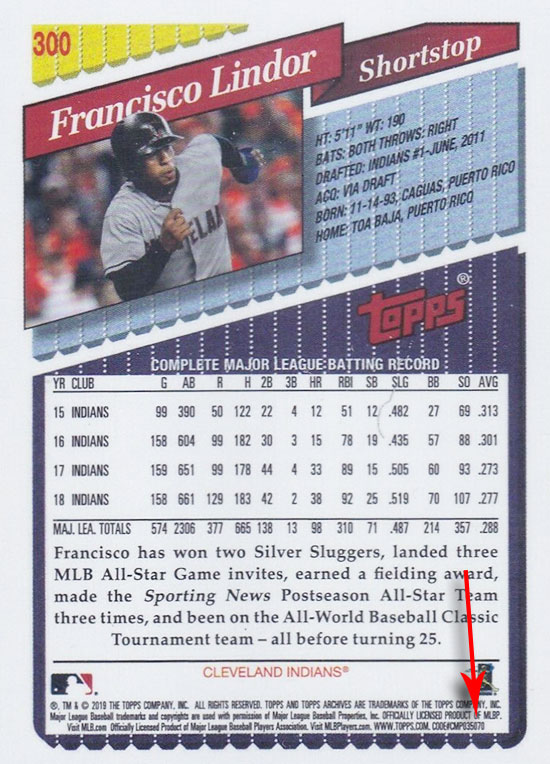 2019 Topps Archives Baseball Variations Checklist
Here's a quick look at the 2019 Topps Archives Baseball SSP cards. If you're looking for a specific card, click on the link to see what's available on eBay.
1 Derek Jeter
14 Vladimir Guerrero Jr.
50 Mookie Betts
100 Ronald Acuña Jr.
101 Shohei Ohtani
119 Juan Soto
200 Bryce Harper
201 Babe Ruth
225 Kris Bryant
300 Francisco Lindor
2019 Topps Archives Baseball Variations Gallery
Missing images will be added ASAP.
1 Derek Jeter, New York Yankees
14 Vladimir Guerrero Jr., Toronto Blue Jays
50 Mookie Betts, Boston Red Sox
100 Ronald Acuña Jr., Atlanta Braves
101 Shohei Ohtani, Los Angeles Angels
119 Juan Soto, Washington Nationals
200 Bryce Harper, Philadelphia Phillies
201 Babe Ruth, New York Yankees
225 Kris Bryant, Chicago Cubs
300 Francisco Lindor, Cleveland Indians