Squirrels Gone Wild: A Brief History of Rally Squirrels on Baseball Cards
The Rally Squirrel is a mythical being that appears at random times, often when things look their bleakest. And often in St. Louis. Rumor has it, they're runaway rodents escaping from the clutches of evil leprechauns who ride them but this won't be confirmed until Webster's creates the definitive squirrel dictionary.
No matter the circumstances surrounding their powers, recent history shows that things seem to get weird when squirrels show up on MLB baseball fields. And when things get weird, we get baseball cards.
Here's a brief look at notable rodents making their way to cards over the past few years and where to find them.
2007 Topps Update Poley Walnuts #SQ1
Poley Walnuts is the OG of squirrel-centric baseball cards. A short print in 2007 Topps Update, it's a standalone card versus those that followed him as variations. Poley Walnuts is largely forgotten today, at least outside of the card world, but his legacy runs deep.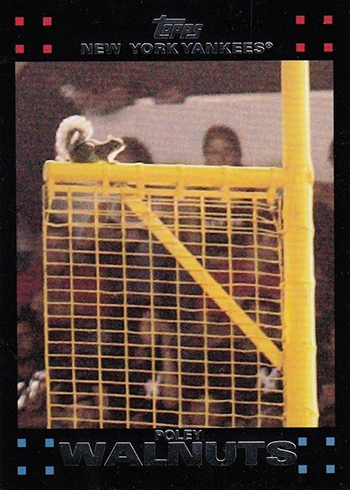 2012 Topps Variation Short Prints Skip Schumaker #93
The most famous Skip Schumaker card shows only his foot. He's literally a footnote to the squirrel rampaging through the infield. But it was during the Division Series between St. Louis and the Phillies. And in the rodent's wake was a wave of good luck for the Cardinals that went all the way to a World Series win.
This is still the most popular of the various Rally Squirrel cards, still regularly fetching around $50.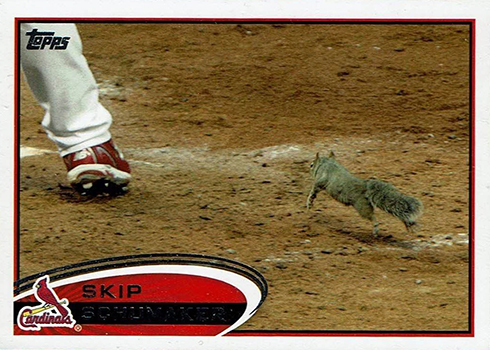 2012 Topps Variation Short Prints David Freese #273
It might not be the real Rally Squirrel but World Series MVP David Freese celebrating with the fans while holding a reasonable facsimile — complete with Cardinals cap — is close enough.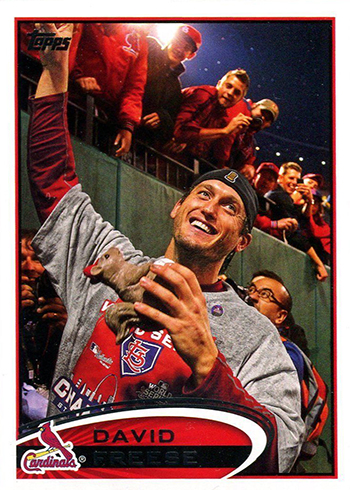 2015 Topps Update Variation Short Prints Phillippe Aumont #US318
2015 brought us the Son of Rally Squirrel. Over the past couple of years, the mythical being's kin (or a rodent paying homage to his hero) made the approximately 900-mile journey from St. Louis to Philadelphia. And wouldn't you know, the Cardinals were in town and they proceeded to win. Rumor has it, this squirrel, no matter its lineage, was no fan of Chase Utley. But the Son of Squirrel definitely has a fan in the young man with the phone in the front row.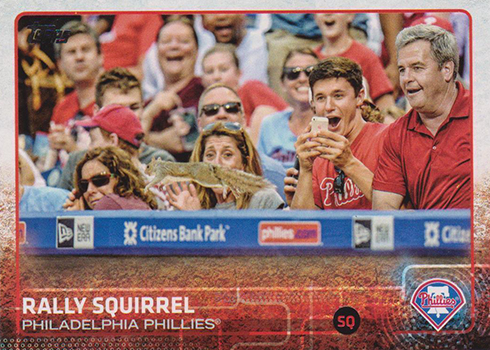 2018 Topps Now Rally Squirrel #709
Different year, same result. Another squirrel appearance, another St. Louis win. Thanks to the magic of print-on-demand baseball cards, there's no longer a need to wait to capture the moment. We can now get Rally Squirrel cards while the memory is still fresh.