2017-18 Upper Deck The Cup Hockey Checklist and Team Set Lists
2017-18 Upper Deck The Cup Hockey is a culmination of sorts for the season. It has all the autographs, patches and other premium elements the line has come to embody over the course of more than a decade. Rookies, veterans and retired stars all converge on the checklist in a variety of forms. But it's not just players that offer a nod to the past. Some of the checklist borrow's from The Cup's own history.
2017-18 Upper Deck The Cup Hockey hobby boxes come with six cards, at least two of which are autographed patches.
2017-18 Upper Deck The Cup Hockey Base Set Breakdown
Surprises aren't in store for the base set. It never really is. That said, there's still several pieces in play.
For starters, regular cards are numbered to 249. Parallels include Gold Spectrum Foil (/12) and Black Foil (1/1). Select cards also have autograph and memorabilia versions: Gold Spectrum Foil (/12), Gold Foil (/8), Gold Foil Patch (/8), Gold Foil Auto Patch (/8), Red Foil Auto (/4), Red Foil Patch (/4), Green Foil Button (/3), Green Foil Auto Button (/3), Black Foil Auto (1/1), and Black Foil NHL Shield (1/1).
The tradition of Autographed Rookie Patch cards continues in 2017-18 Upper Deck The Cup Hockey for key players. "Common" cards have 249 copies each. Level 2 players are short prints with just 99 copies. Over the past decade, these are generally considered to be a player's top Rookie Card. Parallels for these come in: Gold Foil (Level 1 – /24, Level 2 – /12), and Red Foil Tag (Level 1 – /8, Level 2 – /4).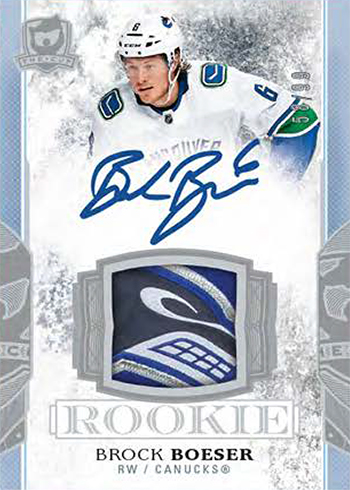 There's also Rookie Autographs (/249) and Rookie Patch (Tier 1 – /249, Tier 2 – /99) cards for some other first-year players.
Select rookies have additional parallels that bring smaller print runs and distinct pieces like buttons and NHL Shields.
Masterpiece Press Plates (1/1) are also randomly inserted.
Autographs and Memorabilia Cards
2017-18 Upper Deck The Cup Hockey has no shortage of inserts that come with autographs, swatches and a combination of the two.
Among the brand staples coming back are Limited Logos (/50 or less), Emblems of Endorsements (/15), and Honorable Numbers all have have signatures and patches.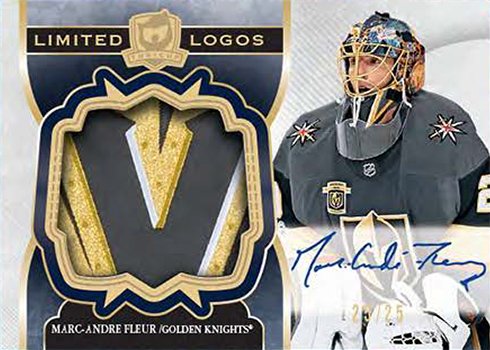 Signature Materials comes with two tiers for veterans. More common cards have 99 copies while short prints are numbered to 25. Signature Materials Rookies are out of 99. Dual Signature Materials are also available (Tier 1 – /35, Tier 2 – /15).
Other autographed patch inserts include Auto Rookie Gear Booklets (/24), Auto Pro Gear Booklets (/12), Scripted Swatches, Dual Autograph Rookie Bookmarks (/18), and Autographed Monumental Rookie Patch Booklets (/6).

Cup Foundation Quads (/49 or less) return with a variety of formats and memorabilia types. Jerseys, patches and tags are all in play. Some Cup Foundations come autographed as well.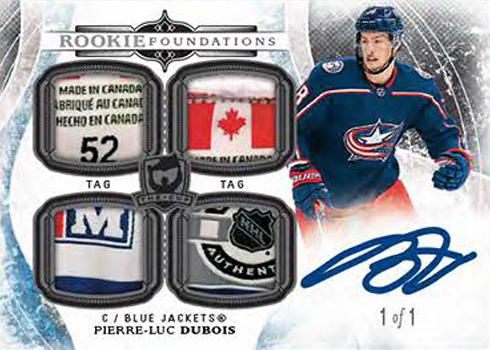 Cup Trios (/25), Quads (/10) and Sixes (/5) feature swatches in bulk. These have Premium Materials Gold (/10 or less), Premium Materials Red (/2) and Button Green (1/1) parallels.
Taking a similar bulk approach, only with signatures are 9-Way Signature Booklets (/9) and Legends of Hockey Triple Signed Booklets (/9).
Additional autographs can be found in Signature Renditions (1:6), Signature Renditions Combos (1:100), Brilliance (1:10), The Show (Rookies – 1:80, Veterans and Legends – 1:120), Top 10 Picks Autographs, Enshrinements (/99 or less), Enshrinements Duos (/25 or less), Ticket Inscription Booklets, and NHL Glory Autographs (/10).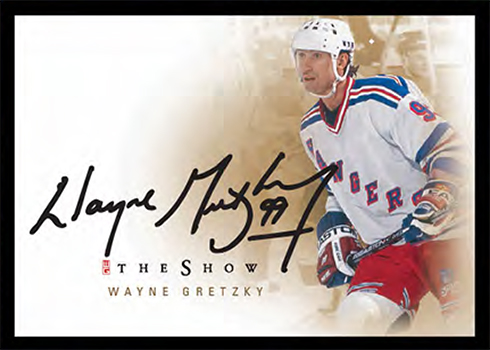 Rare memorabilia cards on the checklist include Razor's Edge (/10), which use blades from game-used skates, Property Of (1/1), and Monumental Patch Booklets (1/1).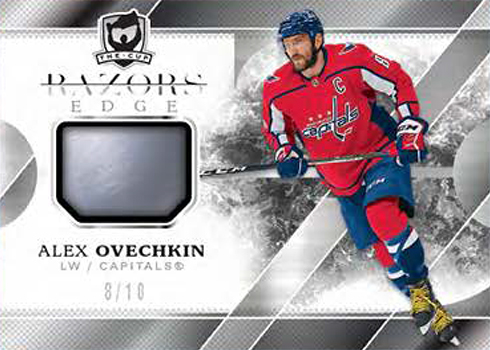 Reaching into the Past
Although Upper Deck is still a relatively young company, they recognize some of their past successes. Here, that means a revisit to some of The Cup's earliest Rookie Cards.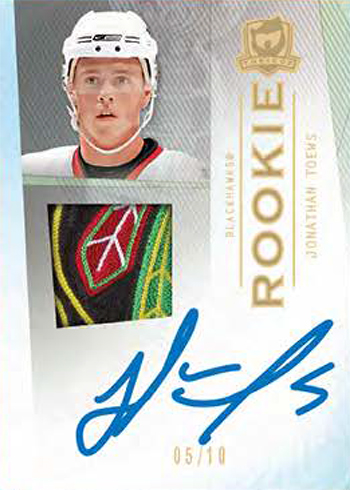 Rookie Tribute Auto Patch cards using designs from the first five sets, from 2005-06 through 2009-10. For players where autographs aren't available, there are 2005-06 Rookie Tribute cards. No matter the year or design, Rookie Tribute cards have ten copies each.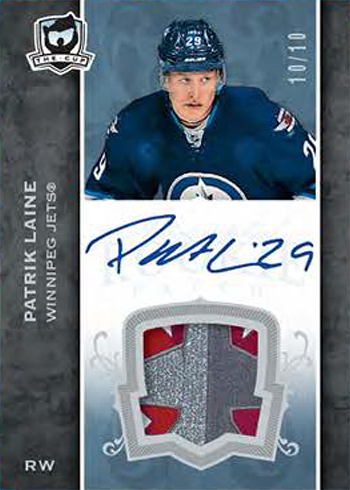 Other Inserts
2017-18 Upper Deck The Cup Hockey has a small number of premium inserts to go alongside all the signatures and swatches. Championship Etchings (/15) use sterling silver nameplates intended to mimic the history of the Stanley Cup.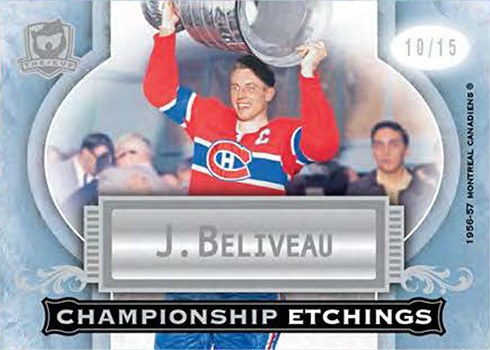 Exquisite Finale
The Cup marks the final installment of 2017-18 Exquisite Hockey.
Exquisite Rookie Patch and Exquisite Rookie Auto Patch are numbered to the player's jersey number. Both have one-of-one Shield versions.
Exquisite Endorsements are numbered to 50 or less for veterans and 50 for rookies.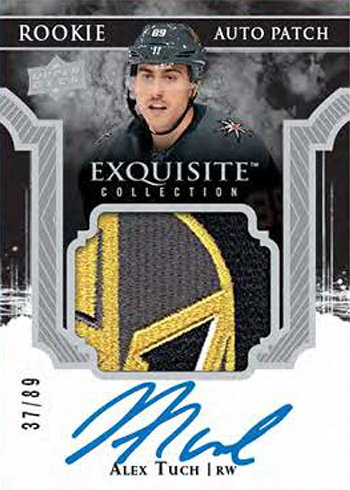 2017-18 Upper Deck The Cup Hockey at a glance:
Cards per pack: 6
Packs per box: 1
Boxes per case: 6
Set size: TBA
Release date: October 24, 2018
What to expect in a hobby box:
• Rookie Patch Autograph – 1
• Additional Patch Autographs – 1
2017-18 Upper Deck The Cup Hockey Checklist
Base
Autographs
Memorabilia
Inserts
Exquisite
Plates
Updates
Team Sets