2021-22 Pro Set Hockey Checklist and Details
2021-22 Pro Set Hockey is big on nostalgia. The 1980s and '90s are a theme in both the designs and the checklist.
Distributed through small blasters, this is a fairly straightforward release with a complete set and memorabilia card in each box.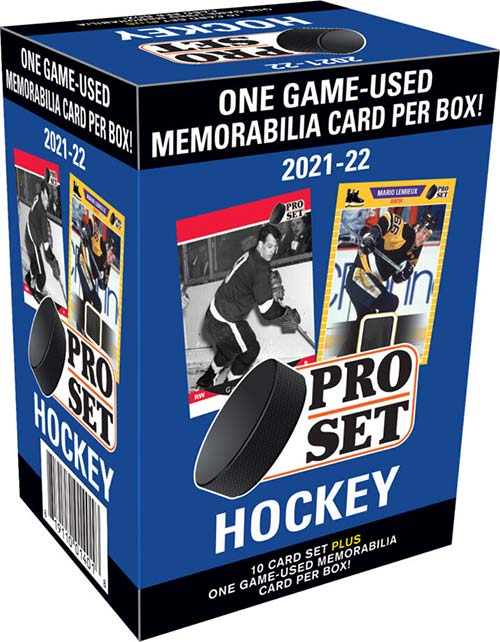 2021-22 Pro Set Hockey Checklist Overview
The base set is limited to just ten cards. That said, all but one are Hall of Famers. And the one who isn't, Jaromir Jagr, will be soon enough. Others include Mario Lemieux, Mark Messier, Pavel Bure and Gordie Howe.
The list of memorabilia is significantly larger with 75 total cards. Although some players have multiple cards, there are still more than 50 players represented on the checklist. These use the design made famous by 1989 Pro Set Football.
2021-22 Pro Set Hockey cards at a glance:
Cards per box: 11
Set size: 10 cards
Release date: November 22, 2021
What to expect in a hobby box:
10-Card Base Set
Memorabilia Cards – 1
2021-22 Pro Set Hockey Checklist
Base Set
10 cards.
Complete set per blaster.
Parallels:
Red
Light Blue
Silver
Yellow
PS01 Brett Hull
PS02 Eric Lindros
PS03 Gordie Howe
PS04 Guy Lafleur
PS05 Jaromír Jágr
PS06 Mario Lemieux
PS07 Mark Messier
PS08 Martin Brodeur
PS09 Pavel Bure
PS10 Teemu Selanne
Pro Set Memorabilia Checklist
75 cards.
1 per blaster box.
Parallels:
Red
Light Blue
Orange
Blue
Silver
Yellow
PSM-01 Adam Oates
PSM-02 Adam Oates
PSM-03 Alexander Mogilny
PSM-04 Alexei Kovalev
PSM-05 Andy Moog
PSM-06 Bernie Nicholls
PSM-07 Bernie Parent
PSM-08 Bill Guerin
PSM-09 Bill Guerin
PSM-10 Brett Hull
PSM-11 Brett Hull
PSM-12 Brian Leetch
PSM-13 Brian Leetch
PSM-14 Chris Chelios
PSM-15 Chris Chelios
PSM-16 Chris Osgood
PSM-17 Curtis Joseph
PSM-18 Curtis Joseph
PSM-19 Dominik Hasek
PSM-20 Dominik Hasek
PSM-21 Doug Gilmour
PSM-22 Ed Belfour
PSM-23 Eric Lindros
PSM-24 Eric Lindros
PSM-25 Felix Potvin
PSM-26 Felix Potvin
PSM-27 Gilles Gilbert
PSM-28 Grant Fuhr
PSM-29 Grant Fuhr
PSM-30 Igor Larionov
PSM-31 Jaromír Jágr
PSM-32 Jaromír Jágr
PSM-33 Jeremy Roenick
PSM-34 Jeremy Roenick
PSM-35 Jocelyn Thibault
PSM-36 Joe Sakic
PSM-37 Joe Sakic
PSM-38 John LeClair
PSM-39 John Vanbiesbrouck
PSM-40 Jose Theodore
PSM-41 Lanny McDonald
PSM-42 Larry Murphy
PSM-43 Luc Robitaille
PSM-44 Luc Robitaille
PSM-45 Manny Fernandez
PSM-46 Mario Lemieux
PSM-47 Mario Lemieux
PSM-48 Mark Messier
PSM-49 Mark Messier
PSM-50 Mark Recchi
PSM-51 Martin Brodeur
PSM-52 Martin Brodeur
PSM-53 Mike Bossy
PSM-54 Mike Modano
PSM-55 Mike Modano
PSM-56 Mike Richter
PSM-57 Nicklas Lidstrom
PSM-58 Olaf Kolzig
PSM-59 Pat LaFontaine
PSM-60 Patrick Lalime
PSM-61 Paul Coffey
PSM-62 Pavel Bure
PSM-63 Pavel Bure
PSM-64 Peter Forsberg
PSM-65 Phil Esposito
PSM-66 Phil Housley
PSM-67 Raymond Bourque
PSM-68 Raymond Bourque
PSM-69 Saku Koivu
PSM-70 Sergei Fedorov
PSM-71 Sergei Fedorov
PSM-72 Steve Yzerman
PSM-73 Teemu Selanne
PSM-74 Teemu Selanne
PSM-75 Wendel Clark