2017-18 O-Pee-Chee Hockey Checklist and Team Set Lists
For hockey card collectors, the annual O-Pee-Chee set is part of a tradition that goes back for decades. While its roots go back to the 1930s, it really caught on in the late 1960s during the expansion era as Canadian collectors had a set specific to that market which featured the game's biggest names and a sweet slab of pink gum.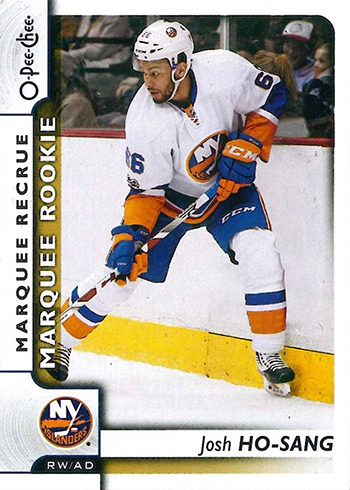 While the gum has been gone for 25 years now and Upper Deck took over the brand back in 2006-07, it has the sport's most comprehensive base set to go along with some fun inserts and parallels.
Base Set and Parallels
After experimenting with a larger 660-card effort last season, 2017-18 O-Pee-Chee Hockey's base set has been pared down slightly to 600 cards. The first 500 are regular base cards featuring a wide selection of players and there are an additional 100 high series cards that are seeded once in every two packs. The short prints are made up of four subsets which include Season Highlights, League Leaders, Team Checklists, and the always-popular Marquee Rookies. Made up of carryover players who debuted after the Rookie Card deadline in 2016-17, you can find some strong prospects like Josh Ho-Sang, Charlie McAvoy, Colin White, and Tyson Jost.
The parallel program for O-Pee-Chee has remained steady for the most part in recent years and there were three different versions promoted by Upper Deck in sales literature. O-Pee-Chee Retro will once again be the easiest to pull at one per hobby pack. While not announced, it is expected that these cards will have a rare blank-backed version and possibly additional themed short printed cards that are not part of the base set.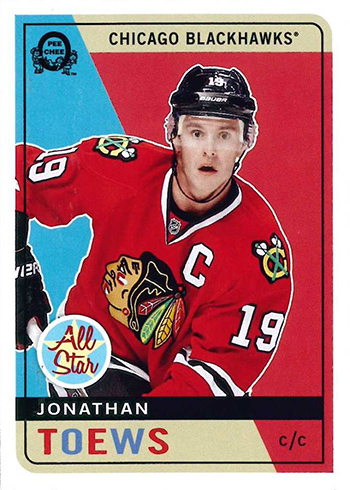 Rainbow Foil parallels are back and are found at a rate of 1:4 packs. Additionally, there are Black Rainbow Foil cards that are numbered to 100 copies apiece.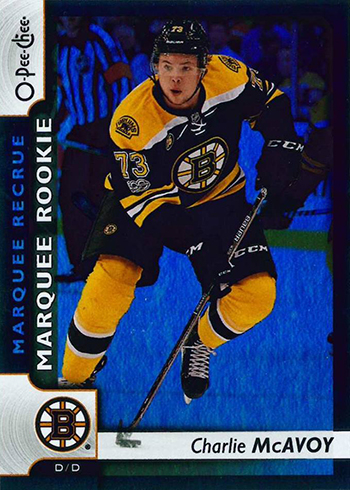 Inserts
After their debut last year, O-Pee-Chee Playing Cards are back. There are 48 cards (2 through Kings) which are found once in four packs on average and the Aces are a bit tougher to pull (1:200). This time, also look for a foil parallel version for all of cards (2 through Kings 1:33, Aces 1:1,568).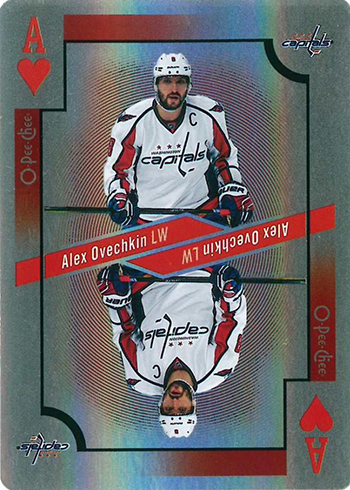 New in 2017-18 O-Pee-Chee Hockey is a set of Mini cards. The 77-card collection is made up of both regular (1:7) and short printed (1:35) cards in addition to rare variations (1:86). All of these cards have both a Black Foil (1:21 regular, 1:103 short prints, and 1:256 rare variations) and Regular Black editions limited to 27 copies each that are an even greater chase.
With autograph cards being eliminated from this release, the biggest chase of all this time around are the O-Pee-Chee Patches. Always a major chase, there are 100 different manufactured patch cards to hunt down that are broken down into seven themes. The easiest to get will be the Base version (1:190) and the all-new 100 Year Anniversary Logos (1:360) will have their share of fans. From there, the odds dramatically increase with Base Rookies/Legends (1:1,200) and 100 Year Anniversary Legends (1:2,000). For those that have been collecting these sets in recent years, there is a Logo Patch Update (1:1,400) plus more Mascots (1:2,000). The toughest of all the manufactured patches to get will be from the Rare Mascots collection and the odds of pulling on are once in an astronomical 25,000 packs.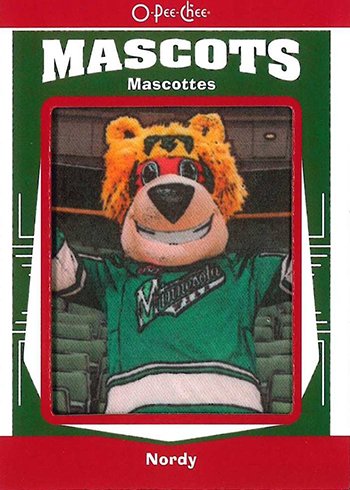 2017-18 O-Pee-Chee Hockey at a glance:
Packs per box: 32
Cards per pack: 8
Boxes per case: 12
Set size: 600 cards
Release date: September 6, 2017
What to expect in a hobby box:
– 32 OPC Retro parallels
– 8 Rainbow Foil parallels
– 2 Black Rainbow Foil parallels
– 5 OPC Playing Cards
– 8 Minis
2017-18 O-Pee-Chee Hockey Checklist
Base
Inserts
Box Bottoms
Team Sets
Stephen Laroche is the editor of Beckett Hockey, Beckett Basketball, and Beckett Sports Card Monthly magazines. Have a comment, question or idea? Send an e-mail to him at slaroche@beckett.com or follow him on Twitter @Stephen_Laroche.