John Gibson replaces teammate in 2013-14 SP Authentic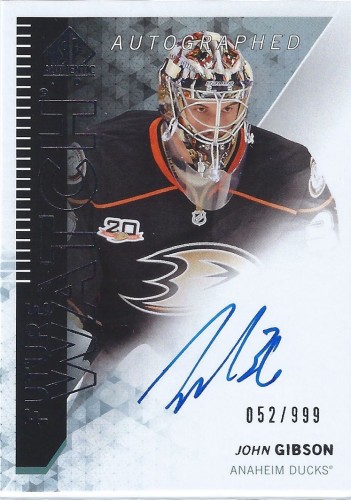 By Stephen Laroche | Beckett Hockey Editor
Collectors that had redeemed their 2013-14 SP Authentic Future Watch autograph cards of Anaheim Ducks defenseman Sami Vatanen had been waiting quite a while for the young star to sign and Upper Deck has decided to replace these cards with one of goaltender John Gibson instead.
While secondary market action on the Vatanen redemption card has been surprisingly hot in recent months, the switch to Gibson could have a serious impact on its value. In a post on their online blog, Upper Deck stated that once issues arose with the Vatanen cards, it chose to replace him with Gibson, who was not in the original release.
Now heading into his fourth NHL season, Vatanen is a rising force on the Anaheim blue line and has plenty of options available for collectors wishing to obtain a certified autograph card. Gibson made his Ducks debut in 2013-14 and became a hobby sensation for a brief period following a strong playoff performance. In 2014-15, he proved to be a very capable backup to starter Frederik Andersen and went 13-8-0 over 23 appearances.
What other redemption news does Upper Deck have for collectors? Find out after the jump.
Upper Deck also revealed that Devante Smith-Pelly has finally returned signed copies of his rookie cards from SP Authentic, Ultimate Collection and The Cup that came out during the 2011-12 season. Soon after their release, collectors quickly realized that Smith-Pelly had stamped his signature onto the cards and it generated a major controversy. Back in November, 2012, both the NHLPA and Upper Deck addressed the issue and the cards were re-made. Unfortunately, Smith-Pelly's delayed response time in signing them and the lingering matter of his stamping the original cards has not endeared him to many collectors, despite the efforts of Upper Deck's team to right the wrong in a prompt fashion.
Upper Deck was also able to conduct recent signings with Nathan MacKinnon, Jonathan Quick, and Sidney Crosby. In the coming weeks and months, it will be focusing their energy on getting signing sessions with NHL players such as Vladimir Tarasenko, Brendan Gallagher, Jonas Brodin, Valeri Nichushkin, Sean Monahan, Anthony Duclair, Johnny Gaudreau, Jonathan Toews, and Wayne Gretzky in order to fulfill outstanding redemptions.
Stephen Laroche is the editor of Beckett Hockey. Have a comment, question or idea? Send an e-mail to him at slaroche@beckett.com. Follow him on Twitter @Stephen_Laroche.