2017 Topps Star Wars Journey to the Last Jedi Autographs Include Big Names, Debuts and the Return of a Jedi
When you click on links to various merchants on this site, like eBay, and make a purchase, this can result in this site earning a commission.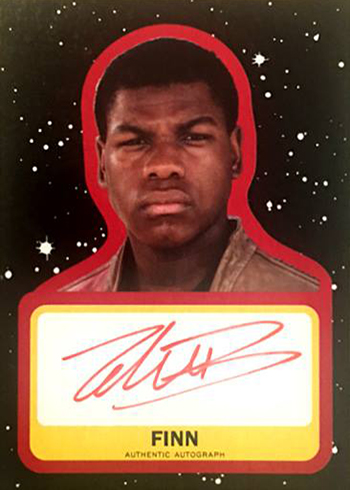 Harrison Ford. Daisy Ridley. Mark Hamill. Carrie Fisher. Adam Driver. John Boyega. Felicity Jones. The 2017 Topps Star Wars Journey to the Last Jedi Autographs checklist includes some big names from the classic series, the prequels and more recent productions for both the big and small screens.
The set also includes a notable signature debut as far as Star Wars trading cards go and the return of a tough autograph that has been seen in the hobby just once before.
A total of 63 different signers are in 2017 Topps Star Wars Journey to the Last Jedi.Topps announced the list of signers on their Star Wars Facebook page.
The set is a primer for the upcoming eighth episode. So, as a tease, the set draws from the many other parts of the ever-expanding saga.
Many of the biggest names like Ford, Hamill, Fisher and Ridley have been in several sets, albeit usually in small quantities. One name that has been seen in a while is Hayden Christensen. His lone autograph card prior to Journey to the Last Jedi came back in 2006's Star Wars Evolution Update. The Canadian actor, who played Anakin in Attack of the Clones and Revenge of the Sith appears to be back in the Topps fold, having also been announced for the upcoming 2017 Topps Star Wars Masterwork and 2017 Topps Star Wars Stellar Signatures.
Gwendoline Christie (Captain Phasma in The Force Awakens) is appearing on a Star Wars autograph card for the first time. She has signed in the past for Rittenhouse Archives' Game of Thrones products.
At least one autograph is promised in each hobby box.
2017 Topps Star Wars Journey to The Last Jedi releases on September 1.
2017 Topps Star Wars Journey to The Last Jedi Autograph Signers
Riz Ahmed as Bodhi Rook
Cecep Arif Rahman as Croking Shand
Derek Arnold as Chancellor Villecham
Dee Bradley Baker as Captain Rex
Kenny Baker as R2-D2
Dave Barclay as Jabba the Hutt
Jerome Blake as Mas Amedda
Paul Blake as Greedo
John Boyega as Finn
Thomas Brodie-Sangster as Petty Officer Thanisson
Jeremy Bulloch as Boba Fett
Dave Chapman as puppeteer for BB-8
Hayden Christensen as Anakin Skywalker
Gwendoline Christie as Captain Phasma
Tosin Cole as Lieutenant Bastian
Jim Cummings as Hondo Ohnaka
Richard Cunningham as General Ramda
Cristina da Silva as Rabe
Zarene Dallas as Lieutenant Dinnes
Anthony Daniels as C-3PO
Ben Daniels as General Merrick
Julie Dolan as Princess Leia Organa
Adam Driver as Kylo Ren
Sharon Duncan-Brewster as Senator Pamio
Ashley Eckstein as Ahsoka Tano
Carrie Fisher as General Leia Organa
Kate Fleetwood as Chief Petty Officer Unamo
Harrison Ford as Han Solo
Gloria Garcia as Jakku Villager
Stefan Grube as Yolo Ziff
Greg Grunberg as Snap Wexley
Mark Hamill as Luke Skywalker
Brian Herring as puppeteer for BB-8
Jason Isaacs as The Grand Inquisitor
Felicity Jones as Jyn Erso
Tom Kane as Admiral Wullf Yularen
Daniel Logan as Boba Fett
Billie Lourd as Kaydel Ko Connix
Peter Mayhew as Chewbacca
Ian McDiarmid as The Emperor
Ian McElhinney as Jan Dodonna
Ray Park as Darth Maul
Allstair Petrie as General Draven
Duncan Pow as Sergeant Melshi
Freddie Prinze Jr. as Kanan Jarrus
Wayne Pygram as Wilhuff Tarkin
Clive Revill as the voice of The Emperor
Scott Richardson as Quiggold
Daisy Ridley as Rey
Yayan Ruhlan as Tasu Leech
Andy Serkis as Supreme Leader Snoke
Catherine Taber as Padme Amidala
George Takei as Lok Durd
Alan Tudyk as K-2SO
Iko Uwals as Razoo Qin-Fee
Paul Warren as Varmik
Forest Whitaker as Saw Gerrera
Ian Whyte as "Crusher" Roodown
Billy Dee Williams as Lando Calrissian
Tom Wilton as Sarco Plank
Sam Witwer as Darth Maul
Donnie Yen as Chirrut Îmwe
Keone Young as Jun Sato