2019-20 Upper Deck Premier Hockey Checklist, Team Set Lists and Details
When you click on links to various merchants on this site, like eBay, and make a purchase, this can result in this site earning a commission.
2019-20 Upper Deck Premier Hockey cards take things to the upper level of the company's high-end portfolio. It might not be quite like The Cup, but it's close.
The configuration reflects that with six-card boxes delivering four hits: an autograph patch card (on acetate stock), a second autograph and a pair of memorabilia cards.

2019-20 Upper Deck Premier Hockey Checklist Overview
The main part of the release is divided into similar but separate Stars and Rookies sections. In both instances, players come in two levels, Tier 1 (/299) and Tier 2 (/199).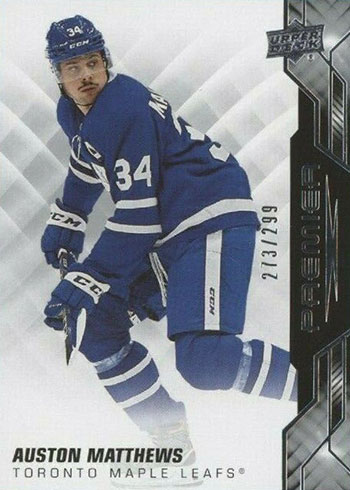 While there are parallels, all are in the form of autographs or memorabilia cards. On the signature side, which are on-card, there's Silver Spectrum (Stars – 1:8 packs, Rookies – Tier 1 1:3, Tier 2 1:30), and Platinum Blue Spectrum (/3).
Jersey parallels (Stars – 1:5, Rookies – 1:3) kick off the memorabilia. Star have additional Premium Material cards while freshmen get Patch versions (Tier 1 /49, Tier 2 /15). Rounding things out on both sides of the checklist are Fight Strap (Stars /5, Rookies /15) and Neckline/Collar (/3).
Acetate Autograph Patch Cards
Every box of 2019-20 Upper Deck Premier Hockey includes an autograph patch card that has an added layer of distinctiveness thanks to the acetate stock it's printed on.
Acetate Rookie Autograph Patch cards have either 249, 149 or 99 copies each, depending on the player. Additional parallel versions come in Gold Spectrum (/49 or /25) and one-of-one Platinum Blue.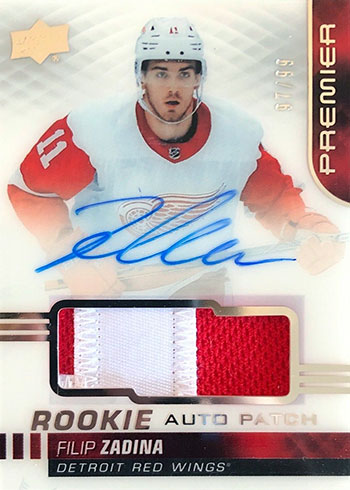 Taking a similar path are Acetate Stars Auto Patch cards. Base versions are tougher, though, with no more than 49 copies each. Gold Spectrum (/5) and Platinum Blue (1/1) parallels are also available here.
Additional Autographs and Memorabilia Cards
The acetate and autograph combination isn't limited to patch cards. 2019-20 Premier has Acetate Rookies Autos (/149 or less). New this year are Horizontal Variants, which have 99 copies each.
Other autograph inserts in the product include Pursuing Greatness, Signature Award Winners, and Signature Champions.
Mega Patch cards highlight the memorabilia offerings in 2019-20 Upper Deck Premier Hockey. These have large pieces of game-used gear like chest logos, sleeve numbers, commemorative logos and shoulder logos. Print runs vary from card to card, but none are higher than 25.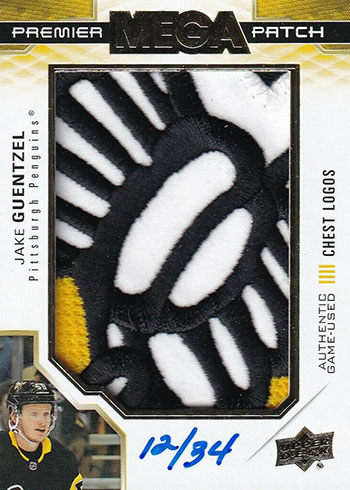 Premier Duals (/15), Trios (/10) and Quads (/10) are home to multi-memorabilia pieces. These have additional patch versions with print runs of five copies.
Other relic themes include Memorable Premieres, Premier Rookie Backdrop Swatches ad Premier Swatches.
A handful of retro designs are also on the checklist. 2002-03 Premier Collection Retro Super Rookie Auto Patch cards are numbered to 99. There are also 2003-04 Premier Collection Retro Plexi Autos, which has Rookies (1:44 packs), Stars (1:57) and Legends (1:103) levels.
2002-03 Premier Collection is also the foundation for Retro Jersey (/49) and Dual Jersey (/49) cards. Both have patch versions that are limited to five copies.
2019-20 Upper Deck Premier Hockey cards at a glance:
Cards per pack: 6
Packs per box: 1
Boxes per case: 10 (two 5-box inner cases)
Set size: 100 cards.
Release date: October 7, 2020
Shop for 2019-20 Upper Deck Premiere Hockey boxes on eBay:
What to expect in a hobby box:
Acetate Autograph Patch Cards – 1
Additional Autographs – 1
Additional Memorabilia Cards – 2
Base Cards – 2
2019-20 Upper Deck Premier Hockey Checklist
Please note that print runs have not been announced for cards without serial numbers.
You can also download a customizable spreadsheet copy of the checklist:
Base
Autographs
Memorabilia
Inserts
Updates
Team Sets