Emmanuel Sanders, Denver's Bright Spot – Beckett Pricing Insider
The Denver Broncos are having a rough year. They currently sit at 3-4 and third place in the AFC West. They signed Case Keenum to a big contract in the offseason but he has yet to pay off the way they expected. The one Broncos player that has truly stood out, though, is Emmanuel Sanders. He has emerged as Keenum's favorite target.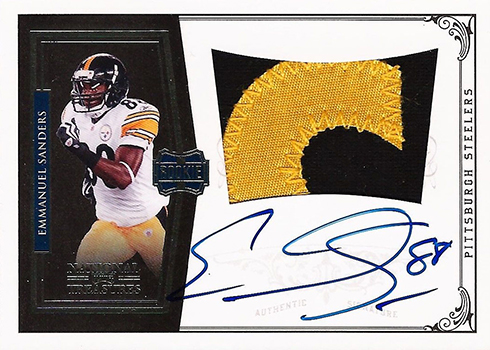 Sanders led the Broncos in receiving with six catches for 102 yards and a touchdown in the Broncos 45-10 rout of the Arizona Cardinals. He even threw a 28-yard touchdown pass to Courtland Sutton in the first quarter.
On the season he already has 603 yards receiving and three touchdowns. He is on pace to break the 1,000-yard mark.
Emmanuel Sanders was drafted in the third round of the 2010 draft by the Pittsburgh Steelers. He played four seasons there before heading west to Denver and made an immediate impact with three straight 1,000-yard seasons.
There are plenty of Emmanuel Sanders cards for collectors to chase with over 2,000 cards in the Beckett database including more than 500 autographs. After an off year in 2017, his values have dipped. This makes it easier for collectors to get a quality player's cards for a better value. Among Sanders' most popular cards are 2010 Exquisite Collection, 2010 Playoff Contenders and 2010 Playoff National Treasures.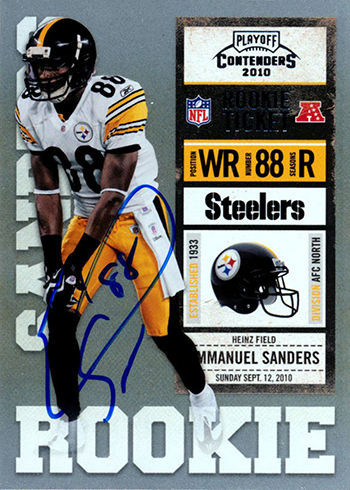 If the Broncos turn their season around and Sanders keeps producing his values could rise again.