2016 Skybound Outcast Trading Cards Info and Box Break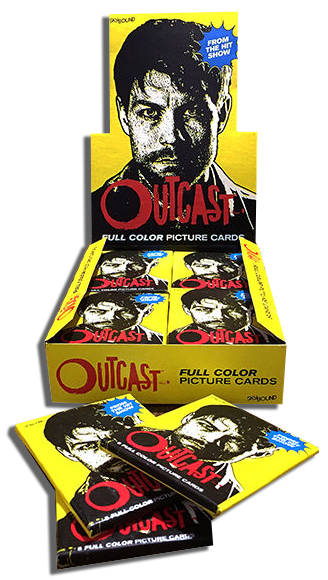 By Ryan Cracknell | Hobby Editor
Outcast has gone from comics to TV and now to trading cards. It all started in the mind of Robert Kirkman. He created another comic turned TV show you might have heard of — The Walking Dead. Despite still being in its first season, the 2016 Skybound Outcast trading cards take an old-school approach to the initial episodes with classic-style cards and even wax wrappers.
The structure of 2016 Skybound Outcast trading cards is simple. It's an 81-card base set with each card having Black, Cyan, Magenta and Yellow Printing Plates. Packs don't have any other inserts. Cards have a couple of different designs. The majority are story cards. Five character cards use promotional shots of actors and have a bit of a different look to them.
The only other cards in the set are four-card panels that are box toppers. There are 32 different panels.
The initial run of Outcast trading cards is limited to 250 boxes, each with 24 packs. They debuted at San Diego Comic-Con and should be available at other shows as well.
According to Sidekick Lab, the company that worked with Skybound to produce the set, each box has one Printing Plate.
2016 Skybound Outcast trading cards at a glance:
Packs per box: 24
Cards per pack: 8
Set size: 81 cards
Release date: July 21, 2016
What to expect in a box:
• Printing Plates – 1
If you want to see what a box holds and what the product looks like, here's a Box Busters video from Beckett Media's Matt Bible and Eric Norton.
Comments? Questions? Contact Ryan Cracknell on Twitter @tradercracks.