Here's the Alien Anthology Promo Card Upper Deck Is Handing Out at 2016 San Diego Comic-Con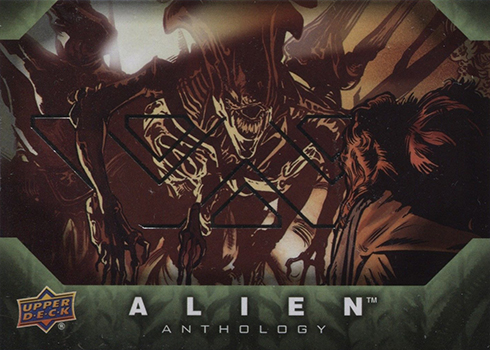 By Ryan Cracknell | Hobby Editor
Upper Deck is using the 2016 San Diego Comic-Con to help promote their e-Pack launch of their recent Alien Anthology set. Part of those plans? An exclusive promo card made specifically for the show.
How to Get the 2016 Upper Deck Alien Anthology San Diego Comic-Con Promo Card
To get the card (besides the secondary market), you need to head to the Upper Deck booth at San Diego Comic-Con. It's booth #307 in Hall A.
Once there, you'll have the opportunity to sign up for Upper Deck's e-Pack platform, which bridges the digital and physical worlds of trading cards. Once you're signed up, you get the promo card.
The card itself falls in line with the rest of the 2016 Upper Deck Alien Anthology release. It has new artwork made for the release versus stills taken from the movies. The front also has a the Weyland Industries logo done in foil. On the back, it's numbered SDCC-2016.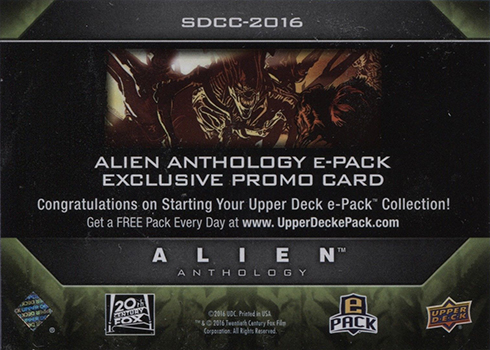 Upper Deck's promotion for the set reaches beyond their booth as well. They have six Alien-themed pedicabs available to Comic-Con attendees free of charge to help them get around outside.
The e-Pack version of 2016 Alien Anthology has much the same content as the main release plus a few exclusives. The biggest of the new cards is a quad autograph featuring Sigourney Weaver, Bill Paxton, Ron Perlman and Charles S. Dutton. To get the card, you have to be one of the first ten collectors to build a master set that includes the base set, Silver parallels and a few of the basic insert sets. Other ePack exclusives include Orange and Red base set parallels and an Ian Holm autograph that isn't in regular packs.
Upper Deck also released an e-Pack version of 2016 Marvel Masterpieces to coincide with Comic-Con.
Comments? Questions? Contact Ryan Cracknell on Twitter @tradercracks.