2016-17 Upper Deck Premier Hockey Checklist and Team Set Lists
The Acetate Rookie Autograph Patches are back, but there is much more to be found in tins of 2016-17 Upper Deck Premier Hockey.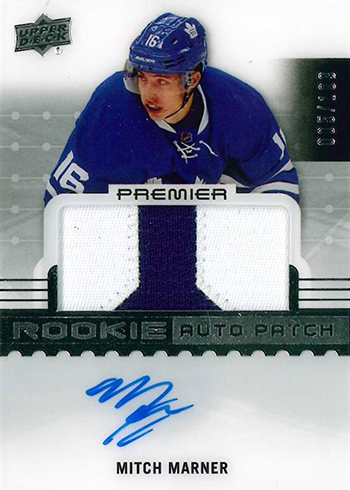 Loaded up with seven premium cards per tin, expect to find four autograph or memorabilia cards in addition to the Rookie Autograph Patch and two base cards.
Inside 2016-17 Upper Deck Premier Hockey
The 2016-17 Upper Deck Premier Hockey base set is made up of 50 base cards and about 50 rookies. There are two tiers of Rookie Autograph Patches which come in two tiers that are numbered to 199 or 299. The patch pieces on these cards are large and also have the additional bonus of being hard-signed. On top of that, they're hard-signed. The main checklist also has about a dozen Rookie Autographs, which don't include swatches.
Many of the veteran and legends cards in the base set have autograph and memorabilia parallels. The basic jerseys (/199 for veterans, varied numbering for legends) can also be found as Premium Materials in addition to using materials such as Neckline (/6) and Tags (/3). Signed parallels come as either Silver Spectrum (varied numbering) or Platinum Blue Spectrum (one-of-one).
One intriguing feature for 2016-17 Upper Deck Premier Hockey is the Rookie inserts (/199 or /299) along with a massive amount of content that features first-year talents. These cards will have Jersey (1:2), Patch (/25), Neckline (/12), and Tag (/3). Autograph Rookies (/399) have Gold Spectrum (/25) and Platinum Blue Spectrum (one-of-one) parallels, but there are also rare Rookie Silver Spectrum Autos (/10 and /25).
The ARP cards have a pair of parallels that include Gold Spectrum (/25) and the one-of-one Platinum Blue Spectrums, which are likely to contain premium swatches. An additional freshman-themed parallel will pay tribute to the 2003-04 Upper Deck Premier Hockey design. Limited to 99 copies each, they are signed with patch pieces and a Gold parallel will be numbered to 15.
In addition to the autographs that are base set parallels, there are a few collections worth considering here. All of them appear to be very limited and have tougher Silver Spectrum versions, too. Look for Signature Award Winners, Signature Champions, Inked Script, Premier Signatures Stars, and Premier Signatures Legends.
As expected, Mega Inserts return in 2016-17 Upper Deck Premier Hockey with generous swatches of game-worn and player-worn material. The most appealing and colorful of the bunch are Mega Patch Chest Logos (varied numbering), but there is something to be said for the attractiveness of the Sleeve Numbers (/4), Shoulder Logos (/3), and Commemorative Logos (/3). There are a few types of multi-player Mega Patch and Mega Stick cards as well. Duos are hand-numbered out of 25 while Trios are numbered to just five.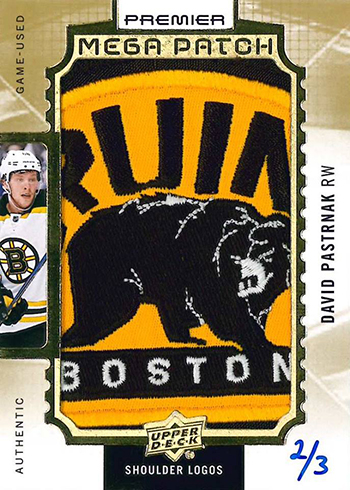 Other big memorabilia hits include Acetate Starts Auto Patch (/49 or /25, one-of-one Blue Spectrum parallel), Premier Gear (/10), Rookie Premier Gear (/15, Spectrum /3), Premier Swatches Jersey (and Premium), and Premier Signature Booklets (1:7).
The theme of Premier Duals Jersey (/99) carries over into Premier Trios (/75), and Premier Quads (/49 or /25). All of these sets also have a Premium parallel that is most limited and expected to have nicer memorabilia pieces.
Finally, 2016-17 Upper Deck Premier Hockey throws back nearly 15 years with a 2002-03 Veteran Auto Patch Tribute, which are numbered to either 15 or 25 and have a Gold parallel (/5).
2016-17 Upper Deck Premier Hockey at a glance:
Packs per box: 1
Cards per pack: 7
Boxes per case: 5
Set size: 100 cards
Release date: August 16, 2017
What to expect in a hobby box:
• Acetate Autograph Rookie Patch Cards – 1
• Additional Autographs or Memorabilia Cards – 4
• Base Cards – 4
2016-17 Upper Deck Premier Hockey Checklist
Base
Autographs
Memorabilia
Inserts
Updates
Team Sets
Stephen Laroche is the editor of Beckett Hockey, Beckett Basketball, and Beckett Sports Card Monthly magazines. Have a comment, question or idea? Send an e-mail to him at slaroche@beckett.com or follow him on Twitter @Stephen_Laroche.