2017 Upper Deck Spider-Man Homecoming Checklist Includes Michael Keaton Autographs
It has been a while since there has been a full set of trading cards for a Spider-Man movie. 2017 Upper Deck Spider-Man Homecoming breaks that streak.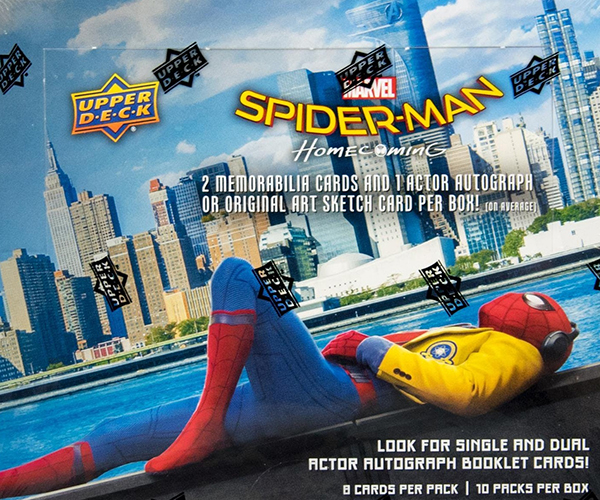 The configuration is in line with a lot of the company's other recent releases stemming from the Marvel Cinematic Universe. Hobby boxes have ten packs and come with a pair of memorabilia cards as well as either an autograph or sketch card.
The 2017 Upper Deck Spider-Man Homecoming base set has 100 cards. These highlight images from the movie. Each pack includes one of four different parallel sets. Silver Foil are the most common of these (and the only ones that aren't serial numbered. Other parallels include Red Foil (/199), Blue Foil (/99) and Black Foil (/49).
No names have been announced but Actor Autographs are a part of the checklist. Signed cards come with multiple themes and designs including booklets. Multi-signature cards can be found with and without costume swatches.
The two-per-box Webbed Tread memorabilia cards come with material from costumes used in the film's production. These have anywhere from one to four swatches.
Rounding out the premium inserts are sketch cards. These all have original artwork done directly on the card.
In addition to a parallel, every eight-card pack of 2017 Upper Deck Spider-Man Homecoming trading cards has an insert. There are five different sets in all offering a more detailed look at the film's production from early concept art to offering a look behind the camera to Spider-Man's fancy tech. Insert names include Behind the Lens, Friend or Foe, Spider-Man Decathlon, Spider-Tech, and Spider-Men.
Spider-Man Homecoming marks the character's first standalone film as part of the official Marvel Cinematic Universe. Tom Holland debuted as a the character in Captain America: Civil War and now headlines the latest movie reboot for the character.
The last time a Spider-Man movie had trading cards was for 2012's The Amazing Spider-Man. Released by Rittenhouse, it was a small factory set rather than a full traditional release.
Upper Deck also released a retail version of Spider-Man Homecoming trading cards exclusively at Walmart. These don't have images from the film, nor does the checklist have autographs and memorabilia cards.
2017 Upper Deck Spider-Man Homecoming trading cards at a glance:
Packs per box: 10
Cards per pack: 8
Boxes per case: 12
Set size: 100 cards
Release date: August, 2017
What to expect in a hobby box:
• Memorabilia Cards – 2
• Autographs or Sketch Cards – 1 Total
• Inserts – 10
• Parallels – 10
2017 Upper Deck Spider-Man Homecoming Checklist
Base
Autographs
Memorabilia
Inserts
Sketch Cards
Comments? Questions? Contact Ryan Cracknell on Twitter @tradercracks.