A smashing good time: Toronto Maple Leafs forward Dominic Moore on Smashfest and hockey cards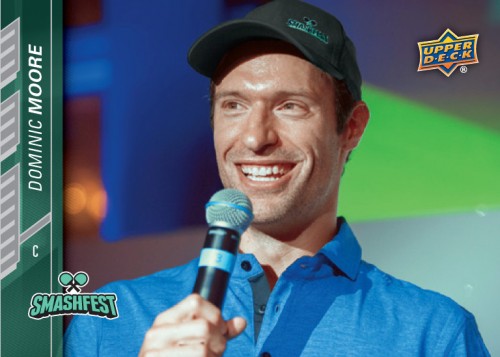 By Stephen Laroche | Beckett Hockey Editor
This Thursday evening, over 20 members of the National Hockey League Players' Association will be in attendance at the Steam Whistle Brewery in Toronto and participating in a table tennis tournament as part of SmashfestVI.
The annual event, which was created by Toronto Maple Leafs forward Dominic Moore, is set to raise funds for charity and allows fans in attendance to mingle with players and even take part in a Pro-Am Doubles Tournament in addition to enjoying food and drink as part of a fun evening. There is also an exclusive set of trading cards produced by Upper Deck that will be given out to guests as well.
"We're pumped! It's hard to believe it's been six years," Moore told Beckett Hockey earlier today. "Our goal from day one was to make it first-rate and have everybody come away saying, 'hey, that was a blast!' We've hopefully succeeded in doing that, but it's always a work in progress."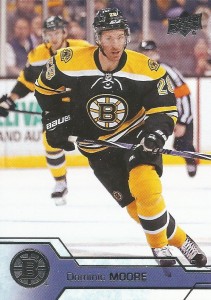 Moore spoke about how Smashfest came to be and why it is the ideal event for both fans and NHLPA members to attend.
"I had always loved playing table tennis, so it was something that was a huge part of the hockey locker room culture and something I really enjoyed. I had been to a lot of charity events over the years and most of them were the golf tournament-type setup. As great as those are, I thought that ping-pong would actually make the perfect type of thing. Number one, it's social. It's interactive. Anyone can play. Whether you're good or bad, it's fun regardless. Number two, it's actually quite appropriate to hockey culture because every locker room has a table. I thought it would be a great way to showcase the players' personalities and bring that to the fans. I thought it would be a new thing and new way and that was kind of the initial thought."
Now entering its sixth year, Smashfest has become a must-attend event for hockey fans in Toronto and it raises funds for both concussion and rare cancer research. The latter is a cause especially important to Moore as his first wife, Katie, passed away following a bout with liver cancer back in 2013. Since the first event, over $500,000 has been raised.
"I don't think any of us expected that it would become as big as it is. I think we all had an idea and thought it was a really unique idea and had great potential, but it was actually such a kind of an unusual idea that nobody knew how it was going to be received. Before we even put on the first year, you'd go and tell someone your idea for the event and they'd either get it or they didn't. As much as we had confidence in it, we really weren't sure how it would be received.
"Then, it was so glowingly received over the past few years. It's been a huge source of pride for us and we're obviously super happy that it's grown that way. As far as where it can go, we've kicked around the idea doing it in different locations. I've had quite a few requests, actually, from contacts in different cities to bring it to Vancouver, to bring it to Montreal, bring it to New York, bring it to Boston – a number of those outreaches, so we're considering that. At the same time, we want to make sure that we keep the event true to what it is and continue to do it well."
The support of his peers carries great significance for Moore as he understands how valuable their time is. He genuinely appreciates the fact that so many of them come out to support such an important cause.
"That is a major thing over the years, the players taking time out of their busy summers. They have a ton of stuff on their docket. They have training, but they get pulled in a myriad of ways with different requests from charities to community-related things. For them to take the time to be a part of the event and to have 25-plus guys every year is massive and I'm extremely grateful for that. We have a lot of returning faces and we have a lot of new faces each year. That's a lot of the fun for me, is getting to know a lot of the guys that I haven't met before and bringing them into the fold."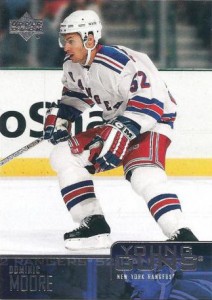 Back in 2003-04, Moore made his NHL debut as a member of the New York Rangers and appeared on a licensed hockey card for the first time.
"That was obviously a moment. You play in the Quebec Pee Wee Tournament as a kid and that's kind of the first you see your face on a card, but at that time, it's a bit of a joke. You think you're a professional at that point, but seeing yourself on an NHL card, seeing the ones that come out occasionally with the pieces of the jersey in it, it really kind of sinks in. I'm someone that appreciated the whole card collecting thing as a kid. It's pretty special."
For Moore, hockey cards were a big part of his youth and he talked at length about the experience of being a collector.
"I was a big card collector growing up. Huge, huge into it. I was just talking about it the other day because a friend of mine has a young boy who is into it now, but all his cards are strewn all over the floor in his room," he laughed. "I said, 'you need to get one of those organizers they used to make.' I don't know if you remember these, but they had the cardboard boxes that were locker. You opened them up and they had all the slots for the divisions. It was unbelievable. A great way to organize.
"In my younger days, I didn't have a hero. Probably when I was around 10, I didn't really have a guy in particular, just the game in general. As I got older, when I was 13 or 14, Doug Gilmour was definitely my hero. I guess that was a little after the heyday of the card collecting. McDonald's had a card set for a while. That was a big thing. I remember going to the hockey tournaments and getting a Happy Meal and getting the cards there. The gum was a big part of the O-Pee-Chee period. Whether you went for the gum or not.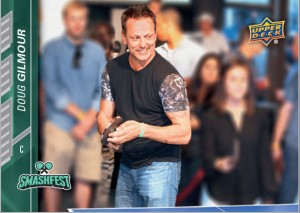 "My favorite player, Doug Gilmour, was one of the guys that I loved. But for me, the biggest thing was just knowing all the players. Whether it was a first line player or a fourth line player, we knew all the names as a kid. Anyone who collects cards can attest to that. You've got all these names and different teams that for you are household names if you grew up loving the game and collecting the cards. That was half the fun of it, knowing each team and each player inside out, knowing which teams they played for, and what their stats were. It's amazing what kids can absorb at that age. I love that part of it."
Moore did not just limit himself to just hockey cards as a child, either.
"Another memory I have is not a hockey one, but actually a baseball one. The Ken Griffey Jr. Rookie Card was kind of a big moment, getting that because it was kind of the shoe-in future Hall of Famer and everyone knew it. It was, go out and get your Ken Griffey Jr. Upper Deck Rookie Cards at the convenience store and hoping to get it."
As mentioned above, those attending SmashfestVI will receive a 10-card set of cards produced by Upper Deck showing off some of the players that have participated in the event in recent years. This is the second straight year where a limited edition collection was made available and Moore had high praise for the cards.
"I personally love them, obviously," he said. "When we were talking with Upper Deck about getting involved in the event, my first thought was, 'hey, if they were willing, we'd love to create a limited edition Smashfest set.' They were fantastic in their support and fantastic in accommodating that request. We're really proud of the set and we're starting, I hope, a tradition here by releasing the next round year by year. It's something really fun for us that we can layer in to what is going on with the event and a way of thanking the guests, sponsors, and fans that are part of the event. Obviously, from a collector's standpoint, it's a pretty neat thing at they're a limited edition. They're hockey cards, but they're pictures of players at the event and pictures of players without their equipment on. To me, they're really neat and a lot of fun."
Moore has played for 10 different teams over the course of his NHL career, but the Toronto-area native has always had a soft spot for his local Maple Leafs. He played with the team during the 2007-08 and 2008-09 seasons and signed with them as a free agent on July 1 after spending last year with the Boston Bruins. Now with a team loaded up with young stars like Auston Matthews, William Nylander, and Mitch Marner, his leadership and playoff experience is certainly going to be a big help.
"There are some exciting prospects there. I've got an opportunity to join a team that is just incredibly exciting to be a part of. They way they performed last year, the talent and work ethic that the group has shown, they hopefully will continue to grow together this season. Adding in a player like Patrick (Marleau), Ron Hainsey, and myself, hopefully we can bring what we do. I played with Patrick briefly in San Jose. He's just the epitome of a professional, a great teammate and probably, at 38, one of the best skaters in the NHL. Really exciting time to be a part of the Maple Leafs and obviously, having grown up rooting for them, another reason to be so pumped heading into the season."
Among the players scheduled to join Moore at SmashfestVI are Josh Anderson, Andreas Athanasiou, Sam Bennett, Joe Blandisi, Derick Brassard, Connor Brown, Alex Burrows, Connor Carrick, Joseph Cramarossa, Ryan Dzingel, Patrick Eaves, Taylor Hall, Adam Henrique, Michael Latta, Brandon Montour, Joe Morrow, Antoine Roussel, Devin Shore, Jeff Skinner, Ryan Spooner, Chris Tierney and Matthew Tkachuk.
For more information on SmashfestVI or to buy tickets, visit the official website at www.smashfest.ca.
Stephen Laroche is the editor of Beckett Hockey, Beckett Basketball, and Beckett Sports Card Monthly magazines. Have a comment, question or idea? Send an e-mail to him at slaroche@beckett.com or follow him on Twitter @Stephen_Laroche.