2017 Panini Pantheon Football Checklist and Team Set Lists
2017 Panini Pantheon Football marks the brand's gridiron debut following a kickoff in baseball last year. And while football keeps the overall high-end, hits focus, there are some differences.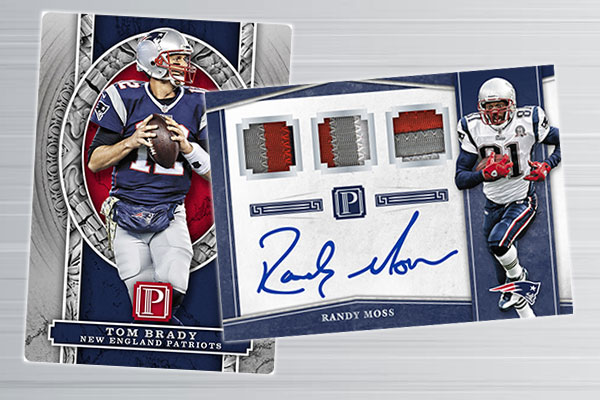 Six out of the seven cards in each box have either autographs or memorabilia.
Base Set
One of the biggest switches in 2017 Panini Pantheon Football is the base set. In 2016 Pantheon Baseball, hits were integrated into the main set. That's not the case here. But they're not traditional cards, either.
Rather, the 2017 Pantheon Football base set is done on metal. While such cards have been used for several years, usually with inserts, it's a growing trend in the hobby right now. For example, 2017 Rittenhouse Game of Throne Valyrian Steel is taking a similar approach.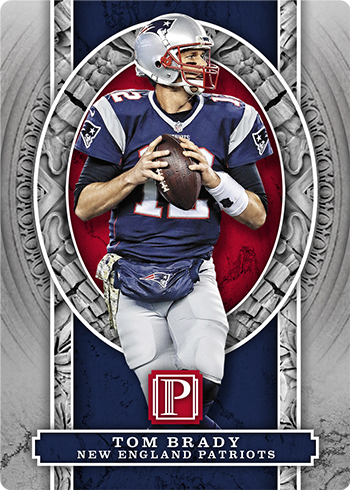 A total of 100 players are included in the base set, all of which are numbered to 50 or less. Two tiers of parallels are also available, Gold (/10) and Bronze (1/1).
Autographs and Memorabilia Cards
One of the aims of 2017 Panini Pantheon Football is to look at the game's history, both recent and reaching back through the generations. While there are rookies among the product's hits, there is a greater focus on veterans and retired greats than a lot of other products.
On the autograph front, Milestone Scripts come hard-signed by all-time greats. Each is numbered to 99 or less. Scripts 25,000 (/49 or less) are all about quarterbacks. Each spot on the insert's checklist includes someone who has reached the career throwing milestone.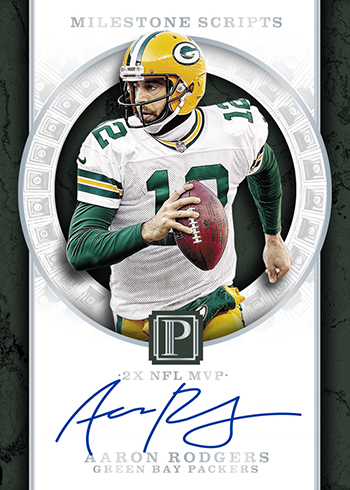 Pantheon Scripts Triple have three pieces of memorabilia that go with an on-card autograph.
The 2017 rookie class is included in Neophyte Calligraphy. Numbered to 99 or less, autographs are paired with a patch swatch.
2017 Panini Pantheon Football highlights some of the game's most accomplished coaches as well with Mentors. Numbered no higher than 49, all come with an autograph.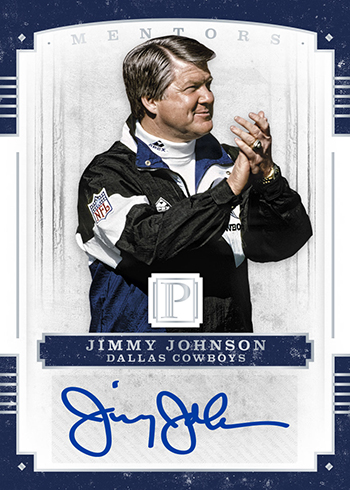 On the memorabilia side, Legendary Monuments is similar in design to baseball's Metropolis Monuments. The die-cut design is inspired by Mt. Rushmore, pairing up four all-time greats by team or position.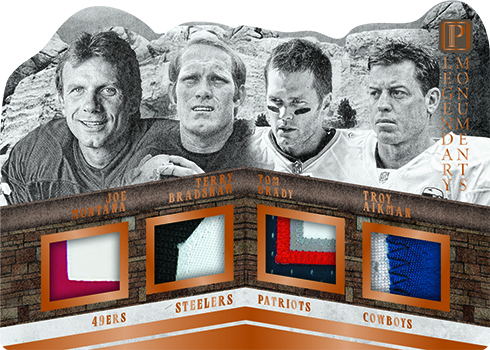 Sympaiktis may not have a familiar name, but the theme should be. The title comes from the Greek word, meaning 'teammate.' The cards have swatches from players who played together.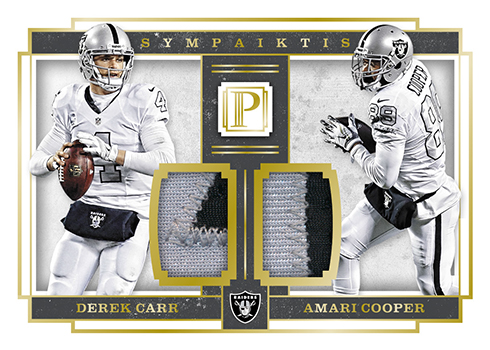 Mammoth Materials cards come with large swatches from jersey worn by rookies.
Nearly every card in 2017 Panini Pantheon Football is numbered to 149 or less with most limited to no more than 99 copies.
2017 Panini Pantheon Football at a glance:
Packs per box: 1
Cards per pack: 7
Boxes per case: 5
Set size: 100 cards
Release date: July 19, 2017
What to expect in a hobby box:
• Autographs or Memorabilia Cards – 6
• Base Cards or Parallels – 1
2017 Panini Pantheon Football Checklist
Base
Autographs
Memorabilia
Team Sets
Comments? Questions? Contact Ryan Cracknell on Twitter @tradercracks.