2015-16 Upper Deck Full Force Hockey Cards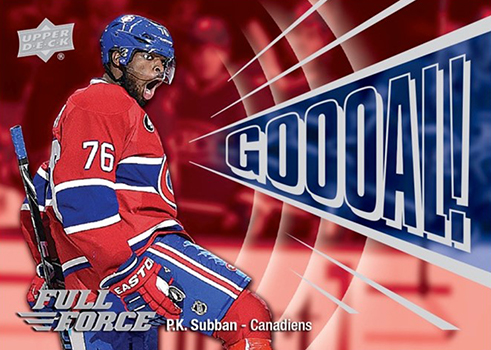 By Ryan Cracknell | Hobby Editor
Acetate, 3-D lenticular cards, rainbow foil, die-cuts galore — 2015-16 Upper Deck Full Force Hockey has a lot going on. The product appears to take a Spinal Tap approach to 2014-15 Fleer Ultra Hockey, turning the variety up to 11. It's loud and it doesn't make any qualms about it. And while there are autographs, they're not really the focus.
2015-16 Upper Deck Full Force Hockey boxes have 18 packs and deliver almost as many inserts, all of which come with some sort of alternate spin on card stock or technology.
Get a sortable 2015-16 Upper Deck Full Force Hockey checklist and price guide access.
Base Set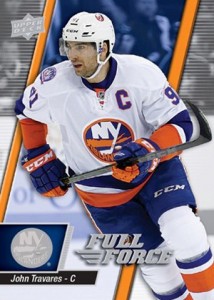 The 2015-16 Full Force base set isn't huge. It has just 100 cards, each of which has a Die-Cut Rainbow parallel that's numbered to 25.
Rookies aren't included in the base set, but they certainly make their presence felt. Taking a page from ITG's Heroes and Prospects line from a couple of years ago, the Full Force Freshman subset showcases first-year players in 3-D with lenticular technology. If they're anything like recent 3-D sets from both Upper Deck and other manufacturers, they're the kind of cards that will need to be seen in person as scans and mock-ups don't do them justice. Boxes have one of the rookie cards.
Full Force Freshman Die-Cut parallels are inserted 1:120 packs.
Inserts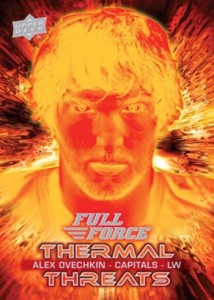 Much of the attention for 2015-16 Upper Deck Force Hockey is going to be on its basic inserts. And rightfully so considering it's positioned as an alternative to those not as interested in traditional autograph and memorabilia hits.
Each box has a pair of PETG acetate-style inserts. These come in a couple of forms, Dual Force and Rising Force. Both take a layered approach to their look, giving them depth that can't be conveyed on traditional cards. Gold parallels are numbered to 50.
Die-cut inserts combine to land four per box. Goooal!, Valuable Assets and Immediate Impact all take their own approach to design.
Rainbow foil inserts are also found four per box. Thermal Threats are particularly bold, making flaming molds of players' faces. Other foil inserts include Calder Competitors, Draft Board and Ice Encounters.
Blueprints (1:3 packs) is a new insert set. Players are presented as a schematic drawing, showcasing their individual talents.
Autographs
Signed cards are commonplace in the modern hobby, often landing one or more per box. 2015-16 Upper Deck Full Force Hockey doesn't promise an autograph in every box. Rather, they're fall every other box. Mixing rookie and veteran signatures, they're essentially parallels of basic insert sets. Blueprints, Goooal!, Immediate Impact and Valuable Assets all have signed versions.
Some of the autographs aren't serial-numbered. They're also not available in equal quantities, which leads to some short prints.
2015-16 Upper Deck Full Force Hockey at a glance:
Packs per box: 18
Cards per pack: 5
Boxes per case: 16
Release date: December 9, 2015
What to expect in a hobby box:
Acetate Inserts – 2
Die-Cut Inserts – 4
Rainbow Foil Inserts – 4
Blueprints Inserts – 6
3-D Lenticular Full Force Rookie Cards – 1