2015 Panini Spectra Football has some 2014 cards
Over the past couple of years, Panini has tried to shift away from redemptions, opting to put some late-returning autographs into its Rewards program instead. That hasn't meant an end to all redemptions, particularly in high-end releases. And it has meant the introduction of the Panini Points program. 2015 Panini Spectra Football took a third approach, including some 2014 cards.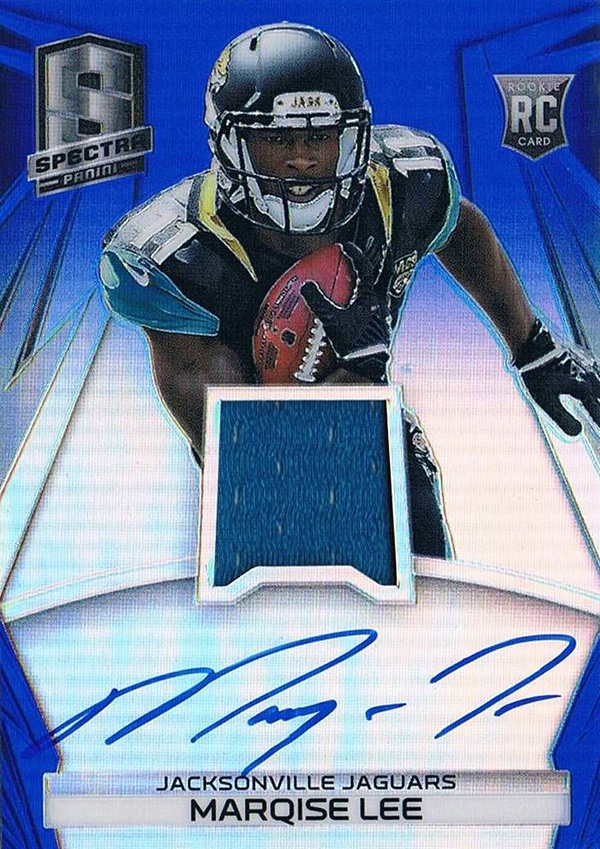 Panini has confirmed the additions to the product, saying they opted to do this to avoid redemptions and Panini Points in their first high-end football product of 2015. The card maker also said in a statement on their blog that Points weren't included in 2014 Spectra for these newly added cards. They simply arrived late and are now being used.
All of the 2014 Panini Spectra Football cards included in the 2015 edition were rookies in 2014. They are Jimmy Garoppolo, Marqise Lee, Jeremy Hill, Terrance West, Eric Ebron and Davante Adams.
2014 Panini Spectra Football Update Checklist
The following is a list of 2014 Spectra Football cards included in 2015 Spectra Football.
Rookie Jersey Autographs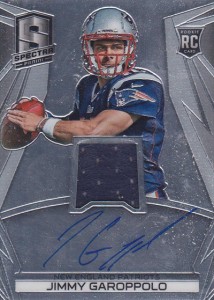 207 Jeremy Hill, Cincinnati Bengals /149
211 Davante Adams, Green Bay Packers /149
218 Jimmy Garoppolo, New England Patriots /149
224 Eric Ebron, Detroit Lions /149
229 Marqise Lee, Jacksonville Jaguars /149
237 Terrance West, Cleveland Browns /149
Rookie Jersey Autographs Black Prizm Laundry Tag – NFL
207 Jeremy Hill, Cincinnati Bengals 1/1
211 Davante Adams, Green Bay Packers 1/1
218 Jimmy Garoppolo, New England Patriots 1/1
224 Eric Ebron, Detroit Lions 1/1
229 Marqise Lee, Jacksonville Jaguars 1/1
237 Terrance West, Cleveland Browns 1/1
Rookie Jersey Autographs Black Prizm Laundry Tag – NFLPA
207 Jeremy Hill, Cincinnati Bengals 1/1
211 Davante Adams, Green Bay Packers 1/1
218 Jimmy Garoppolo, New England Patriots 1/1
224 Eric Ebron, Detroit Lions 1/1
229 Marqise Lee, Jacksonville Jaguars 1/1
237 Terrance West, Cleveland Browns 1/1
Rookie Jersey Autographs Black Prizm Laundry Tag – Nike
207 Jeremy Hill, Cincinnati Bengals 1/1
211 Davante Adams, Green Bay Packers 1/1
218 Jimmy Garoppolo, New England Patriots 1/1
224 Eric Ebron, Detroit Lions 1/1
229 Marqise Lee, Jacksonville Jaguars 1/1
237 Terrance West, Cleveland Browns 1/1
Rookie Jersey Autographs Blue Prizm
207 Jeremy Hill, Cincinnati Bengals /49
211 Davante Adams, Green Bay Packers /49
218 Jimmy Garoppolo, New England Patriots /49
224 Eric Ebron, Detroit Lions /49
229 Marqise Lee, Jacksonville Jaguars /49
237 Terrance West, Cleveland Browns /49
Rookie Jersey Autographs Gold Prizm
207 Jeremy Hill, Cincinnati Bengals /25
211 Davante Adams, Green Bay Packers /25
218 Jimmy Garoppolo, New England Patriots /25
224 Eric Ebron, Detroit Lions /25
229 Marqise Lee, Jacksonville Jaguars /25
237 Terrance West, Cleveland Browns /25
Rookie Jersey Patches Autographs Black Prizm
207 Jeremy Hill, Cincinnati Bengals /5
211 Davante Adams, Green Bay Packers /5
218 Jimmy Garoppolo, New England Patriots /5
224 Eric Ebron, Detroit Lions /5
229 Marqise Lee, Jacksonville Jaguars /5
237 Terrance West, Cleveland Browns /5
Rookie Jersey Patches Autographs Red Prizm
207 Jeremy Hill, Cincinnati Bengals /10
211 Davante Adams, Green Bay Packers /10
218 Jimmy Garoppolo, New England Patriots /10
224 Eric Ebron, Detroit Lions /10
229 Marqise Lee, Jacksonville Jaguars /10
237 Terrance West, Cleveland Browns /10
Aspiring Signature Materials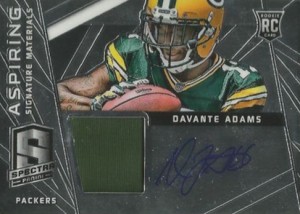 2 Davante Adams, Green Bay Packers /49
10 Marqise Lee, Jacksonville Jaguars /25
17 Terrance West, Cleveland Browns /49
Aspiring Signature Materials Black Prizm
2 Davante Adams, Green Bay Packers /2
10 Marqise Lee, Jacksonville Jaguars 1/1
17 Terrance West, Cleveland Browns /2
Aspiring Signature Materials Blue Prizm
2 Davante Adams, Green Bay Packers /15
10 Marqise Lee, Jacksonville Jaguars /10
17 Terrance West, Cleveland Browns /15
Aspiring Signature Materials Gold Prizm
2 Davante Adams, Green Bay Packers /10
10 Marqise Lee, Jacksonville Jaguars /5
17 Terrance West, Cleveland Browns /10
Aspiring Signature Materials Red Prizm
2 Davante Adams, Green Bay Packers /4
10 Marqise Lee, Jacksonville Jaguars /2
17 Terrance West, Cleveland Browns /4