Promo sets are only Jurassic World card options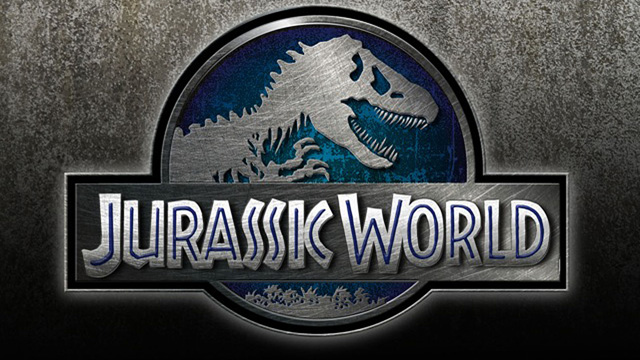 By Matt Bible | Beckett Non-Sports and Gaming Analyst | Commentary
Jurassic World opened last night to much fanfare among moviegoers. I was there and it was two hours of amazing dino action. However, one thing you won't find much of is Jurassic World cardboard. None of the major card companies acquired a license to produce the ultimate Jurassic World product.
But, as Jeff Goldblum so blatantly put it in the original Jurassic Park … life finds a way. And sometimes, so do cards.
Jurassic World collectors will not go home empty handed this summer as there are a couple nifty little sets out there that feature everyone's favorite dinosaurs.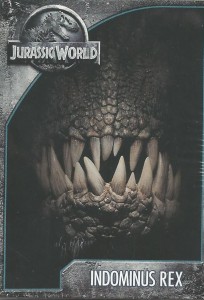 The first set on this short list is the Jurassic World Best Buy Promo. These cards are available to anyone who checks out an exclusive clip of Jurassic World on Samsung's new SUHDTV (short for Samsung Ultra High Definition Television) at Best Buy stores. Watch the trailer and get the set of cards. It's as easy as that. The set includes eight cards of all the dinosaurs in the film: Apatosaurus, Mosasaurus, Pteranodon, Stegosaurus, Triceratops, T-Rex, Velociraptor, and the ferocious Indominus Rex (above). Each card back contains stats on the dinos plus some fun trivia about each.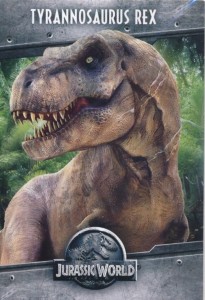 The second set is the Jurassic World VUDU Pizza Promos and it can be acquired by visiting your local Walmart and picking up an extra large marketplace pizza. The promotion is sponsored by VUDU, an online movie streaming website. Each variety of pizza contains a different dinosaur. They are: Pteranodon (supreme), T-Rex (ultimate meat), Triceratops (cheese), and Velociraptor (pepperoni). Each card contains a promo code for special discounts that consumers can use on VUDU. Like the Best Buy set, each card back contains interesting information on each dinosaur. The pizzas themselves retail for $9.99 and each contain one card.
To complement Jurassic World and the theme of dinosaurs, collectors may also want to check out Upper Deck's upcoming Dinosaurs product. Check out the Beckett profile here.
Matt Bible is the non-sports and gaming analyst for Beckett Media. Have a comment, question or idea? Send an email to him at mbible@beckett.com.