2015 Topps Chrome Baseball — Hobby vs retail odds rundown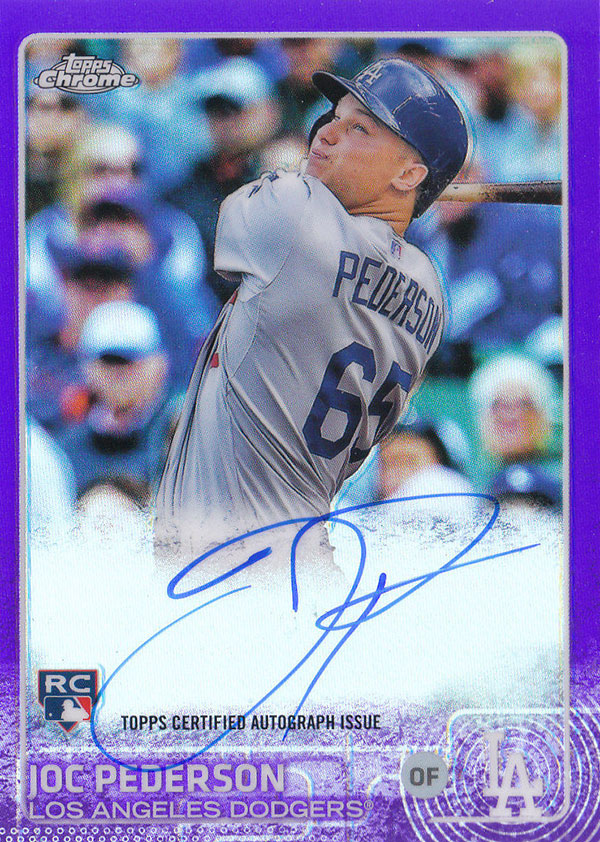 By Ryan Cracknell | Hobby Editor
2015 Topps Chrome Baseball has several different configurations based on where you're buying it. If you're heading to your local card shop, you'll find hobby and jumbo boxes. If you don't have a hobby store nearby, you might come across it in the card aisle at Target, Walmart or another retail location. These have packs, larger Value Packs and blaster boxes.
To make each attractive in their own way, each 2015 Topps Chrome Baseball configuration has its own highlights. For hobby and jumbo, many will gravitate towards the promised autographs. Those that like colorful Refractors might look to retail for their exclusive colors.
Traditionally, hobby packs have better odds on premium content like autographs and memorabilia cards. And while that's the case overall here, there are a couple of exceptions. Most notable are the Rookie Autograph Gold Refractors and Printing Plates. Both are exclusive to retail packs. And because of this, odds are better than you might normally expect for autographs that are on the rarer side.
For example, the Rookie Autograph Gold Refractors, which are numbered to 50, are 1:234 retail packs. Compare that to the Rookie Autograph Green Refractors that are spread across hobby, jumbo and retail packs. Despite being numbered to 99 copies each, they're 1:424 hobby and 1,484 retail. The Green parallels are easiest to find in the hobby jumbos where they land 1:86 packs.
On the exclusives side, base Sepia and Pink Refractors are only at retail.
Hobby has a few exclusives of its own, most notably Rookie Autograph Orange Refractors (/25). Hobby and jumbo packs are the only place to find Rookie Autograph Superfractors. However, basic Superfractors are part of the retail mix, just not as an exclusive.
For a lot of the main parts of 2015 Topps Chrome Baseball, hobby and retail odds match up pretty closely. Some of the toughest inserts see things sway a little in hobby's favor, but they're rare no matter which pack type you're busting.
Below is a full list of 2015 Topps Chrome Baseball odds lined up for easy reference and comparison.
2015 Topps Chrome Baseball Insertion Rates
Refractor Parallels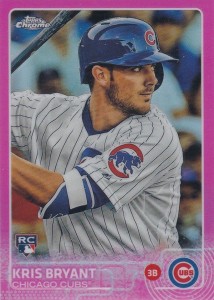 Refractor
Hobby 1:3
Jumbo 1 per pack
Retail 1:3
Pink Refractor
3 per Retail Value Pack
Prism Refractor
Hobby 1:6
Jumbo 1:2
Retail 1:6
Sepia Refractor
4 per Retail Blaster
Purple Refractor /250
Hobby 1:38
Jumbo 1:12
Retail 1:38
Blue Refractor /150
Hobby 1:64
Jumbo 1:20
Retail 1:64
Green Refractor /99
Hobby 1:97
Jumbo 1:30
Retail 1:97
Gold Refractor /50
Hobby 1:191
Jumbo 1:59
Retail 1:191
Orange Refractor /25
Hobby 1:382
Jumbo 1:118
Retail 1:383
Red Refractor /5
Hobby 1:1,915
Jumbo 1:589
Retail 1:39,522
SuperFractor 1/1
Hobby 1:9,517
Jumbo 1:2,947
Retail 1:9,581
Printing Plate
Hobby 1:2,388
Jumbo 1:737
Retail 1:2,395
Rookie Autographs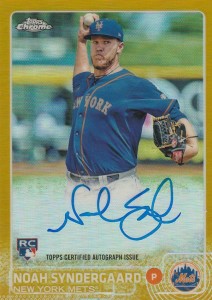 Rookie Autograph
Hobby 1:21
Jumbo 1:3
Retail 1:137
Rookie Autograph Refractor /499
Hobby 1:54
Jumbo 1:29
Retail 1:211
Rookie Autograph Purple Refractor /250
Hobby 1:168
Jumbo 1:34
Retail 1:589
Rookie Autograph Blue Refractor /150
Hobby 1:280
Jumbo 1:57
Retail 1:982
Rookie Autograph Green Refractor /99
Hobby 1:424
Jumbo 1:86
Retail 1:1,484
Rookie Autograph Gold Refractor /50
Retail 1:234
Rookie Autograph Orange Refractor /25
Hobby 1:602
Rookie Autograph Red Refractor /5
Hobby 1:8,405
Jumbo 1:1,705
Retail 1:28,743
Rookie Autographs SuperFractor 1/1
Hobby 1:20,877
Jumbo 1:15,866
Rookie Autograph Printing Plate
Retail 1:2,955
Additional Inserts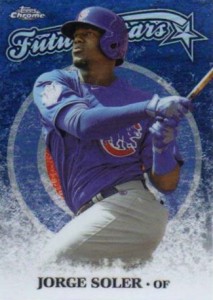 Variation
Hobby 1:765
Jumbo 1:235
Retail 1:766
Variation Red Refractor
Hobby 1:38,070
Jumbo 1:12,133
Retail 1:39,522
Variation SuperFractor
Hobby 1:215,728
Jumbo 1:51,564
Retail 1:158,088
Chrome Commencements
Hobby 1:48
Jumbo 1:12
Chrome Commencements Red Refractor
Hobby 1:19,035
Jumbo 1:5,893
Retail 1:19,761
Chrome Commencements SuperFractor
Hobby 1:92,455
Jumbo 1:29,465
Retail 1:105,392
Chrome Culminations
Hobby 1:288
Chrome Culminations Red Refractor
Hobby 1:6,812
Chrome Culminations SuperFractor
Hobby 1:34,062
Chrome Culminations Autograph
Hobby 1:3,785
Jumbo 1:770
Retail 1:13,174
Dual Autographs
Hobby 1:12,690
Jumbo 1:2,578
Retail 1:45,168
Dual Autographs Red Refractor
Hobby 1:24,892
Jumbo 1:5,156
Retail 1:79,044
Dual Autographs Printing Plate
Retail 1:10,539
Dual Autographs SuperFractor
Hobby 1:58,835
Jumbo 1:51,564
Future Stars
Hobby 1:12
Jumbo 1:4
Retail 1:12
Future Stars Gold Refractor
Hobby 1:1,915
Jumbo 1:589
Retail 1:1,916
Future Stars Orange Refractor
Hobby 1:3,829
Jumbo 1:1,179
Retail 1:3,809
Future Stars Red Refractor
Hobby 1:19,035
Jumbo 1:5,893
Retail 1:19,761
Future Stars SuperFractor
Hobby 1:49,783
Jumbo 1:34,376
Gallery of Greats
Hobby 1:24
Jumbo 1:8
Retail 1:24
Gallery of Greats Gold Refractor
Hobby 1:525
Jumbo 1:1,031
Gallery of Greats Orange Refractor
Hobby 1:1,091
Jumbo 1:677
Gallery of Greats Red Refractor
Hobby 1:5,485
Jumbo 1:8,250
Gallery of Greats SuperFractor
Hobby 1:28,138
Jumbo 1:34,376
Illustrious Autographs
Hobby 1:1,512
Jumbo 1:308
Retail 1:5,270
Illustrious Autographs Orange Refractors
Hobby 1:1,082
Illustrious Autographs Red Refractors
Jumbo 1:1,733
Illustrious Autographs Printing Plate
Retail 1:5,646
Illustrious Autographs SuperFractor
Hobby 1:34,062
Jumbo 1:41,251
Thrill of the Chase Die-Cut Autographs
Hobby 1:3,595
Jumbo 1:731
Retail 1:12,647
Thrill of the Chase Die-Cut Autographs Red Refractor
Hobby 1:24,892
Jumbo 1:5,156
Retail 1:79,044
Thrill of the Chase Die-Cut Autographs Printing Plate
Retail 1:8,783
Thrill of the Chase Die-Cut Autographs SuperFractor
Hobby 1:64,718
Jumbo 1:41,251
Triple Autographs
Jumbo 1:2,171
Triple Autographs Red Refractor
Jumbo 1:4,297
Triple Autographs SuperFractor
Jumbo 1:20,626
Triple Autographs Printing Plate
Jumbo 1:5,289