WWE Hall of Famer Trish Stratus is The Queen of WrestleMania, a mom — and a "collector nerd" too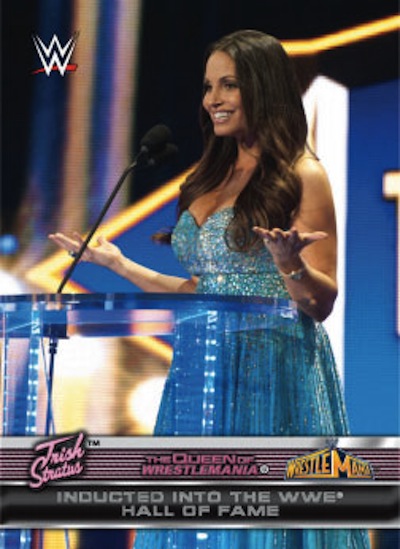 By Chris Olds | Beckett Sports Card Monthly Editor | Commentary
She's seen the world as both a model and an athlete. She's a successful businesswoman. She's a Hall of Famer. She's held the WWE's women's championship more times than any other Diva in history and is now officially wrestling royalty.
Her new Queen of WrestleMania cards from Topps say so.
But the title that is apparent for Trish Stratus now vs. her past is the one that probably matters most — and it's even reflected on the final card in her new set.
It's Mom. And the last card found in the new 2014 Topps Road to WrestleMania set shows the first time she publicly announced the future arrival of  her son, Maximus, who celebrates his first birthday in four days with his first cardboard appearance. You can call it a Rookie Card per se.
"That's hilarious. Oh my God, that's great," she said, laughing. "I never really looked at it like that, but you're right."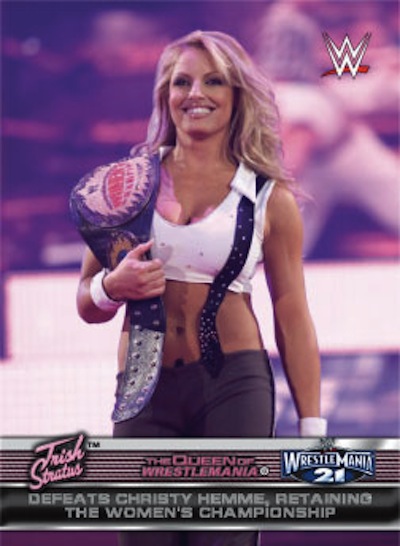 As a self-professed "collector nerd" who has long collected many things along with her husband, Ron, that piece of collectibles trivia resonates well — and Max came up a few times when talking collecting, autographs, memorabilia and more during a 30-minute conversation a few days before she was scheduled to appear in San Antonio, Texas. She's there this weekend for the Alamo City Comic Con with former in-ring rival, Lita, aka Amy Dumas, for an autograph signing — a common thing these days for "Team Bestie" as both have stepped away from the wrestling ring and on to different things that include autograph appearances together.
"I will sign autographs any time every time and I always have from the very beginning," said the 38-year-old seven-time champion from Toronto. "I always understood the value of an autograph, but it's more about the moment. When someone is making the effort to meet you, it's interpreted a couple ways. Yes, the person coming up to you at an airport [could be seen as] creepy or stalker but it's not. To me, it's like, wow, they are making an effort because they appreciate you and they want to acquire this special thing from you."
She's accessible and she gets the interest and the demand — but there are still limits.
"Yes, there's a flipside of that they want to acquire this special thing for you for someone else on eBay. … But I look at it like this, if someone is enterprising enough to make their way all the way down here and take my autograph and flip and sell it, I don't care. Shoot, I flip houses, I get it. I can appreciate that and that's cool. I'm not going to sit there and have an autograph signing with you for 25 items in the airport, that's a different story."
Collectors familiar with Stratus' work and one of her present ventures, Stratusphere Yoga, know that she's got a healthy online presence for both that business and her own personal website, where fans can buy autographed items — past magazine covers, photos, cards and plenty more. Collectors can also send in their own items to be signed for a small fee. It's not an accident as this has all been part of her routine since Day 1.
"I'm one of the only people [from WWE] who has a website," she said. "When I came into the business, part of my contract was my name and my website were mine. I started my website in 1999 and so TrishStratus.com has been around for a long time. That was a thing we started long ago and it's part of my business model. And it's always been there from fitness and then moving to WWE and beyond it's always been something I am a part of. It's got me connected. I have Stratusfied customers since my fitness days, and that's neat to me. I have a lot of regulars and it's pretty cool."
Before she made her WWE debut back in 2000, she was under contract with MuscleMag magazine — and that's where the seeds of her business-savvy approach began.
"When I first started in fitness modeling, my mentor was Robert Kennedy who was the publisher of MuscleMag," she said. "When I signed my contract with him and became officially a quote-unquote 'contracted fitness model' and I had my first cover come out. The first thing he said to me was, 'OK, now what you do is you go get yourself a P.O. box.' He put an ad for me in the magazine. I was this new, fresh hot fitness model Trish Stratus and I was on the cover and it was introducing me to the world … and there was this page saying 'Trish Stratus autographed photos' with this selection of photos from the very same photo shoot where my cover came from and they were available for like $10. That was a huge thing in the fitness world and that was my first glimpse at how one can be enterprising when it comes to autographs. That was my first foray into the business of autographs and, boy, I was so surprised."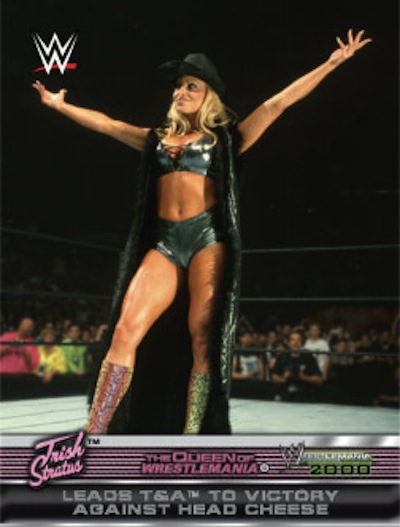 Stratus said her eight-card Queen of WrestleMania set was a chance to revisit her career, which ended as a full-time performer in 2006 with occasional big-match appearances in the years since and election into the WWE Hall of Fame in 2013. She penned the card backs for the set, too, giving her a chance to put her experiences into words, not just revisit the highlight reels and photos.
"Not to turn down any of the other appearances or projects — they're all exciting and every opportunity is amazing — but this is really special," she said. "It makes me realize how I had such a fulfilling career. It's funny people ask me 'Do you regret leaving?' and 'When you retired were you ready?' and having a card set like this makes me go 'Right, this is what I was feeling when I retired.' I had these amazing epic moments and I felt very fulfilled when I left my career. When I felt like I was ready to move on, it was because I had these moments as you can see in the card set."
Her first 'Mania moment was WrestleMania 2000 (aka WrestleMania 16) where she merely accompanied the tag team of Test and Albert to the ring. Two Manias later, though, she was in a three-way match for the women's title in her hometown of Toronto. Ron was there collecting it all — especially after she made her cardboard debut in 2001.
"I've had some really cool cards. My husband is a collector — we're both collectors big-time — and one of the things Ron started doing was collecting the cards along the way. He enjoys the chase … and wrestling was just huge [then] and it is now, too, and at the time there were trading cards and games in Asia and Italy and all kinds of things. Ron has some pretty epic cards in his collection, but this is really special. It's like a nice story. It would be awesome to give to my son and be like 'That's what Momma did.'"
While Stratus does have a heavy web and social media presence with close to a million Twitter followers and a million-plus fans on Facebook, one thing she hasn't done through the years — unlike many of her fellow competitors — is sell her match-used gear. It's kind of unintentionally become a collection of its own.
"Oh my gosh, I have often gone through my collection," she said. "We have this big storage unit where I've said 'If we set this room up, it'd be a crazy Trish Stratus museum, we have so much stuff in here.' It just feels weird to me [to sell items] and I don't know why. I give away a lot of pieces to charity and things like that — I've done boots before and pants and tops. But it kind of feels weird to be selling your outfits and how do you put a value on it? Do you try to make your money back from what you spent on it? It just doesn't feel right to me for some reason. It feels odd."
But charity tie-ins have happened — one, for example, being the first ensemble she ever wore in the WWE.
"The one time I did release an outfit I thought, 'Let me give this a try' and put my debut outfit out and this mom bought it for her twin boys," she said. "We spoke and we framed it for them and everything and made it really pretty. … I gave a portion of the proceeds to charity. I always said to myself that was kind of neat and someone got a special moment out of it and we could raise some money. All these years later I haven't revisited that, but maybe I will. Who knows, the next time some special event comes out maybe I'll correlate an outfit and release it — something for charity. For the right moment, it's kind of neat."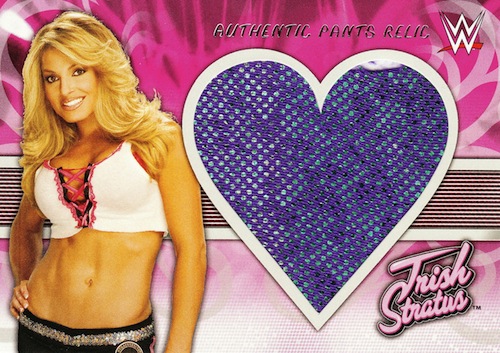 One piece of ring gear she remembers fondly but did let go of made its way into her newest Topps cards. She knows precisely when she wore it — at least one of the many times she wore it.
"I gave them a pair of pants. They were my go-to pants, my lucky pants here and there,"she said. "I wore them most notably in a triple-threat match against Molly and Victoria just after I had won the title from Molly at Unforgiven. If anyone were to remember, it would be that one — the blue pants in that match."
These cards are the latest for Stratus, who has 233 items listed in the Beckett.com database valued at more than $3,964, excluding rarities, new arrivals and international releases that aren't yet cataloged.
The StratusStats surprised her.
"Those are just my cards? Oh, you're kidding me, that's crazy, wow," she said. "I think that's crazy, because I feel a lot of times, especially early in my career, you didn't even know stuff was being put out there. Things were being created and someone would come to you at a signing and I'm like 'Oh my God, that's cool. Where did you get that from?' That's why I was so thankful for my husband to be such a great collector.
"I remember Ivory came over and we showed her the collection and Ron had a bunch of Ivory cards he gave to her and she was like 'Thanks, I don't have any of these.' We were both like 'Wow, that would suck to not have all your own stuff.' We have everything — we have the boxes that they come in and all that stuff. That's the collector nerd in us that would do that and would care so much to do that. Most people are like 'eh.' I made sure every figure we ordered. I order these custom figures online — like, I love all this stuff. To hear that [about my cards] is pretty awesome and at this point when I am retired and so much removed from it. But to have a card set and work directly with Topps on it was pretty awesome. We don't have to do any eBaying or looking — we've got a set right here."
When asked who she would want to appear on an autographed card with, Stratus had one response — the WWE's highest-ranking woman who she feuded with in the past and the same one who inducted her into the Hall of Fame.
"Maybe a Stephanie McMahon and Trish Stratus card would be kind of cool," she said. "Even with this Queen of WrestleMania set, there's one notable moment missing [WrestleMania 17] … that could be a pretty epic card, too."
And is there someone in wrestling she would want an autograph from?
"I guess maybe because you're in the industry its different," she said. "I got an autograph from [Hulk] Hogan for Max before he was born. He gave me a 'Stay Strong Max' and I put it in his baby book and everything, I thought that was kind of neat. For Max it would be cool to go back and get something from our era — to get something from Mick Foley, The Rock and get everyone from that era, The Attitude Era, which was pretty iconic. It would be cool to get and say 'Momma was part of this.'"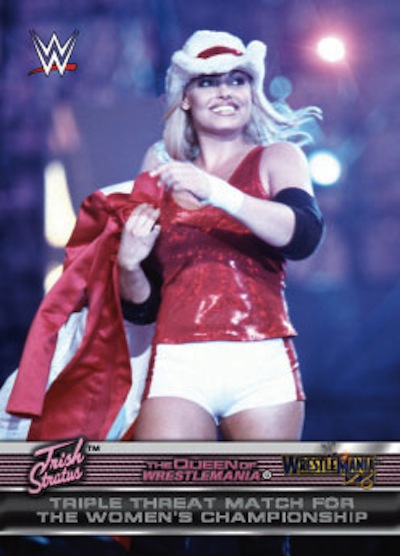 It's not all-wrestling, all-the-time in her collection, though. However, it's something they have been doing for years with her husband dabbling with Starting Lineups in the past, while she admits having "a pretty extensive Barbie collection" and also admits past toy-hunting in Toys R Us stores. Just like many of us.
The Barbie collection was fueled in part with a gift.
"When I graduated high school, a family friend gave me a set of these two Bob Mackie Barbies, which are really expensive," she said. "And they are amazing and so then that was my thing. I started collecting these Barbies, different ones I like and different ones that represented certain things. For example, when I did my travel show, Stratusphere, I was in India so I have an Indian Barbie. It became my thing to collect dolls that represent my travels and what I was doing in life."
And the events of life made her look at her collection differently.
"When I had my baby and when was pregnant, I was like 'I need to have a girl she can have my Barbies,'" Stratus said. "So Max will not be playing with my Barbies — we'll see if there's a No. 2. Maybe the Barbie collection can be passed on."
Stratus noted that she was thankful for the Mania set, but also had plenty more moments from her career that could be worthy of cardboard when asked to name a few. She rattled them off as if she was building her own mental checklist.
"It would be so neat to see cards for feuds — a couple cards for each. You would probably start with the Vince McMahon and T&A [Test & Albert] stuff with a couple cards there, then we'd go right into the Molly Holly and Trish stuff with the 'junk in the trunk.' I could see a couple cards there," she said. "Jazz and I and definitely show my broken hand she was involved in. Go to Victoria, there'd be the chair shot in there, there'd be the crazy mirror thing and her crazy antics. Then you'd go right into Lita and I and then Mickie James and then finish with some more Lita."
That last feud included many moments, including a match main-eventing Raw.
"Of course, that was a defining moment for our careers," she said. "You could have a whole Trish-Lita card set for that story line. … There's so many moments that are not even matches. Lots of card sets could be made."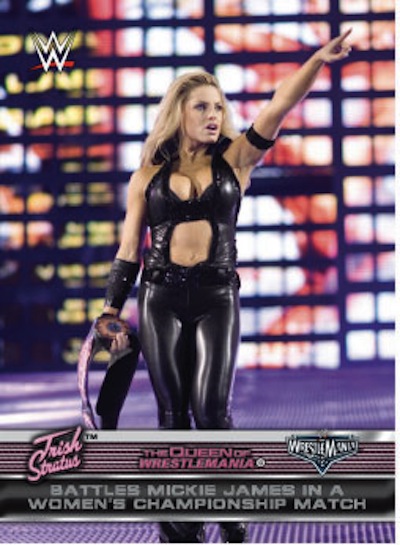 Naturally, with its name, one has to wonder whether the Road to WrestleMania means one more match for Stratus.
"Well, I always sort of say that the door is never closed. It's hard to say. I don't know," she said. "Any moment when I have gone back, it's based on the fact I'd say 'OK, Is this fun, is this challenging, would the fans like it, does this do something for the business' and that's kind of what I base my decision on. Sometimes I get asked the question and I can look at the landscape and actually see nothing for me — I just don't see where Trish would fit. Even from a booker's perspective, forget me, I would go 'Would Trish fit here? Does this make sense? Is there anything that makes sense?' So sometimes it just doesn't really make sense."
And with her next comment, though, she admitted that she does keep up with current angles.
"Seeing Stephanie come out the last couple of weeks? Maybe, it makes sense a little bit," Stratus said. "Because there's unfinished business there, you could say that, and I think as a fan I'd be interested to see that. It's funny when I saw her and Brie [Bella] go at it, I texted Steph and said 'Good stuff, oh my God, loving it. Kinda jealous it's not me in there but that's cool.' … So the door is never closed. You never know and if the right opportunity would present itself I'd consider it."
For now, though, she has a guaranteed feud coming up soon — regardless of whether she's anywhere near a WrestleMania card. That epic showdown comes as her little Max nears the "Terrible Twos."
"Oh, gosh," she said, laughing. "I'm looking forward to it."
Chris Olds is the editor of Beckett Baseball and Beckett Sports Card Monthly magazines. Have a comment, question or idea? Send an email to him at colds@beckett.com. Follow him on Twitter by clicking here.
———-
Want to see hear more from the interview? See our Collect Call segment below from earlier in the week.
 —
[youtube]http://www.youtube.com/watch?v=EfYDTAtfIfs[/youtube]
Join Beckett Sports Card Monthly's Chris Olds as he talks about wrestling, autographs, the Topps WWE Road to WrestleMania cards, memorabilia and even a missing tooth with the Queen of WrestleMania, Trish Stratus, in this edition of Collect Call.
Curious about the tooth moment? View it here in HD at the 1:56 mark.