2015-16 Leaf In The Game Heroes & Prospects Hockey Details
With the 2016 NHL Entry Draft about two months away, fans of teams that did not make it to the postseason are buzzing about the potential prospects that could join their clubs in coming years. While some of these promising talents have already made their way into some trading card sets, the arrival of 2015-16 Leaf In The Game Heroes & Prospects Hockey in June will see some strong early pieces hit the market in time for their names being called on draft day.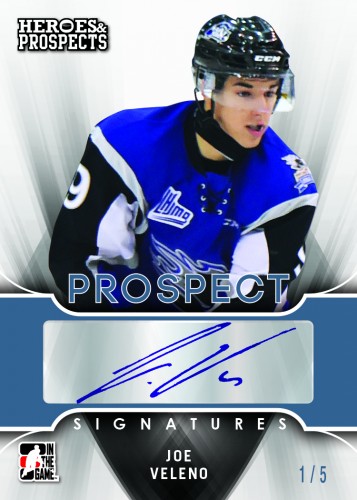 Last season, Leaf's first Heroes & Prospects effort caused a bit of a shock for longtime fans of the brand as it moved from a traditional format featuring base cards and more to a hits-only release. There are 10 autograph or memorabilia cards in each box and in addition to some of the best junior players in the world, there are also vintage game-used memorabilia pieces that In The Game products are known for.

Autographs
The absence of a base set upset some long-time collectors last season, and 2015-16 Leaf In The Game Heroes & Prospects Hockey soldiers on without them as well. However, there is plenty of ink to make up for it. Prospect Signatures stays true to it name with many of the brightest names from the Canadian Hockey League along with Leaf-exclusive Jesse Puljujarvi, who helped Finland to a gold medal finish at the 2016 IIHF U-18 World Junior Championship. Another brand staple, Heroes Autographs, are back as well and confirmed names include Martin Brodeur, Gordie Howe, and Patrick Roy. Expect to find numerous parallel versions for all of these cards.
Draft Prospect Signatures turn an eye on the most compelling talents eligible for selection in 2016 and each one is numbered to 16 or is a one-of-one. Top CHL names like Pierre-Luc Dubois and Matthew Tkachuk are expected to be selected early on and will be a part of this set along with Puljujarvi. Compatriots is an international-themed collection that pairs up names that played for the same country. Finally, Leaf is also inserting Trinity Inscriptions cards of Jack Eichel which are hard-signed and have three different sentiments inscribed on them.

Memorabilia
One collection of game-used memorabilia cards found in packs of 2015-16 Leaf In The Game Heroes & Prospects Hockey that is sure to generate plenty of attention is Old Time Hockey Heroes. With an attractive design, limited print run, and rare pieces of the game's history, demand is going to be strong.
Fans of multi-player memorabilia cards are going to be excited about Prospect 8 and Hero 8. Loaded up with eight pieces of equipment, the Prospect version will have either jersey or patch swatches while the Hero cards could have more of an assortment of memorabilia. Other new additions for 2015-16 are Heroic Memorabilia and Rare Materials. The latter has two patch pieces on the front along with a signature from both retired players and current CHL talent.
As expected, several collector favorites are going to be found in 2015-16 Leaf In The Game Heroes & Prospects Hockey. Naturally, there will be Game-Used Jersey and Game-Used Patch cards of players in their club sweaters plus a signed edition for each. There are also separate Jersey and Patch sets paying tribute to CHL events in Canada-Russia Series and Top Prospects Game.
Other staples carrying over from the In The Game era are Complete Jersey (with five memorabilia pieces), Nameplates, and Hero & Prospect.
2015-16 Leaf In The Game Heroes & Prospects Hockey at a glance:
Packs per box: 1
Cards per pack: 10
Boxes per case: 10
Release date: June 10, 2016
What to expect in a hobby box:
– 10 autograph or memorabilia cards
Stephen Laroche can be found on Twitter @Stephen_Laroche.