2016 Panini Clear Vision Football Details
With Topps no longer in the physical football card market, that means Topps High Tek is no more. That means that 2016 Panini Clear Vision Football is likely the lone product of the year driven by acetate. The brand returns for a sophomore release that comes in the early part of the football card season. And while autographs are more plentiful than 2015, they're still not easy to come by.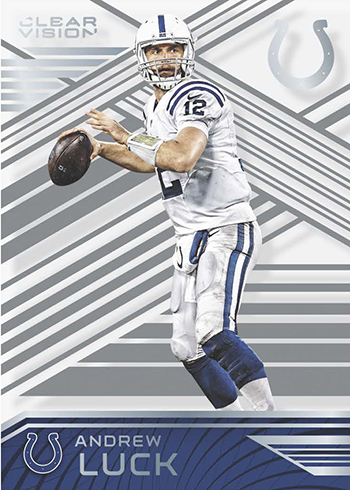 Every card in 2016 Panini Clear Vision Football is done on acetate, including the base set. For those not familiar with the stock, it's plastic like and see-through. It's in contrast to traditional cardboard stock.
The base set is a mix of current and retired players. In addition to the regular cards are Team Variations. Seventy rookie cards are all serial numbered, although to varying amounts. Fifty players have 999 copies while 15 come numbered to 399. Those looking to complete the set have five players with just 99 copies each. Hockey card collectors will recognize this approach from Upper Deck Ice, the sport's acetate equivalent.
Six-card 2016 Panini Clear Vision Football boxes come with one autographed or memorabilia card numbered to 99 or less. That said, the majority are going to have jersey cards. According to Panini, the number of signed cards has doubled from 2015. But that means two autographs per nine-box inner case (1:4.5 boxes).
Visionary Signatures centers on all-time NFL greats. The autographs are done on large pieces of acetate that's framed into the card. Parallels include Gold and Emerald (/5). C-Thru Signatures take a similar approach with the trapped piece of autographed acetate. Numbered to 50 or less, the checklist includes Brett Favre, Barry Sanders and more.
Clear Choice Jersey Autographs mix signatures and player-worn jersey swatches from 2016 rookies. Among the parallels are one-of-one Emerald cards.
On the basic memorabilia side, 2016 Panini Clear Vision Football has several inserts. Framed Fabrics have a mix of veterans and retired players. Prime versions are numbered to 25 or less.
Clear Vision Mega Jersey is somewhat reminiscent of Panini's Silhouettes cards in that they place an image of the player over top of a jumbo swatch. Prime and Tag parallels are much tougher than basic jersey versions.
Clear Change Dual Jersey cards have swatches from two different teams the player suited up with in their football career.
Rookie Clear Cloth cards come in several versions. In addition to standard swatches, there's a mix of Prime, Tag and two different Logo parallels.
2016 Panini Clear Vision Football also has several regular inserts. Among them is Clear History, which spotlight three greats from the same franchise. Parallels are numbered to 99 or less.
2016 Panini Clear Vision Football at a glance:
Packs per box: 6
Cards per pack: 3
Boxes per case: 18 (two nine-box inner cases)
Set size: 170 cards
Release date: July 20, 2016
What to expect in a hobby box:
• Autographs and Memorabilia Cards – 1 Total
• Inserts – 1
• Parallels – 2
Comments? Questions? Contact Ryan Cracknell on Twitter @tradercracks.
Note: These images are mock-ups. They're meant to show what the product should look like. Rookies will be 2016 players, not Amari Cooper.