Ekblad Leads the Pack at the 2014 NHL Entry Draft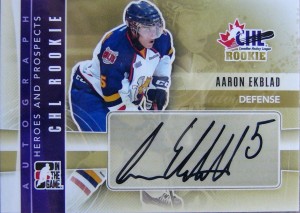 By Stephen Laroche | Beckett Hockey Editor
The annual NHL Entry Draft took place in Philadelphia recently and collectors throughout the world are now ready to track down cards of many young players that are on their way to becoming household names.
Despite rumors that the Florida Panthers were about to trade the coveted first overall pick in order to quickly return to playoff contention, General Manager Dale Tallon chose to spurn some serious offers and bring the franchise a much-needed elite defenseman in the form of Aaron Ekblad.
For the past three seasons, Ekblad managed to make a lasting impression with pro scouts and was touted as a potential star from the outset of his junior career with the Barrie Colts of the Ontario Hockey League. Respected for his all-around play and ability to take over a game, he was named the OHL's Rookie of the Year in 2011-12 and earned the Max Kaminsky Trophy in 2013-14 as the league's Most Outstanding Defenseman. Many are expecting him to debut with the Panthers this fall as his skill set is already comparable to many pro blueliners.
Ekblad's first mass-market trading cards appeared in 2011-12 In The Game Heroes & Prospects. His certified autograph cards have heated up over the past few weeks as a copy of that year's autograph card recently sold online as high as $84.99, but others can be found at affordable prices.
While it will be a few months, or even years, before many players chosen in the 2014 NHL Entry Draft make their big league debuts, savvy collectors know that they already have cards to collect. For those drafted from the Canadian Hockey League, it will be worthwhile to track down cards from team sets and several of the European prospects have already appeared on cardboard overseas.
In addition to Ekblad, here are some other first round selections which have the potential to become collector favorites in the next few years:
Sam Reinhart (2nd Overall/Buffalo Sabres)
Reinhart comes from a strong hockey family as his father, Paul, was an All-Star performer in the 1980s and his older brothers, Max and Griffin, are currently playing. He drew attention from scouts for his offensive ability, but he also gets credit for his hard work and ability to lead. In 2013-14, he was named the CHL's Sportsman of the Year in addition to being the WHL's Player of the Year following a 105-point effort with the Kootenay Ice. As the Buffalo Sabres rebuild, he will certainly become one of their marquee talents.
Leon Draisaitl (3rd Overall/Edmonton Oilers)
Draisaitl is a highly-regarded playmaker that exploded during his sophomore season with the WHL's Prince Albert Raiders in 2013-14. He delivered 105 points during the regular schedule in addition to starring for Germany at the 2014 IIHF World Junior Championship. Since the Edmonton Oilers have been in a constant state of rebuilding in recent years, it is hoped that his talents will help make a difference and return the storied franchise to playoff contention.
Sam Bennett (4th Overall/Calgary Flames)
Bennett's stock rose greatly over the 2013-14 season and he was regarded as a serious candidate to go first overall by many scouts. A high-energy player with lots of speed, he recorded 91 points as a sophomore and helped take the Kingston Frontenacs to a third place finish in the OHL's Eastern Conference. In recent years, the Calgary Flames have been one of the NHL's hard luck clubs and his presence on the ice could help make a difference in due time.
William Nylander (8th Overall/Toronto Maple Leafs)
While there was some speculation that the Maple Leafs were trying to move up in the draft, they ended up standing pat and ended up acquiring an excellent young player in Nylander. While he likely will spend some more time strengthening his game in Sweden, he could turn into a star once he decides to come over to North America. Fans will also remember his father, Michael, who last saw NHL action in 2008-09 with the Washington Capitals.
Nikolaj Ehlers (9th Overall/Winnipeg Jets)
Ehlers joined the QMJHL's Halifax Moosehead in 2013-14 and was the league's top scorer among freshmen with 49 goals and 104 points. Naturally, he won the Michel Bergeron Trophy as the Offensive Rookie of the Year and captured the honor at the CHL level as well. He will give the Jets a much-needed boost once he is ready for NHL action and his father, Heinz, was an accomplished star in Europe that appeared in several card and sticker issues between 1985-86 and 2001-02.
Kasperi Kapanen (22nd Overall/Pittsburgh Penguins)
Yet another one of the many second-generation players taken, Kapanen's stock appeared to drop as the first round progressed as many anticipated that he would be taken much earlier. While Penguins fans hope this is not a repeat of Angelo Esposito in 2007, there is a good chance that he could shine in the Steel City and prove a lot of teams wrong. He already has a great deal of international experience and scored a goal for Finland at the 2014 IIHF World Junior Championship. His father, Sami, is best remembered for his days with the Carolina Hurricanes. In an even wilder twist, both father and son were drafted by Jim Rutherford, who recently became Pittsburgh's General Manager.
Josh Ho-Sang, Windsor Spitfires (28th Overall/New York Islanders)
An exciting offensive talent, Ho-Sang can bring fans to their feet with his play. The main caveat with him, however, is his ability to draw controversy from his actions on and off the ice. He's brash and outspoken – but more than backs it up with his play. He could excel with the troubled Islanders franchise, who will be relocating to Brooklyn in time the 2015-16 season, and become popular with collectors.
All of the players listed above are featured in 2014 Draft Prospects, the first product set to release under the partnership between Leaf Trading Cards and In The Game.
Stephen Laroche is the editor of Beckett Hockey and Beckett Basketball magazines. Have a comment, question or idea? Send an e-mail to him at SLaroche@beckett.com. Follow him on Twitter @Stephen_Laroche.