2012 Showcase Football hits hobby shops today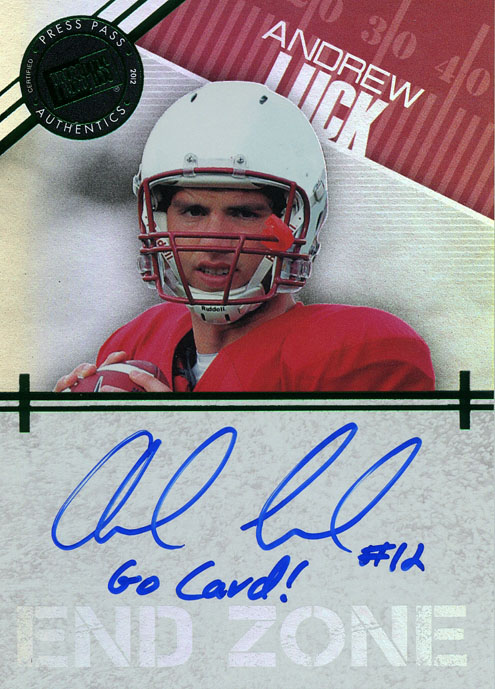 By Andrew Tolentino | Football Editor
A popular brand among racing collectors, Press Pass' Showcase made its football debut today. I'll just go ahead and put words in the manufacturer's mouth by saying, "you're welcome."
Highlighted by exclusive non-NFL-licensed Andrew Luck autographs and unique inscriptions from other draft dominators, this set should satisfy high-end football cravings before well the season gets underway. For the $120-plus price tag, it's a brand that won't always stick to your ribs, but there's plenty of flavor to savor.
The hobby-only product offers a hit-heavy break with a carefully-chosen 44-man autograph roster. On average, each box yields  six on-card autographs and one game-used jersey card. Behold the hit breakdown and a gallery of inscriptions   the break.
In terms of the game-used game, Press Pass went with a best-of-the-best approach, featuring just five players in Gameday Threads. Luck, Robert Griffin III, Michael Floyd, Lamar Miller and LaMichael James are the only players to make the cut here.
Autographs in Showcase Football are hard-signed, sequentially numbered, and aesthetically improved to match the premium tone of the product. According to Press Pass, the base cards appear on "upscale clear plastic substrate" and can be found in six levels of rarity.
Silver (numbered to 299)
Gold (numbered to 149)
Blue (numbered to 50)
Red (numbered to 10)
Emerald (numbered to five)
Melting (one of one)
Making the Cut, Fantasy Team and End Zone inserts come with holofoil accents and in six parallel forms:
Gold (numbered to 99)
Silver (numbered to 50)
Blue (numbered to 25)
Red (numbered to 10)
Emerald (numbered to five)
Melting (one of one)
Autographed book cards are limited to two key draftees. Which two? Luck and RG3, of course. These impressive pulls feature one-of-one patch cards for each QB, one-of-four nameplate cards for Luck and one-of-10 nameplate cards for Griffin (yes, that accounts for each "I").
In case you weren't lucky enough to sneak away to your local card shop to witness or partake in a box break at lunch, this picture show might just make you want to leave a little before 5:00 today.