Topps previews Valor — a new high-end NFL set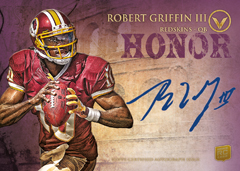 Update: Topps issued a correction indicating there is just one pack per box.
By Susan Lulgjuraj | Beckett Football Editor
The adjectives of a champion are similar. The traits they carry, the qualities they imbue stand out above the rest.
Courage. Honor. Heart.
We all use those words describe the greats. Topps is taking that sentiment and turning it into a football product creating an extensive high-end product for its collectors.
Valor.
With one packs per box, collectors are going to clean up on hits with 2012 Valor. There are two on-card rookie autographs, one veteran/retired autograph card, one rookie patch card and two base cards.
The on-card rookie autographs will come in two forms Legionary and Valor autographs with up to 40 subjects on each card. The veteran/retired autographs will be called Centurion autographs. For both, parallels won't take on the form of different colors as in previous Topps' products.
But instead there will be several parallels using the words to describe champions. There will be Speed, Strength, Heart, Honor, Courage parallels and more.
And how would Topps describe dual- or multi-autographs?
Alliance autographs.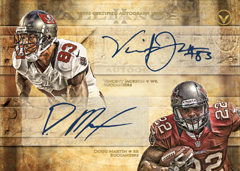 Often they will have rookies and veterans paired together having the players united.
The one-per pack Rookies Patches will bear the name Field Armor Patch Cards with the autograph cards being named Shield of Honor Autograph Patch Cards.
The autographs in the set include, but definitely not limited to Andrew Luck, Brandon Weeden, Doug Martin, Frank Gore, Jeremy Maclin, Jim Kelly, Kurt Warner, Michael Vick, Percy Harvin, Tony Romo and Trent Richardson.
Susan Lulgjuraj is the editor of Beckett Football magazine. You can email Susan here with ideas, comments and questions. Follow her on Twitter here.