Upper Deck reveals more on The Cup's video cards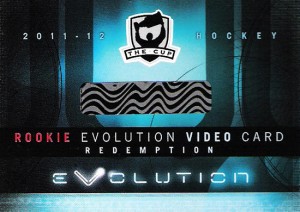 By Susan Lulgjuraj | Beckett Hockey Editor
Upper Deck's Rookie Evolution Video redemptions
have made noise when they appeared in packs of 2011-12 NHL The Cup.
Collectors wondered – some a little loudly – 'Who will be in them? What will we see?'
While not all information is available just yet, Upper Deck has given out more information of what collectors can expect.
Each card will feature one of 12 rookies from the 2011-12 NHL class. Every athlete is available in the same quantity with there not being any short-prints, but all cards are rare. The video cards will not be numbered or autographed.
But the player in the video will be a surprise to collectors until it arrives.
Here are the 12 athletes that will be on the cards:
・ Adam Henrique, New Jersey
・ Brett Connolly, Tampa Bay
・ Blake Geoffrion, Nashville
・ Brendan Smith, Detroit
・ Cody Eakin, Washington
・ Gabriel Landeskog, Colorado
・ Jake Gardiner, Toronto
・ Mika Zibanejad, Ottawa
・ Ryan Ellis, Nashville
・ Ryan Nugent-Hopkins, Edmonton
・ Simon Despres, Pittsburgh
・ Zack Kassian, Buffalo
While Upper Deck has not released pictures of the appearance of the cards, the company is guaranteeing they will be different than previous versions.
"These cards are the next "evolution" of the Evolution video cards meaning their construction and design will be drastically different than other video cards Upper Deck have previously released," Upper Deck's marketing manager Chris Carlin wrote on the company's blog.
Content on the cards will appear from film that was shot from 2011 NHLPA Rookie Showcase. Athletes were put against a green screen for some of the production of the video, according to Upper Deck.
While the cards are not ready just yet, they should be ready in a few weeks.
"Since the cards have a premium new construction, design and exclusive video content, we felt they belonged in our most premium release of the year in 2011-12 NHL The Cup," Carlin wrote.
Susan Lulgjuraj is the editor of Beckett Hockey magazine. You can email Susan here with ideas, comments and questions. Follow her on Twitter here.