2012 Exquisite Football Details
High-end college collectors should prepare for 2012 Exquisite Football coming out in June.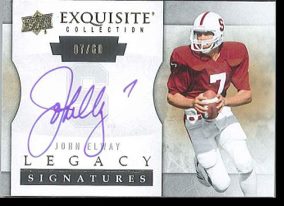 The release will include six cards in every box with five of them being autographs. There will be at least one Rookie Autograph Patch and one UD Black or UD Black Rookie Lustrous Signature.
Back again are Exquisite Choice Dual and Quad Signatures along with Exquisite Book Marks.
But Upper Deck is adding new elements as well with Exquisite Dimensions, Exquisite Sixteen and Exquisite Art
There are three boxes to every case and collectors will get a chance to snag two autographs in every case from a player on the following list: Jerry Rice, John Elway, Dan Marino, Barry Sanders, Aaron Rodgers, Joe Namath, Robert Griffin III, Trent Richardson, Russell Wilson and Ryan Tannehill.
In addition, Upper Deck will include rare redemption cards for a full Rookie Autographed Patch Set.
Susan Lulgjuraj is an editor of Beckett Football. You can email her here with questions, comments or ideas. Follow her on Twitter here. Follow Beckett Media on Facebook and Twitter.
---
2012 Exquisite Collection Football Final Checklsit
Card # Player name Team City Team Name Set Name Notes Quantity
Exquisite
1 Keith Jackson Oklahoma Sooners Exquisite #d to 85
2 Ken MacAfee Notre Dame Fighting Irish Exquisite #d to 85
3 Warren Moon Washington Huskies Exquisite #d to 85
4 Garrison Hearst Georgia Bulldogs Exquisite #d to 85
5 Warren Sapp Miami Hurricanes Exquisite #d to 85
6 Roger Craig Nebraska Cornhuskers Exquisite #d to 85
7 Billy Cannon LSU Tigers Exquisite #d to 85
8 Nick Buoniconti Notre Dame Fighting Irish Exquisite #d to 85
9 Tedy Bruschi Arizona Wildcats Exquisite #d to 85
10 Ken Stabler Crimson Tide Exquisite #d to 85
11 Barry Sanders Oklahoma State Cowboys Exquisite #d to 85
12 Don Maynard Exquisite University Texas El Paso #d to 85
13 Paul Hornung Notre Dame Fighting Irish Exquisite #d to 85
14 Gary Beban UCLA Bruins Exquisite #d to 85
15 Tim Tebow Florida Gators Exquisite #d to 85
16 Tony Dorsett Panthers Exquisite #d to 85
17 Vinny Testaverde Miami Hurricanes Exquisite #d to 85
18 Mike Rozier Nebraska Cornhuskers Exquisite #d to 85
19 Bruce Smith Virginia Tech Hokies Exquisite #d to 85
20 Bo Jackson Auburn Tigers Exquisite #d to 85
21 Troy Aikman UCLA Bruins Exquisite #d to 85
22 Doug Flutie Boston College Eagles Exquisite #d to 85
23 Johnny Lattner Notre Dame Fighting Irish Exquisite #d to 85
24 Chris Weinke Seminoles Exquisite #d to 85
25 Dan Marino Panthers Exquisite #d to 85
26 Archie Griffin Ohio State Buckeyes Exquisite #d to 85
27 Joe Namath Crimson Tide Exquisite #d to 85
28 Jake Plummer Arizona State Sun Devils Exquisite #d to 85
29 Ozzie Newsome Crimson Tide Exquisite #d to 85
30 Rich Gannon Fightin' Blue Hens Exquisite #d to 85
31 Al Toon Badgers Exquisite #d to 85
32 Dan Fouts Oregon Ducks Exquisite #d to 85
33 Anthony Carter Michigan Wolverines Exquisite #d to 85
34 Joe Theismann Notre Dame Fighting Irish Exquisite #d to 85
35 Steve Young BYU Cougars Exquisite #d to 85
36 Drew Bledsoe Washington State Cougars Exquisite #d to 85
37 George Rogers Gamecocks Exquisite #d to 85
38 Jim Kelly Miami Hurricanes Exquisite #d to 85
39 Charlie Ward Seminoles Exquisite #d to 85
40 Tommie Frazier Nebraska Cornhuskers Exquisite #d to 85
41 Jason White Oklahoma Sooners Exquisite #d to 85
42 Jerry Rice Delta Devils Exquisite #d to 85
43 Jerome Bettis Notre Dame Fighting Irish Exquisite #d to 85
44 Daryle Lamonica Notre Dame Fighting Irish Exquisite #d to 85
45 John Hannah Crimson Tide Exquisite #d to 85
46 Earl Campbell Texas Longhorns Exquisite #d to 85
47 Andy Katzenmoyer Ohio State Buckeyes Exquisite #d to 85
48 Robert Smith Ohio State Buckeyes Exquisite #d to 85
49 Ty Detmer BYU Cougars Exquisite #d to 85
50 Joe Washington Oklahoma Sooners Exquisite #d to 85
51 Billy Sims Oklahoma Sooners Exquisite #d to 85
52 Herschel Walker Georgia Bulldogs Exquisite #d to 85
53 Charles White USC Trojans Exquisite #d to 85
54 John Elway Stanford Cardinal Exquisite #d to 85
55 Rodney Peete USC Trojans Exquisite #d to 85
56 Bart Starr Crimson Tide Exquisite #d to 85
57 Aaron Rodgers California Golden Bears Exquisite #d to 85
58 Archie Manning Mississippi Rebels Exquisite #d to 85
59 Andre Ware Houston Cougars Exquisite #d to 85
60 Brian Bosworth Oklahoma Sooners Exquisite #d to 85
Exquisite Endorsements
EE-AJ Alshon Jeffery Gamecocks Exquisite Endorsements #d to 75
EE-AT Al Toon Badgers Exquisite Endorsements #d to 75
EE-AW Andre Ware Houston Cougars Exquisite Endorsements #d to 75
EE-BB Brian Bosworth Oklahoma Sooners Exquisite Endorsements #d to 75
EE-BC Billy Cannon LSU Tigers Exquisite Endorsements #d to 75
EE-BS Barry Sanders Oklahoma State Cowboys Exquisite Endorsements #d to 75
EE-BW Brandon Weeden Oklahoma State Cowboys Exquisite Endorsements #d to 75
EE-CW Charlie Ward Seminoles Exquisite Endorsements #d to 75
EE-DB Drew Bledsoe Washington State Cougars Exquisite Endorsements #d to 75
EE-DH Dan Herron Ohio State Buckeyes Exquisite Endorsements #d to 75
EE-DK Dre Kirkpatrick Crimson Tide Exquisite Endorsements #d to 75
EE-DL Daryle Lamonica Notre Dame Fighting Irish Exquisite Endorsements #d to 75
EE-DM Dan Marino Panthers Exquisite Endorsements #d to 75
EE-DP DeVier Posey Ohio State Buckeyes Exquisite Endorsements #d to 75
EE-JB Justin Blackmon Oklahoma State Cowboys Exquisite Endorsements #d to 75
EE-JC Juron Criner Arizona Wildcats Exquisite Endorsements #d to 75
EE-JK Jim Kelly Miami Hurricanes Exquisite Endorsements #d to 75
EE-JL Johnny Lattner Notre Dame Fighting Irish Exquisite Endorsements #d to 75
EE-JN Joe Namath Crimson Tide Exquisite Endorsements #d to 75
EE-JR Jerry Rice Delta Devils Exquisite Endorsements #d to 75
EE-KM Ken MacAfee Notre Dame Fighting Irish Exquisite Endorsements #d to 75
EE-KW Kendall Wright Bears Exquisite Endorsements #d to 75
EE-LJ LaMichael James Oregon Ducks Exquisite Endorsements #d to 75
EE-MA Doug Martin Broncos Exquisite Endorsements #d to 75
EE-MB Michael Brockers LSU Tigers Exquisite Endorsements #d to 75
EE-MF Michael Floyd Notre Dame Fighting Irish Exquisite Endorsements #d to 75
EE-MK Kellen Moore Broncos Exquisite Endorsements #d to 75
EE-NF Nick Foles Arizona Wildcats Exquisite Endorsements #d to 75
EE-PH Paul Hornung Notre Dame Fighting Irish Exquisite Endorsements #d to 75
EE-RB Ryan Broyles Oklahoma Sooners Exquisite Endorsements #d to 75
EE-RG Robert Griffin III Bears Exquisite Endorsements #d to 75
EE-RR Rueben Randle LSU Tigers Exquisite Endorsements #d to 75
EE-RT Ryan Tannehill Texas A&M Aggies Exquisite Endorsements #d to 75
EE-SB Bart Starr Crimson Tide Exquisite Endorsements #d to 75
EE-SY Steve Young BYU Cougars Exquisite Endorsements #d to 75
EE-TR Trent Richardson Crimson Tide Exquisite Endorsements #d to 75
EE-TT Tim Tebow Florida Gators Exquisite Endorsements #d to 75
EE-VT Vinny Testaverde Miami Hurricanes Exquisite Endorsements #d to 75
EE-WM Warren Moon Washington Huskies Exquisite Endorsements #d to 75
Exquisite Inscriptions
EI-AJ Alshon Jeffery Gamecocks Exquisite Inscriptions #d to 15
EI-BS Barry Sanders Oklahoma State Cowboys Exquisite Inscriptions #d to 15
EI-BT Brandon Thompson Tigers Exquisite Inscriptions #d to 15
EI-BW Brandon Weeden Oklahoma State Cowboys Exquisite Inscriptions #d to 15
EI-DB Drew Bledsoe Washington State Cougars Exquisite Inscriptions #d to 15
EI-DF Doug Flutie Boston College Eagles Exquisite Inscriptions #d to 15
EI-GB Gary Beban UCLA Bruins Exquisite Inscriptions #d to 15
EI-JB Justin Blackmon Oklahoma State Cowboys Exquisite Inscriptions #d to 15
EI-JL Johnny Lattner Notre Dame Fighting Irish Exquisite Inscriptions #d to 15
EI-MS Mohamed Sanu Scarlet Knights Exquisite Inscriptions #d to 15
EI-RG Robert Griffin III Bears Exquisite Inscriptions #d to 15
EI-RR Rueben Randle LSU Tigers Exquisite Inscriptions #d to 15
EI-RT Ryan Tannehill Texas A&M Aggies Exquisite Inscriptions #d to 15
EI-SH Stephen Hill Georgia Tech Yellow Jackets Exquisite Inscriptions #d to 15
EI-TA Troy Aikman UCLA Bruins Exquisite Inscriptions #d to 15
Exquisite Alumni Pride
AP-AC Anthony Carter Michigan Wolverines Exquisite Alumni Pride "Lets Go Blue" #d to 10
AP-AG Archie Griffin Ohio State Buckeyes Exquisite Alumni Pride "The Ohio State University" #d to 10
AP-AJ Alshon Jeffery Gamecocks Exquisite Alumni Pride "Go Gamecocks" #d to 10
AP-BB Brian Bosworth Oklahoma Sooners Exquisite Alumni Pride "Boomer Sooner" #d to 10
AP-DL Daryle Lamonica Notre Dame Fighting Irish Exquisite Alumni Pride "Play Like a Champion Today" #d to 10
AP-DP DeVier Posey Ohio State Buckeyes Exquisite Alumni Pride "Go Buckeyes" #d to 10
AP-GB Gary Beban UCLA Bruins Exquisite Alumni Pride "Go Bruins" #d to 10
AP-JB Justin Blackmon Oklahoma State Cowboys Exquisite Alumni Pride "Go Cowboys" #d to 10
AP-JK Jim Kelly Miami Hurricanes Exquisite Alumni Pride "Go Hurricanes" #d to 10
AP-JN Joe Namath Crimson Tide Exquisite Alumni Pride "Roll Tide" #d to 10
AP-JT Joe Theismann Notre Dame Fighting Irish Exquisite Alumni Pride "Go Irish" #d to 10
AP-MF Michael Floyd Notre Dame Fighting Irish Exquisite Alumni Pride "Fighting Irish" #d to 10
AP-RG Robert Griffin III Bears Exquisite Alumni Pride "BU Bears" #d to 10
AP-RT Ryan Tannehill Texas A&M Aggies Exquisite Alumni Pride "Gig 'Em" #d to 10
AP-SB Bart Starr Crimson Tide Exquisite Alumni Pride "Roll Tide" #d to 10
AP-SY Steve Young BYU Cougars Exquisite Alumni Pride "Go Cougars" #d to 10
AP-TF Tommie Frazier Nebraska Cornhuskers Exquisite Alumni Pride "Huskers" #d to 10
AP-TR Trent Richardson Crimson Tide Exquisite Alumni Pride "Roll Tide" #d to 10
AP-VT Vinny Testaverde Miami Hurricanes Exquisite Alumni Pride "Go Hurricanes" #d to 10
Exquisite Legacy
EL-AC Anthony Carter Michigan Wolverines Exquisite Legacy #d to 60
EL-AG Archie Griffin Ohio State Buckeyes Exquisite Legacy #d to 60
EL-AK Andy Katzenmoyer Ohio State Buckeyes Exquisite Legacy #d to 60
EL-AW Andre Ware Houston Cougars Exquisite Legacy #d to 60
EL-BJ Bo Jackson Auburn Tigers Exquisite Legacy #d to 60
EL-BS Bart Starr Crimson Tide Exquisite Legacy #d to 60
EL-CW Charlie Ward Seminoles Exquisite Legacy #d to 60
EL-DF Doug Flutie Boston College Eagles Exquisite Legacy #d to 60
EL-EC Earl Campbell Texas Longhorns Exquisite Legacy #d to 60
EL-GB Gary Beban UCLA Bruins Exquisite Legacy #d to 60
EL-GR George Rogers Gamecocks Exquisite Legacy #d to 60
EL-HW Herschel Walker Georgia Bulldogs Exquisite Legacy #d to 60
EL-JE John Elway Stanford Cardinal Exquisite Legacy #d to 60
EL-JL Johnny Lattner Notre Dame Fighting Irish Exquisite Legacy #d to 60
EL-JN Joe Namath Crimson Tide Exquisite Legacy #d to 60
EL-JP Jake Plummer Arizona State Sun Devils Exquisite Legacy #d to 60
EL-JR Johnny Rodgers Nebraska Cornhuskers Exquisite Legacy #d to 60
EL-JW Joe Washington Oklahoma Sooners Exquisite Legacy #d to 60
EL-RJ Jerry Rice Delta Devils Exquisite Legacy #d to 60
EL-SB Barry Sanders Oklahoma State Cowboys Exquisite Legacy #d to 60
EL-TB Tedy Bruschi Arizona Wildcats Exquisite Legacy #d to 60
EL-TD Tony Dorsett Panthers Exquisite Legacy #d to 60
EL-TF Tommie Frazier Nebraska Cornhuskers Exquisite Legacy #d to 60
EL-VT Vinny Testaverde Miami Hurricanes Exquisite Legacy #d to 60
EL-WJ Jason White Oklahoma Sooners Exquisite Legacy #d to 60
Exquisite Ensemble 2 Signatures
EE2-BW Brandon Weeden/Justin Blackmon Oklahoma State/Oklahoma State Cowboys/Cowboys Exquisite Ensemble 2 Signatures #d to 30
EE2-CF Nick Foles/Kirk Cousins Arizona/ Wildcats/Spartans Exquisite Ensemble 2 Signatures #d to 30
EE2-CM B.J. Cunningham/Keshawn Martin / Spartans/Spartans Exquisite Ensemble 2 Signatures #d to 30
EE2-DR Tony Dorsett/George Rogers / Panthers/Gamecocks Exquisite Ensemble 2 Signatures #d to 30
EE2-EM Dan Marino/John Elway /Stanford Panthers/Cardinal Exquisite Ensemble 2 Signatures #d to 30
EE2-FR Tommie Frazier/Mike Rozier Nebraska/Nebraska Cornhuskers/Cornhuskers Exquisite Ensemble 2 Signatures #d to 30
EE2-JC Bo Jackson/Earl Campbell Auburn/Texas Tigers/Longhorns Exquisite Ensemble 2 Signatures #d to 30
EE2-LM Johnny Lattner/Ken MacAfee Notre Dame/Notre Dame Fighting Irish/Fighting Irish Exquisite Ensemble 2 Signatures #d to 30
EE2-NR Aaron Rodgers/Joe Namath California/ Golden Bears/Crimson Tide Exquisite Ensemble 2 Signatures #d to 30
EE2-NS Joe Namath/Bart Starr / Crimson Tide/Crimson Tide Exquisite Ensemble 2 Signatures #d to 30
EE2-PS Mohamed Sanu/DeVier Posey /Ohio State Scarlet Knights/Buckeyes Exquisite Ensemble 2 Signatures #d to 30
EE2-RM Doug Martin/Trent Richardson / Broncos/Crimson Tide Exquisite Ensemble 2 Signatures #d to 30
EE2-RY Aaron Rodgers/Steve Young California/BYU Golden Bears/Cougars Exquisite Ensemble 2 Signatures #d to 30
EE2-TG Robert Griffin III/Ryan Tannehill /Texas A&M Bears/Aggies Exquisite Ensemble 2 Signatures #d to 30
EE2-TH Marc Tyler/Casey Hayward USC/Vanderbilt Trojans/Commodores Exquisite Ensemble 2 Signatures #d to 30
EE2-WF Doug Flutie/Herschel Walker Boston College/Georgia Eagles/Bulldogs Exquisite Ensemble 2 Signatures #d to 30
EE2-WO Russell Wilson/Brock Osweiler /Arizona State Badgers/Sun Devils Exquisite Ensemble 2 Signatures #d to 30
EE2-YF Dan Fouts/Steve Young Oregon/BYU Ducks/Cougars Exquisite Ensemble 2 Signatures #d to 30
Exquisite Ensemble 3 Signatures
EE3-BJQ Ryan Broyles/Brian Quick/Alshon Jeffery Oklahoma// Sooners/Mountaineers/Gamecocks Exquisite Ensemble 3 Signatures #d to 15
EE3-EYM Dan Marino/John Elway/Steve Young /Stanford/BYU Panthers/Cardinal/Cougars Exquisite Ensemble 3 Signatures #d to 15
EE3-HTL Daryle Lamonica/Joe Theismann/Paul Hornung Notre Dame/Notre Dame/Notre Dame Fighting Irish/Fighting Irish/Fighting Irish Exquisite Ensemble 3 Signatures #d to 15
EE3-JRM Trent Richardson/LaMichael James/Doug Martin /Oregon/ Crimson Tide/Ducks/Broncos Exquisite Ensemble 3 Signatures #d to 15
EE3-KMW Kellen Moore/Russell Wilson/Case Keenum //Houston Broncos/Badgers/Cougars Exquisite Ensemble 3 Signatures #d to 15
EE3-NAR Joe Namath/Troy Aikman/Jerry Rice /UCLA/ Crimson Tide/Bruins/Delta Devils Exquisite Ensemble 3 Signatures #d to 15
EE3-SGN Bart Starr/Archie Griffin/Joe Namath /Ohio State/ Crimson Tide/Buckeyes/Crimson Tide Exquisite Ensemble 3 Signatures #d to 15
EE3-SWB Brian Bosworth/Billy Sims/Jason White Oklahoma/Oklahoma/Oklahoma Sooners/Sooners/Sooners Exquisite Ensemble 3 Signatures #d to 15
EE3-TWG Brandon Weeden/Ryan Tannehill/Robert Griffin III Oklahoma State/Texas A&M/ Cowboys/Aggies/Bears Exquisite Ensemble 3 Signatures #d to 15
EE3-YFR Dan Fouts/Aaron Rodgers/Steve Young Oregon/California/BYU Ducks/Golden Bears/Cougars Exquisite Ensemble 3 Signatures #d to 15
Exquisite Ensemble 4 Signatures
EE4-ANRJ Joe Namath/Bo Jackson/Troy Aikman/Jerry Rice /Auburn/UCLA/ Crimson Tide/Tigers/Bruins/Delta Devils Exquisite Ensemble 4 Signatures #d to 10
EE4-ARNC Jerry Rice/Troy Aikman/Earl Campbell/Joe Namath /UCLA/Texas/ Delta Devils/Bruins/Longhorns/Crimson Tide Exquisite Ensemble 4 Signatures #d to 10
EE4-DGSC Archie Griffin/Bart Starr/Tony Dorsett/Anthony Carter Ohio State///Michigan Buckeyes/Crimson Tide/Panthers/Wolverines Exquisite Ensemble 4 Signatures #d to 10
EE4-ENYM Dan Marino/Joe Namath/John Elway/Steve Young //Stanford/BYU Panthers/Crimson Tide/Cardinal/Cougars Exquisite Ensemble 4 Signatures #d to 10
EE4-HTLL Johnny Lattner/Daryle Lamonica/Joe Theismann/Paul Hornung Notre Dame/Notre Dame/Notre Dame/Notre Dame Fighting Irish/Fighting Irish/Fighting Irish/Fighting Irish Exquisite Ensemble 4 Signatures #d to 10
EE4-NFRY Joe Namath/Aaron Rodgers/Steve Young/Dan Fouts /California/BYU/Oregon Crimson Tide/Golden Bears/Cougars/Ducks Exquisite Ensemble 4 Signatures #d to 10
EE4-TRMG Ryan Tannehill/Doug Martin/Robert Griffin III/Trent Richardson Texas A&M/// Aggies/Broncos/Bears/Crimson Tide Exquisite Ensemble 4 Signatures #d to 10
EE4-YNFK Joe Namath/Steve Young/Dan Fouts/Jim Kelly /BYU/Oregon/Miami Crimson Tide/Cougars/Ducks/Hurricanes Exquisite Ensemble 4 Signatures #d to 10
Exquisite Rookie Book Marks
RBM-AH Stephen Hill/Dwayne Allen Georgia Tech/ Yellow Jackets/Tigers Exquisite Rookie Book Marks #d to 50
RBM-BJ Justin Blackmon/Brandon Weeden Oklahoma State/Oklahoma State Cowboys/Cowboys Exquisite Rookie Book Marks #d to 50
RBM-BR Justin Blackmon/Trent Richardson Oklahoma State/ Cowboys/Crimson Tide Exquisite Rookie Book Marks #d to 50
RBM-BW Kendall Wright/Justin Blackmon /Oklahoma State Bears/Cowboys Exquisite Rookie Book Marks #d to 50
RBM-CC B.J. Cunningham/Kirk Cousins / Spartans/Spartans Exquisite Rookie Book Marks #d to 50
RBM-CW Jarius Wright/Juron Criner Arkansas/Arizona Razorbacks/Wildcats Exquisite Rookie Book Marks #d to 50
RBM-HS Dan Herron/Mohamed Sanu Ohio State/ Buckeyes/Scarlet Knights Exquisite Rookie Book Marks #d to 50
RBM-JH Alshon Jeffery/Stephen Hill /Georgia Tech Gamecocks/Yellow Jackets Exquisite Rookie Book Marks #d to 50
RBM-JR Rueben Randle/Alshon Jeffery LSU/ Tigers/Gamecocks Exquisite Rookie Book Marks #d to 50
RBM-JW Alshon Jeffery/Kendall Wright / Gamecocks/Bears Exquisite Rookie Book Marks #d to 50
RBM-MM Doug Martin/Kellen Moore / Broncos/Broncos Exquisite Rookie Book Marks #d to 50
RBM-PH Dan Herron/DeVier Posey Ohio State/Ohio State Buckeyes/Buckeyes Exquisite Rookie Book Marks #d to 50
RBM-PJ DeVier Posey/Alshon Jeffery Ohio State/ Buckeyes/Gamecocks Exquisite Rookie Book Marks #d to 50
RBM-PR DeVier Posey/Rueben Randle Ohio State/LSU Buckeyes/Tigers Exquisite Rookie Book Marks #d to 50
RBM-PW DeVier Posey/Jarius Wright Ohio State/Arkansas Buckeyes/Razorbacks Exquisite Rookie Book Marks #d to 50
RBM-RB Travis Benjamin/Rueben Randle Miami/LSU Hurricanes/Tigers Exquisite Rookie Book Marks #d to 50
RBM-RG Trent Richardson/Robert Griffin III / Crimson Tide/Bears Exquisite Rookie Book Marks #d to 50
RBM-RK Kirk Cousins/Russell Wilson / Spartans/Badgers Exquisite Rookie Book Marks #d to 50
RBM-RN Russell Wilson/Nick Toon / Badgers/Badgers Exquisite Rookie Book Marks #d to 50
RBM-RW Trent Richardson/Brandon Weeden /Oklahoma State Crimson Tide/Cowboys Exquisite Rookie Book Marks #d to 50
RBM-SH Stephen Hill/Mohamed Sanu Georgia Tech/ Yellow Jackets/Scarlet Knights Exquisite Rookie Book Marks #d to 50
RBM-TG Robert Griffin III/Ryan Tannehill /Texas A&M Bears/Aggies Exquisite Rookie Book Marks #d to 50
RBM-TL Trent Richardson/LaMichael James /Oregon Crimson Tide/Ducks Exquisite Rookie Book Marks #d to 50
RBM-TW Ryan Tannehill/Brandon Weeden Texas A&M/Oklahoma State Aggies/Cowboys Exquisite Rookie Book Marks #d to 50
RBM-WG Robert Griffin III/Kendall Wright / Bears/Bears Exquisite Rookie Book Marks #d to 50
RBM-WO Russell Wilson/Brock Osweiler /Arizona State Badgers/Sun Devils Exquisite Rookie Book Marks #d to 50
Exquisite Legacy Book Marks
ELBM-1 Joe Theismann/Paul Hornung Notre Dame/Notre Dame Fighting Irish/Fighting Irish Exquisite Legacy Book Marks #d to 10
ELBM-4 John Elway/Troy Aikman Stanford/UCLA Cardinal/Bruins Exquisite Legacy Book Marks #d to 10
ELBM-6 Bo Jackson/Herschel Walker Auburn/Georgia Tigers/Bulldogs Exquisite Legacy Book Marks #d to 10
ELBM-8 Dan Marino/Tony Dorsett / Panthers/Panthers Exquisite Legacy Book Marks #d to 10
Exquisite 16 Signature Book Cards
E16-1 Stephon Gilmore/Kendall Wright/Robert Griffin III/Doug Martin/Shea McClellin/Dre Kirkpatrick/Michael Brockers/Dontari Poe/Trent Richardson/Matt Kalil/Whitney Mercilus/A.J. Jenkins/Ryan Tannehill/Brandon Weeden/Justin Blackmon/Michael Floyd //////LSU/Memphis//USC/Illinois/Illinois/Texas A&M/Oklahoma State/Oklahoma State/Notre Dame Gamecocks/Bears/Bears/Broncos/Broncos/Crimson Tide/Tigers/Tigers/Crimson Tide/Trojans/Fighting Illini/Fighting Illini/Aggies/Cowboys/Cowboys/Fighting Irish Exquisite 16 Signature Book Cards #d to 1
E16-2 Tim Tebow/Earl Campbell/Barry Sanders/Doug Flutie/Jim Kelly/Vinny Testaverde/Bart Starr/Joe Namath/John Elway/Steve Young/Aaron Rodgers/Herschel Walker/Bo Jackson/Dan Marino/Tony Dorsett/Jerry Rice Florida/Texas/Oklahoma/Boston College/Miami/Miami///Stanford/BYU/California/Georgia/Auburn/// Gators/Longhorns/Sooners/Eagles/Hurricanes/Hurricanes/Crimson Tide/Crimson Tide/Cardinal/Cougars/Golden Bears/Bulldogs/Tigers/Panthers/Panthers/Delta Devils Exquisite 16 Signature Book Cards #d to 1
E16-3 Mohamed Sanu/Alshon Jeffery/Kendall Wright/Brian Quick/B.J. Cunningham/Nick Toon/Rueben Randle/A.J. Jenkins/Ryan Broyles/Justin Blackmon/DeVier Posey/Juron Criner/Travis Benjamin/Jarius Wright/Michael Floyd/Stephen Hill //////LSU/Illinois/Oklahoma/Oklahoma State/Ohio State/Arizona/Miami/Arkansas/Notre Dame/Georgia Tech Scarlet Knights/Gamecocks/Bears/Mountaineers/Spartans/Badgers/Tigers/Fighting Illini/Sooners/Cowboys/Buckeyes/Wildcats/Hurricanes/Razorbacks/Fighting Irish/Yellow Jackets Exquisite 16 Signature Book Cards #d to 1
E16-4 Stephen Hill/Michael Floyd/Travis Benjamin/DeVier Posey/Justin Blackmon/A.J. Jenkins/Whitney Mercilus/Rueben Randle/Dontari Poe/Michael Brockers/B.J. Cunningham/Shea McClellin/Brian Quick/Kendall Wright/Alshon Jeffery/Mohamed Sanu Georgia Tech/Notre Dame/Miami/Ohio State/Oklahoma State/Illinois/Illinois/LSU/Memphis/LSU////// Yellow Jackets/Fighting Irish/Hurricanes/Buckeyes/Cowboys/Fighting Illini/Fighting Illini/Tigers/Tigers/Tigers/Spartans/Broncos/Mountaineers/Bears/Gamecocks/Scarlet Knights Exquisite 16 Signature Book Cards #d to 1
E16-5 Tony Dorsett/Charlie Ward/Herschel Walker/Brian Bosworth/Steve Young/Charles White/Vinny Testaverde/Bernie Kosar/Doug Flutie/Barry Sanders/Earl Campbell/Warren Moon/Mike Rozier/Daryle Lamonica/Jake Plummer/Jerry Rice //Georgia/Oklahoma/BYU/USC/Miami/Miami/Boston College/Oklahoma State/Texas/Washington/Nebraska/Notre Dame/Arizona State/ Panthers/Seminoles/Bulldogs/Sooners/Cougars/Trojans/Hurricanes/Hurricanes/Eagles/Cowboys/Longhorns/Huskies/Cornhuskers/Fighting Irish/Sun Devils/Delta Devils Exquisite 16 Signature Book Cards #d to 1
E16-6 Rich Gannon/Tommie Frazier/Roger Craig/Mike Rozier/Tedy Bruschi/Troy Aikman/Warren Moon/Robert Smith/Vinny Testaverde/Charles White/Rodney Peete/Steve Young/Joe Namath/Paul Hornung/Keith Jackson/Ken Stabler /Nebraska/Nebraska/Nebraska/Arizona/UCLA/Washington/Ohio State/Miami/USC/USC/BYU//Notre Dame/Oklahoma/ Fightin' Blue Hens/Cornhuskers/Cornhuskers/Cornhuskers/Wildcats/Bruins/Huskies/Buckeyes/Hurricanes/Trojans/Trojans/Cougars/Crimson Tide/Fighting Irish/Sooners/Crimson Tide Exquisite 16 Signature Book Cards #d to 1
E16-7 Dan Marino/Tony Dorsett/Herschel Walker/Steve Young/Rodney Peete/Charles White/Vinny Testaverde/Doug Flutie/Barry Sanders/Earl Campbell/Warren Moon/Roger Craig/Tommie Frazier/Mike Rozier/Jake Plummer/Rich Gannon //Georgia/BYU/USC/USC/Miami/Boston College/Oklahoma State/Texas/Washington/Nebraska/Nebraska/Nebraska/Arizona State/ Panthers/Panthers/Bulldogs/Cougars/Trojans/Trojans/Hurricanes/Eagles/Cowboys/Longhorns/Huskies/Cornhuskers/Cornhuskers/Cornhuskers/Sun Devils/Fightin' Blue Hens Exquisite 16 Signature Book Cards #d to 1
E16-8 Jake Plummer/Joe Theismann/Daryle Lamonica/Warren Moon/Earl Campbell/Jason White/Billy Sims/Barry Sanders/Bernie Kosar/Charles White/Steve Young/John Elway/Paul Hornung/Herschel Walker/Bo Jackson/Tony Dorsett Arizona State/Notre Dame/Notre Dame/Washington/Texas/Oklahoma/Oklahoma/Oklahoma State/Miami/USC/BYU/Stanford/Notre Dame/Georgia/Auburn/ Sun Devils/Fighting Irish/Fighting Irish/Huskies/Longhorns/Sooners/Sooners/Cowboys/Hurricanes/Trojans/Cougars/Cardinal/Fighting Irish/Bulldogs/Tigers/Panthers Exquisite 16 Signature Book Cards #d to 1
E16-9 Alshon Jeffery/Kendall Wright/Brian Quick/Robert Griffin III/Kellen Moore/Russell Wilson/Case Keenum/A.J. Jenkins/Ryan Tannehill/Justin Blackmon/Ryan Broyles/Brandon Weeden/Nick Foles/Michael Floyd/Brock Osweiler/Stephen Hill //////Houston/Illinois/Texas A&M/Oklahoma State/Oklahoma/Oklahoma State/Arizona/Notre Dame/Arizona State/Georgia Tech Gamecocks/Bears/Mountaineers/Bears/Broncos/Badgers/Cougars/Fighting Illini/Aggies/Cowboys/Sooners/Cowboys/Wildcats/Fighting Irish/Sun Devils/Yellow Jackets Exquisite 16 Signature Book Cards #d to 1
Exquisite Dimensions
EB-AC Anthony Carter Michigan Wolverines Exquisite Dimensions #d to 60
EB-AG Archie Griffin Ohio State Buckeyes Exquisite Dimensions #d to 60
EB-AJ A.J. Jenkins Illinois Fighting Illini Exquisite Dimensions #d to 60
EB-AL Alshon Jeffery Gamecocks Exquisite Dimensions #d to 60
EB-AR Aaron Rodgers California Golden Bears Exquisite Dimensions #d to 60
EB-AW Andre Ware Houston Cougars Exquisite Dimensions #d to 60
EB-BB Brian Bosworth Oklahoma Sooners Exquisite Dimensions #d to 60
EB-BJ Bo Jackson Auburn Tigers Exquisite Dimensions #d to 60
EB-BS Bart Starr Crimson Tide Exquisite Dimensions #d to 60
EB-BT Travis Benjamin Miami Hurricanes Exquisite Dimensions #d to 60
EB-BW Brandon Weeden Oklahoma State Cowboys Exquisite Dimensions #d to 60
EB-CK Case Keenum Houston Cougars Exquisite Dimensions #d to 60
EB-DM Doug Martin Broncos Exquisite Dimensions #d to 60
EB-DP DeVier Posey Ohio State Buckeyes Exquisite Dimensions #d to 60
EB-EC Earl Campbell Texas Longhorns Exquisite Dimensions #d to 60
EB-GB Gary Beban UCLA Bruins Exquisite Dimensions #d to 60
EB-GR George Rogers Gamecocks Exquisite Dimensions #d to 60
EB-HW Herschel Walker Georgia Bulldogs Exquisite Dimensions #d to 60
EB-JB Justin Blackmon Oklahoma State Cowboys Exquisite Dimensions #d to 60
EB-JE John Elway Stanford Cardinal Exquisite Dimensions #d to 60
EB-JK Jim Kelly Miami Hurricanes Exquisite Dimensions #d to 60
EB-JL Johnny Lattner Notre Dame Fighting Irish Exquisite Dimensions #d to 60
EB-JN Joe Namath Crimson Tide Exquisite Dimensions #d to 60
EB-JP Jake Plummer Arizona State Sun Devils Exquisite Dimensions #d to 60
EB-JR Johnny Rodgers Nebraska Cornhuskers Exquisite Dimensions #d to 60
EB-JW Joe Washington Oklahoma Sooners Exquisite Dimensions #d to 60
EB-KC Kirk Cousins Spartans Exquisite Dimensions #d to 60
EB-KM Kellen Moore Broncos Exquisite Dimensions #d to 60
EB-KW Kendall Wright Bears Exquisite Dimensions #d to 60
EB-MA Ken MacAfee Notre Dame Fighting Irish Exquisite Dimensions #d to 60
EB-MF Michael Floyd Notre Dame Fighting Irish Exquisite Dimensions #d to 60
EB-MR Mike Rozier Nebraska Cornhuskers Exquisite Dimensions #d to 60
EB-RG Robert Griffin III Bears Exquisite Dimensions #d to 60
EB-RJ Jerry Rice Delta Devils Exquisite Dimensions #d to 60
EB-RT Ryan Tannehill Texas A&M Aggies Exquisite Dimensions #d to 60
EB-RW Russell Wilson Badgers Exquisite Dimensions #d to 60
EB-SA Barry Sanders Oklahoma State Cowboys Exquisite Dimensions #d to 60
EB-SY Steve Young BYU Cougars Exquisite Dimensions #d to 60
EB-TF Tommie Frazier Nebraska Cornhuskers Exquisite Dimensions #d to 60
EB-TR Trent Richardson Crimson Tide Exquisite Dimensions #d to 60
EB-WJ Jason White Oklahoma Sooners Exquisite Dimensions #d to 60
UD Black Signatures
UDB-AC Anthony Carter Michigan Wolverines UD Black Signatures #d to 65
UDB-AJ Alshon Jeffery Gamecocks UD Black Signatures #d to 65
UDB-AR Aaron Rodgers California Golden Bears UD Black Signatures #d to 35
UDB-AW Andre Ware Houston Cougars UD Black Signatures #d to 65
UDB-BJ Bo Jackson Auburn Tigers UD Black Signatures #d to 65
UDB-BS Barry Sanders Oklahoma State Cowboys UD Black Signatures #d to 35
UDB-BW Brandon Weeden Oklahoma State Cowboys UD Black Signatures #d to 65
UDB-CW Charlie Ward Seminoles UD Black Signatures #d to 99
UDB-DF Doug Flutie Boston College Eagles UD Black Signatures #d to 65
UDB-DM Doug Martin Broncos UD Black Signatures #d to 65
UDB-GB Gary Beban UCLA Bruins UD Black Signatures #d to 65
UDB-GR George Rogers Gamecocks UD Black Signatures #d to 65
UDB-HW Herschel Walker Georgia Bulldogs UD Black Signatures #d to 65
UDB-JB Justin Blackmon Oklahoma State Cowboys UD Black Signatures #d to 65
UDB-JE John Elway Stanford Cardinal UD Black Signatures #d to 35
UDB-JL Johnny Lattner Notre Dame Fighting Irish UD Black Signatures #d to 65
UDB-JN Joe Namath Crimson Tide UD Black Signatures #d to 35
UDB-JP Jake Plummer Arizona State Sun Devils UD Black Signatures #d to 65
UDB-JR Jerry Rice Delta Devils UD Black Signatures #d to 35
UDB-JW Jason White Oklahoma Sooners UD Black Signatures #d to 65
UDB-KM Ken MacAfee Notre Dame Fighting Irish UD Black Signatures #d to 99
UDB-LJ LaMichael James Oregon Ducks UD Black Signatures #d to 65
UDB-MD Dan Marino Panthers UD Black Signatures #d to 35
UDB-MF Michael Floyd Notre Dame Fighting Irish UD Black Signatures #d to 65
UDB-MR Mike Rozier Nebraska Cornhuskers UD Black Signatures #d to 99
UDB-MS Mohamed Sanu Scarlet Knights UD Black Signatures #d to 65
UDB-NT Nick Toon Badgers UD Black Signatures #d to 99
UDB-PH Paul Hornung Notre Dame Fighting Irish UD Black Signatures #d to 65
UDB-RB Ryan Broyles Oklahoma Sooners UD Black Signatures #d to 65
UDB-RG Robert Griffin III Bears UD Black Signatures #d to 65
UDB-RJ Johnny Rodgers Nebraska Cornhuskers UD Black Signatures #d to 99
UDB-RW Russell Wilson Badgers UD Black Signatures #d to 65
UDB-ST Bart Starr Crimson Tide UD Black Signatures #d to 65
UDB-SY Steve Young BYU Cougars UD Black Signatures #d to 35
UDB-TA Troy Aikman UCLA Bruins UD Black Signatures #d to 35
UDB-TF Tommie Frazier Nebraska Cornhuskers UD Black Signatures #d to 99
UDB-TR Trent Richardson Crimson Tide UD Black Signatures #d to 65
UDB-TT Tim Tebow Florida Gators UD Black Signatures #d to 65
UDB-VT Vinny Testaverde Miami Hurricanes UD Black Signatures #d to 65
UDB-WJ Joe Washington Oklahoma Sooners UD Black Signatures #d to 65
UD Black Rookie Lustrous Jersey Tier 1
BRL-1 Brandon Weeden Oklahoma State Cowboys UD Black Rookie Lustrous Jersey Tier 1 #d to 35
BRL-2 Doug Martin Broncos UD Black Rookie Lustrous Jersey Tier 1 #d to 35
BRL-3 Justin Blackmon Oklahoma State Cowboys UD Black Rookie Lustrous Jersey Tier 1 #d to 35
BRL-4 Michael Floyd Notre Dame Fighting Irish UD Black Rookie Lustrous Jersey Tier 1 #d to 35
BRL-5 Robert Griffin III Bears UD Black Rookie Lustrous Jersey Tier 1 #d to 35
BRL-6 Ryan Tannehill Texas A&M Aggies UD Black Rookie Lustrous Jersey Tier 1 #d to 35
BRL-7 Trent Richardson Crimson Tide UD Black Rookie Lustrous Jersey Tier 1 #d to 35
UD Black Rookie Lustrous Jersey Tier 2
BRL-8 Kendall Wright Bears UD Black Rookie Lustrous Jersey Tier 2 #d to 99
BRL-9 Brock Osweiler Arizona State Sun Devils UD Black Rookie Lustrous Jersey Tier 2 #d to 99
BRL-10 Nick Foles Arizona Wildcats UD Black Rookie Lustrous Jersey Tier 2 #d to 99
BRL-11 A.J. Jenkins Illinois Fighting Illini UD Black Rookie Lustrous Jersey Tier 2 #d to 99
BRL-12 Case Keenum Houston Cougars UD Black Rookie Lustrous Jersey Tier 2 #d to 99
BRL-13 Kellen Moore Broncos UD Black Rookie Lustrous Jersey Tier 2 #d to 99
BRL-14 Russell Wilson Badgers UD Black Rookie Lustrous Jersey Tier 2 #d to 99
BRL-15 Kirk Cousins Spartans UD Black Rookie Lustrous Jersey Tier 2 #d to 99
BRL-16 Isaiah Pead Cincinnati Bearcats UD Black Rookie Lustrous Jersey Tier 2 #d to 99
BRL-17 LaMichael James Oregon Ducks UD Black Rookie Lustrous Jersey Tier 2 #d to 99
BRL-19 Coby Fleener Stanford Cardinal UD Black Rookie Lustrous Jersey Tier 2 #d to 99
BRL-20 Brian Quick Mountaineers UD Black Rookie Lustrous Jersey Tier 2 #d to 99
BRL-21 Stephen Hill Georgia Tech Yellow Jackets UD Black Rookie Lustrous Jersey Tier 2 #d to 99
BRL-22 Alshon Jeffery Gamecocks UD Black Rookie Lustrous Jersey Tier 2 #d to 99
BRL-23 Ryan Broyles Oklahoma Sooners UD Black Rookie Lustrous Jersey Tier 2 #d to 99
BRL-24 Rueben Randle LSU Tigers UD Black Rookie Lustrous Jersey Tier 2 #d to 99
BRL-25 DeVier Posey Ohio State Buckeyes UD Black Rookie Lustrous Jersey Tier 2 #d to 99
BRL-26 Mohamed Sanu Scarlet Knights UD Black Rookie Lustrous Jersey Tier 2 #d to 99
BRL-27 Travis Benjamin Miami Hurricanes UD Black Rookie Lustrous Jersey Tier 2 #d to 99
BRL-28 Jarius Wright Arkansas Razorbacks UD Black Rookie Lustrous Jersey Tier 2 #d to 99
BRL-29 Nick Toon Badgers UD Black Rookie Lustrous Jersey Tier 2 #d to 99
BRL-30 Juron Criner Arizona Wildcats UD Black Rookie Lustrous Jersey Tier 2 #d to 99
UD Black Lustrous Legends Jersey
BLL-1 John Elway Stanford Cardinal UD Black Lustrous Legends Jersey #d to 15
BLL-2 Dan Marino Panthers UD Black Lustrous Legends Jersey #d to 15
BLL-3 Drew Bledsoe Washington State Cougars UD Black Lustrous Legends Jersey #d to 15
BLL-4 Vinny Testaverde Miami Hurricanes UD Black Lustrous Legends Jersey #d to 15
BLL-5 Bo Jackson Auburn Tigers UD Black Lustrous Legends Jersey #d to 15
BLL-7 Bart Starr Crimson Tide UD Black Lustrous Legends Jersey #d to 15
BLL-9 Earl Campbell Texas Longhorns UD Black Lustrous Legends Jersey #d to 15
BLL-12 Daryle Lamonica Notre Dame Fighting Irish UD Black Lustrous Legends Jersey #d to 15
UD Black Lustrous Patch Tier 1 //
BRL-1 Brandon Weeden Oklahoma State Cowboys UD Black Lustrous Patch Tier 1 // #d to 5
BRL-2 Doug Martin Broncos UD Black Lustrous Patch Tier 1 // #d to 5
BRL-3 Justin Blackmon Oklahoma State Cowboys UD Black Lustrous Patch Tier 1 // #d to 5
BRL-4 Michael Floyd Notre Dame Fighting Irish UD Black Lustrous Patch Tier 1 // #d to 5
BRL-5 Robert Griffin III Bears UD Black Lustrous Patch Tier 1 // #d to 5
BRL-6 Ryan Tannehill Texas A&M Aggies UD Black Lustrous Patch Tier 1 // #d to 5
BRL-7 Trent Richardson Crimson Tide UD Black Lustrous Patch Tier 1 // #d to 5
UD Black Rookie Lustrous Patch Tier 2 //
BRL-8 Kendall Wright Bears UD Black Rookie Lustrous Patch Tier 2 // #d to 5
BRL-9 Brock Osweiler Arizona State Sun Devils UD Black Rookie Lustrous Patch Tier 2 // #d to 5
BRL-10 Nick Foles Arizona Wildcats UD Black Rookie Lustrous Patch Tier 2 // #d to 5
BRL-11 A.J. Jenkins Illinois Fighting Illini UD Black Rookie Lustrous Patch Tier 2 // #d to 5
BRL-12 Case Keenum Houston Cougars UD Black Rookie Lustrous Patch Tier 2 // #d to 5
BRL-13 Kellen Moore Broncos UD Black Rookie Lustrous Patch Tier 2 // #d to 5
BRL-14 Russell Wilson Badgers UD Black Rookie Lustrous Patch Tier 2 // #d to 5
BRL-15 Kirk Cousins Spartans UD Black Rookie Lustrous Patch Tier 2 // #d to 5
BRL-16 Isaiah Pead Cincinnati Bearcats UD Black Rookie Lustrous Patch Tier 2 // #d to 5
BRL-17 LaMichael James Oregon Ducks UD Black Rookie Lustrous Patch Tier 2 // #d to 5
BRL-18 Bernard Pierce Temple Owls UD Black Rookie Lustrous Patch Tier 2 // #d to 5
BRL-19 Coby Fleener Stanford Cardinal UD Black Rookie Lustrous Patch Tier 2 // #d to 5
BRL-20 Brian Quick Mountaineers UD Black Rookie Lustrous Patch Tier 2 // #d to 5
BRL-21 Stephen Hill Georgia Tech Yellow Jackets UD Black Rookie Lustrous Patch Tier 2 // #d to 5
BRL-22 Alshon Jeffery Gamecocks UD Black Rookie Lustrous Patch Tier 2 // #d to 5
BRL-23 Ryan Broyles Oklahoma Sooners UD Black Rookie Lustrous Patch Tier 2 // #d to 5
BRL-24 Rueben Randle LSU Tigers UD Black Rookie Lustrous Patch Tier 2 // #d to 5
BRL-25 DeVier Posey Ohio State Buckeyes UD Black Rookie Lustrous Patch Tier 2 // #d to 5
BRL-26 Mohamed Sanu Scarlet Knights UD Black Rookie Lustrous Patch Tier 2 // #d to 5
BRL-27 Travis Benjamin Miami Hurricanes UD Black Rookie Lustrous Patch Tier 2 // #d to 5
BRL-28 Jarius Wright Arkansas Razorbacks UD Black Rookie Lustrous Patch Tier 2 // #d to 5
BRL-29 Nick Toon Badgers UD Black Rookie Lustrous Patch Tier 2 // #d to 5
BRL-30 Juron Criner Arizona Wildcats UD Black Rookie Lustrous Patch Tier 2 // #d to 5
UD Black Lustrous Legends Patch //
BLL-1 John Elway Stanford Cardinal UD Black Lustrous Legends Patch // #d to 3
BLL-2 Dan Marino Panthers UD Black Lustrous Legends Patch // #d to 3
BLL-3 Drew Bledsoe Washington State Cougars UD Black Lustrous Legends Patch // #d to 3
BLL-4 Vinny Testaverde Miami Hurricanes UD Black Lustrous Legends Patch // #d to 3
BLL-5 Bo Jackson Auburn Tigers UD Black Lustrous Legends Patch // #d to 3
BLL-7 Bart Starr Crimson Tide UD Black Lustrous Legends Patch // #d to 3
BLL-9 Earl Campbell Texas Longhorns UD Black Lustrous Legends Patch // #d to 3
BLL-12 Daryle Lamonica Notre Dame Fighting Irish UD Black Lustrous Legends Patch // #d to 3
Exquisite Signature Slots
ESS-AC Anthony Carter Michigan Wolverines Exquisite Signature Slots #d to 35
ESS-AG Archie Griffin Ohio State Buckeyes Exquisite Signature Slots #d to 35
ESS-AJ Alshon Jeffery Gamecocks Exquisite Signature Slots #d to 35
ESS-AW Andre Ware Houston Cougars Exquisite Signature Slots #d to 35
ESS-BE Travis Benjamin Miami Hurricanes Exquisite Signature Slots #d to 35
ESS-BJ Bo Jackson Auburn Tigers Exquisite Signature Slots #d to 35
ESS-BQ Brian Quick Mountaineers Exquisite Signature Slots #d to 35
ESS-BS Barry Sanders Oklahoma State Cowboys Exquisite Signature Slots #d to 35
ESS-BT Tedy Bruschi Arizona Wildcats Exquisite Signature Slots #d to 35
ESS-BW Brandon Weeden Oklahoma State Cowboys Exquisite Signature Slots #d to 35
ESS-CK Case Keenum Houston Cougars Exquisite Signature Slots #d to 35
ESS-CW Charlie Ward Seminoles Exquisite Signature Slots #d to 35
ESS-DB Drew Bledsoe Washington State Cougars Exquisite Signature Slots #d to 35
ESS-DF Doug Flutie Boston College Eagles Exquisite Signature Slots #d to 35
ESS-DL Daryle Lamonica Notre Dame Fighting Irish Exquisite Signature Slots #d to 35
ESS-DM Doug Martin Broncos Exquisite Signature Slots #d to 35
ESS-DP DeVier Posey Ohio State Buckeyes Exquisite Signature Slots #d to 35
ESS-EC Earl Campbell Texas Longhorns Exquisite Signature Slots #d to 35
ESS-GB Gary Beban UCLA Bruins Exquisite Signature Slots #d to 35
ESS-GR George Rogers Gamecocks Exquisite Signature Slots #d to 35
ESS-HW Herschel Walker Georgia Bulldogs Exquisite Signature Slots #d to 35
ESS-IP Isaiah Pead Cincinnati Bearcats Exquisite Signature Slots #d to 35
ESS-JA A.J. Jenkins Illinois Fighting Illini Exquisite Signature Slots #d to 35
ESS-JB Justin Blackmon Oklahoma State Cowboys Exquisite Signature Slots #d to 35
ESS-JC Juron Criner Arizona Wildcats Exquisite Signature Slots #d to 35
ESS-JE John Elway Stanford Cardinal Exquisite Signature Slots #d to 35
ESS-JL Johnny Lattner Notre Dame Fighting Irish Exquisite Signature Slots #d to 35
ESS-JM Jim Kelly Miami Hurricanes Exquisite Signature Slots #d to 35
ESS-JN Joe Namath Crimson Tide Exquisite Signature Slots #d to 35
ESS-JP Jake Plummer Arizona State Sun Devils Exquisite Signature Slots #d to 35
ESS-JR Johnny Rodgers Nebraska Cornhuskers Exquisite Signature Slots #d to 35
ESS-JW Joe Washington Oklahoma Sooners Exquisite Signature Slots #d to 35
ESS-KC Kirk Cousins Spartans Exquisite Signature Slots #d to 35
ESS-KJ Keith Jackson Oklahoma Sooners Exquisite Signature Slots #d to 35
ESS-KM Ken MacAfee Notre Dame Fighting Irish Exquisite Signature Slots #d to 35
ESS-KW Kendall Wright Bears Exquisite Signature Slots #d to 35
ESS-LJ LaMichael James Oregon Ducks Exquisite Signature Slots #d to 35
ESS-MA Dan Marino Panthers Exquisite Signature Slots #d to 35
ESS-MF Michael Floyd Notre Dame Fighting Irish Exquisite Signature Slots #d to 35
ESS-MO Kellen Moore Broncos Exquisite Signature Slots #d to 35
ESS-MR Mike Rozier Nebraska Cornhuskers Exquisite Signature Slots #d to 35
ESS-MS Mohamed Sanu Scarlet Knights Exquisite Signature Slots #d to 35
ESS-NF Nick Foles Arizona Wildcats Exquisite Signature Slots #d to 35
ESS-PH Paul Hornung Notre Dame Fighting Irish Exquisite Signature Slots #d to 35
ESS-RB Ryan Broyles Oklahoma Sooners Exquisite Signature Slots #d to 35
ESS-RG Robert Griffin III Bears Exquisite Signature Slots #d to 35
ESS-RR Rueben Randle LSU Tigers Exquisite Signature Slots #d to 35
ESS-RT Ryan Tannehill Texas A&M Aggies Exquisite Signature Slots #d to 35
ESS-SH Stephen Hill Georgia Tech Yellow Jackets Exquisite Signature Slots #d to 35
ESS-ST Bart Starr Crimson Tide Exquisite Signature Slots #d to 35
ESS-SY Steve Young BYU Cougars Exquisite Signature Slots #d to 35
ESS-TF Tommie Frazier Nebraska Cornhuskers Exquisite Signature Slots #d to 35
ESS-TR Trent Richardson Crimson Tide Exquisite Signature Slots #d to 35
ESS-TT Tim Tebow Florida Gators Exquisite Signature Slots #d to 35
ESS-VT Vinny Testaverde Miami Hurricanes Exquisite Signature Slots #d to 35
ESS-WH Jason White Oklahoma Sooners Exquisite Signature Slots #d to 35
ESS-WM Warren Moon Washington Huskies Exquisite Signature Slots #d to 35
ESS-WR Jarius Wright Arkansas Razorbacks Exquisite Signature Slots #d to 35
Exquisite Rookie Siganture Patch Tier 1 Redemption //
144 Robert Griffin III Bears Exquisite Rookie Siganture Patch Tier 1 Redemption // #d to 3
145 Ryan Tannehill Texas A&M Aggies Exquisite Rookie Siganture Patch Tier 1 Redemption // #d to 3
146 Brandon Weeden Oklahoma State Cowboys Exquisite Rookie Siganture Patch Tier 1 Redemption // #d to 3
147 Trent Richardson Crimson Tide Exquisite Rookie Siganture Patch Tier 1 Redemption // #d to 3
148 Doug Martin Broncos Exquisite Rookie Siganture Patch Tier 1 Redemption // #d to 3
149 Justin Blackmon Oklahoma State Cowboys Exquisite Rookie Siganture Patch Tier 1 Redemption // #d to 3
150 Michael Floyd Notre Dame Fighting Irish Exquisite Rookie Siganture Patch Tier 1 Redemption // #d to 3
Exquisite Rookie Signature Patch Tier 2 Redemption //
121 Kendall Wright Bears Exquisite Rookie Signature Patch Tier 2 Redemption // #d to 3
122 Brock Osweiler Arizona State Sun Devils Exquisite Rookie Signature Patch Tier 2 Redemption // #d to 3
123 Nick Foles Arizona Wildcats Exquisite Rookie Signature Patch Tier 2 Redemption // #d to 3
124 A.J. Jenkins Illinois Fighting Illini Exquisite Rookie Signature Patch Tier 2 Redemption // #d to 3
125 Case Keenum Houston Cougars Exquisite Rookie Signature Patch Tier 2 Redemption // #d to 3
126 Kellen Moore Broncos Exquisite Rookie Signature Patch Tier 2 Redemption // #d to 3
127 Russell Wilson Badgers Exquisite Rookie Signature Patch Tier 2 Redemption // #d to 3
128 Kirk Cousins Spartans Exquisite Rookie Signature Patch Tier 2 Redemption // #d to 3
129 Isaiah Pead Cincinnati Bearcats Exquisite Rookie Signature Patch Tier 2 Redemption // #d to 3
130 LaMichael James Oregon Ducks Exquisite Rookie Signature Patch Tier 2 Redemption // #d to 3
131 Bernard Pierce Temple Owls Exquisite Rookie Signature Patch Tier 2 Redemption // #d to 3
132 Coby Fleener Stanford Cardinal Exquisite Rookie Signature Patch Tier 2 Redemption // #d to 3
133 Brian Quick Mountaineers Exquisite Rookie Signature Patch Tier 2 Redemption // #d to 3
134 Stephen Hill Georgia Tech Yellow Jackets Exquisite Rookie Signature Patch Tier 2 Redemption // #d to 3
135 Alshon Jeffery Gamecocks Exquisite Rookie Signature Patch Tier 2 Redemption // #d to 3
136 Ryan Broyles Oklahoma Sooners Exquisite Rookie Signature Patch Tier 2 Redemption // #d to 3
137 Rueben Randle LSU Tigers Exquisite Rookie Signature Patch Tier 2 Redemption // #d to 3
138 DeVier Posey Ohio State Buckeyes Exquisite Rookie Signature Patch Tier 2 Redemption // #d to 3
139 Mohamed Sanu Scarlet Knights Exquisite Rookie Signature Patch Tier 2 Redemption // #d to 3
140 Travis Benjamin Miami Hurricanes Exquisite Rookie Signature Patch Tier 2 Redemption // #d to 3
141 Jarius Wright Arkansas Razorbacks Exquisite Rookie Signature Patch Tier 2 Redemption // #d to 3
142 Nick Toon Badgers Exquisite Rookie Signature Patch Tier 2 Redemption // #d to 3
143 Juron Criner Arizona Wildcats Exquisite Rookie Signature Patch Tier 2 Redemption // #d to 3
Exquisite Regular Cards //
1 Keith Jackson Oklahoma Sooners Exquisite Regular Cards // #d to 1
2 Ken MacAfee Notre Dame Fighting Irish Exquisite Regular Cards // #d to 1
3 Warren Moon Washington Huskies Exquisite Regular Cards // #d to 1
4 Garrison Hearst Georgia Bulldogs Exquisite Regular Cards // #d to 1
5 Warren Sapp Miami Hurricanes Exquisite Regular Cards // #d to 1
6 Roger Craig Nebraska Cornhuskers Exquisite Regular Cards // #d to 1
7 Billy Cannon LSU Tigers Exquisite Regular Cards // #d to 1
8 Nick Buoniconti Notre Dame Fighting Irish Exquisite Regular Cards // #d to 1
9 Tedy Bruschi Arizona Wildcats Exquisite Regular Cards // #d to 1
10 Ken Stabler Crimson Tide Exquisite Regular Cards // #d to 1
11 Barry Sanders Oklahoma State Cowboys Exquisite Regular Cards // #d to 1
12 Don Maynard Exquisite Regular Cards // University Texas El Paso #d to 1
13 Paul Hornung Notre Dame Fighting Irish Exquisite Regular Cards // #d to 1
14 Gary Beban UCLA Bruins Exquisite Regular Cards // #d to 1
15 Tim Tebow Florida Gators Exquisite Regular Cards // #d to 1
16 Tony Dorsett Panthers Exquisite Regular Cards // #d to 1
17 Vinny Testaverde Miami Hurricanes Exquisite Regular Cards // #d to 1
18 Mike Rozier Nebraska Cornhuskers Exquisite Regular Cards // #d to 1
19 Bruce Smith Virginia Tech Hokies Exquisite Regular Cards // #d to 1
20 Bo Jackson Auburn Tigers Exquisite Regular Cards // #d to 1
21 Troy Aikman UCLA Bruins Exquisite Regular Cards // #d to 1
22 Doug Flutie Boston College Eagles Exquisite Regular Cards // #d to 1
23 Johnny Lattner Notre Dame Fighting Irish Exquisite Regular Cards // #d to 1
24 Chris Weinke Seminoles Exquisite Regular Cards // #d to 1
25 Dan Marino Panthers Exquisite Regular Cards // #d to 1
26 Archie Griffin Ohio State Buckeyes Exquisite Regular Cards // #d to 1
27 Joe Namath Crimson Tide Exquisite Regular Cards // #d to 1
28 Jake Plummer Arizona State Sun Devils Exquisite Regular Cards // #d to 1
29 Ozzie Newsome Crimson Tide Exquisite Regular Cards // #d to 1
30 Rich Gannon Fightin' Blue Hens Exquisite Regular Cards // #d to 1
31 Al Toon Badgers Exquisite Regular Cards // #d to 1
32 Dan Fouts Oregon Ducks Exquisite Regular Cards // #d to 1
33 Anthony Carter Michigan Wolverines Exquisite Regular Cards // #d to 1
34 Joe Theismann Notre Dame Fighting Irish Exquisite Regular Cards // #d to 1
35 Steve Young BYU Cougars Exquisite Regular Cards // #d to 1
36 Drew Bledsoe Washington State Cougars Exquisite Regular Cards // #d to 1
37 George Rogers Gamecocks Exquisite Regular Cards // #d to 1
38 Jim Kelly Miami Hurricanes Exquisite Regular Cards // #d to 1
39 Charlie Ward Seminoles Exquisite Regular Cards // #d to 1
40 Tommie Frazier Nebraska Cornhuskers Exquisite Regular Cards // #d to 1
41 Jason White Oklahoma Sooners Exquisite Regular Cards // #d to 1
42 Jerry Rice Delta Devils Exquisite Regular Cards // #d to 1
43 Jerome Bettis Notre Dame Fighting Irish Exquisite Regular Cards // #d to 1
44 Daryle Lamonica Notre Dame Fighting Irish Exquisite Regular Cards // #d to 1
45 John Hannah Crimson Tide Exquisite Regular Cards // #d to 1
46 Earl Campbell Texas Longhorns Exquisite Regular Cards // #d to 1
47 Andy Katzenmoyer Ohio State Buckeyes Exquisite Regular Cards // #d to 1
48 Robert Smith Ohio State Buckeyes Exquisite Regular Cards // #d to 1
49 Ty Detmer BYU Cougars Exquisite Regular Cards // #d to 1
50 Joe Washington Oklahoma Sooners Exquisite Regular Cards // #d to 1
51 Billy Sims Oklahoma Sooners Exquisite Regular Cards // #d to 1
52 Herschel Walker Georgia Bulldogs Exquisite Regular Cards // #d to 1
53 Charles White USC Trojans Exquisite Regular Cards // #d to 1
54 John Elway Stanford Cardinal Exquisite Regular Cards // #d to 1
55 Rodney Peete USC Trojans Exquisite Regular Cards // #d to 1
56 Bart Starr Crimson Tide Exquisite Regular Cards // #d to 1
57 Aaron Rodgers California Golden Bears Exquisite Regular Cards // #d to 1
58 Archie Manning Mississippi Rebels Exquisite Regular Cards // #d to 1
59 Andre Ware Houston Cougars Exquisite Regular Cards // #d to 1
60 Brian Bosworth Oklahoma Sooners Exquisite Regular Cards // #d to 1
Exquisite Art Single Player
EA-BB Brian Bosworth Oklahoma Sooners Exquisite Art Single Player #d to 15
EA-BL Justin Blackmon Oklahoma State Cowboys Exquisite Art Single Player #d to 15
EA-BO Brock Osweiler Arizona State Sun Devils Exquisite Art Single Player #d to 15
EA-BQ Brian Quick Mountaineers Exquisite Art Single Player #d to 15
EA-BS Bart Starr Crimson Tide Exquisite Art Single Player #d to 15
EA-BW Brandon Weeden Oklahoma State Cowboys Exquisite Art Single Player #d to 15
EA-CW Charlie Ward Seminoles Exquisite Art Single Player #d to 15
EA-DF Doug Flutie Boston College Eagles Exquisite Art Single Player #d to 15
EA-DM Dan Marino Panthers Exquisite Art Single Player #d to 15
EA-DP DeVier Posey Ohio State Buckeyes Exquisite Art Single Player #d to 15
EA-JB Jerome Bettis Notre Dame Fighting Irish Exquisite Art Single Player #d to 15
EA-JE John Elway Stanford Cardinal Exquisite Art Single Player #d to 15
EA-JN Joe Namath Crimson Tide Exquisite Art Single Player #d to 15
EA-JP Jake Plummer Arizona State Sun Devils Exquisite Art Single Player #d to 15
EA-JR Jerry Rice Delta Devils Exquisite Art Single Player #d to 15
EA-KC Kirk Cousins Spartans Exquisite Art Single Player #d to 15
EA-KW Kendall Wright Bears Exquisite Art Single Player #d to 15
EA-MA Doug Martin Broncos Exquisite Art Single Player #d to 15
EA-MF Michael Floyd Notre Dame Fighting Irish Exquisite Art Single Player #d to 15
EA-MS Mohamed Sanu Scarlet Knights Exquisite Art Single Player #d to 15
EA-NF Nick Foles Arizona Wildcats Exquisite Art Single Player #d to 15
EA-PL Jim Plunkett Stanford Cardinal Exquisite Art Single Player #d to 15
EA-RB Ryan Broyles Oklahoma Sooners Exquisite Art Single Player #d to 15
EA-RG Robert Griffin III Bears Exquisite Art Single Player #d to 15
EA-RR Rueben Randle LSU Tigers Exquisite Art Single Player #d to 15
EA-RT Ryan Tannehill Texas A&M Aggies Exquisite Art Single Player #d to 15
EA-SA Barry Sanders Oklahoma State Cowboys Exquisite Art Single Player #d to 15
EA-SH Stephen Hill Georgia Tech Yellow Jackets Exquisite Art Single Player #d to 15
EA-SY Steve Young BYU Cougars Exquisite Art Single Player #d to 15
EA-TA Troy Aikman UCLA Bruins Exquisite Art Single Player #d to 15
EA-TB Tedy Bruschi Arizona Wildcats Exquisite Art Single Player #d to 15
EA-TR Trent Richardson Crimson Tide Exquisite Art Single Player #d to 15
EA-TT Tim Tebow Florida Gators Exquisite Art Single Player #d to 15
EA-VT Vinny Testaverde Miami Hurricanes Exquisite Art Single Player #d to 15
Exquisite Art Dual Player
EA2-AR Troy Aikman/Jerry Rice UCLA/ Bruins/Delta Devils Exquisite Art Dual Player #d to 5
EA2-BH Jerome Bettis/Paul Hornung Notre Dame/Notre Dame Fighting Irish/Fighting Irish Exquisite Art Dual Player #d to 5
EA2-BL Jerome Bettis/Johnny Lattner Notre Dame/Notre Dame Fighting Irish/Fighting Irish Exquisite Art Dual Player #d to 5
EA2-EP Jim Plunkett/John Elway Stanford/Stanford Cardinal/Cardinal Exquisite Art Dual Player #d to 5
EA2-HS Paul Hornung/Billy Sims Green Bay/Oklahoma Packers/Sooners Exquisite Art Dual Player #d to 5
EA2-SN Roger Staubach/Joe Namath / Midshipmen/Crimson Tide Exquisite Art Dual Player #d to 5
EA2-SR Barry Sanders/Jerry Rice Oklahoma State/ Cowboys/Delta Devils Exquisite Art Dual Player #d to 5
EA2-YA Steve Young/Troy Aikman BYU/UCLA Cougars/Bruins Exquisite Art Dual Player #d to 5
Exquisite Rookies 2013 Redemption //
ER-AD Aaron Dobson Thundering Herd Exquisite Rookies 2013 Redemption // #d to 10
ER-BA Montee Ball Badgers Exquisite Rookies 2013 Redemption // #d to 10
ER-CH Cobi Hamilton Arkansas Razorbacks Exquisite Rookies 2013 Redemption // #d to 10
ER-CK Collin Klein Kansas State Wildcats Exquisite Rookies 2013 Redemption // #d to 10
ER-CP Cordarrelle Patterson Tennessee Volunteers Exquisite Rookies 2013 Redemption // #d to 10
ER-DH DeAndre Hopkins Tigers Exquisite Rookies 2013 Redemption // #d to 10
ER-DR Da'Rick Rogers Exquisite Rookies 2013 Redemption // #d to 10
ER-EL Eddie Lacy Crimson Tide Exquisite Rookies 2013 Redemption // #d to 10
ER-EM EJ Manuel Seminoles Exquisite Rookies 2013 Redemption // #d to 10
ER-GB Giovani Bernard North Carolina Tar Heels Exquisite Rookies 2013 Redemption // #d to 10
ER-GS Geno Smith Mountaineers Exquisite Rookies 2013 Redemption // #d to 10
ER-JF Johnathan Franklin UCLA Bruins Exquisite Rookies 2013 Redemption // #d to 10
ER-JH Justin Hunter Tennessee Volunteers Exquisite Rookies 2013 Redemption // #d to 10
ER-JJ Jawan Jamison Scarlet Knights Exquisite Rookies 2013 Redemption // #d to 10
ER-JR Joseph Randle Oklahoma State Cowboys Exquisite Rookies 2013 Redemption // #d to 10
ER-KA Keenan Allen California Golden Bears Exquisite Rookies 2013 Redemption // #d to 10
ER-KS Kenny Stills Oklahoma Sooners Exquisite Rookies 2013 Redemption // #d to 10
ER-LB Le'Veon Bell Spartans Exquisite Rookies 2013 Redemption // #d to 10
ER-LJ Landry Jones Oklahoma Sooners Exquisite Rookies 2013 Redemption // #d to 10
ER-MB Matt Barkley USC Trojans Exquisite Rookies 2013 Redemption // #d to 10
ER-MG Mike Glennon North Carolina St. Wolfpack Exquisite Rookies 2013 Redemption // #d to 10
ER-MT Manti Te'o Notre Dame Fighting Irish Exquisite Rookies 2013 Redemption // #d to 10
ER-MW Markus Wheaton Oregon State Beavers Exquisite Rookies 2013 Redemption // #d to 10
ER-RN Ryan Nassib Syracuse Orange Exquisite Rookies 2013 Redemption // #d to 10
ER-RO Denard Robinson Michigan Wolverines Exquisite Rookies 2013 Redemption // #d to 10
ER-RW Robert Woods USC Trojans Exquisite Rookies 2013 Redemption // #d to 10
ER-TA Tavon Austin Mountaineers Exquisite Rookies 2013 Redemption // #d to 10
ER-TB Tyler Bray Tennessee Volunteers Exquisite Rookies 2013 Redemption // #d to 10
ER-TW Tyler Wilson Arkansas Razorbacks Exquisite Rookies 2013 Redemption // #d to 10
ER-ZD Zac Dysert Redhawks Exquisite Rookies 2013 Redemption // #d to 10
Exquisite Rookies 2013
ER-AD Aaron Dobson Thundering Herd Exquisite Rookies 2013 #d to 175
ER-BA Montee Ball Badgers Exquisite Rookies 2013 #d to 175
ER-CH Cobi Hamilton Arkansas Razorbacks Exquisite Rookies 2013 #d to 175
ER-CK Collin Klein Kansas State Wildcats Exquisite Rookies 2013 #d to 175
ER-CP Cordarrelle Patterson Tennessee Volunteers Exquisite Rookies 2013 #d to 175
ER-DH DeAndre Hopkins Tigers Exquisite Rookies 2013 #d to 175
ER-DR Da'Rick Rogers Exquisite Rookies 2013 #d to 175
ER-EL Eddie Lacy Crimson Tide Exquisite Rookies 2013 #d to 175
ER-EM EJ Manuel Seminoles Exquisite Rookies 2013 #d to 175
ER-GB Giovani Bernard North Carolina Tar Heels Exquisite Rookies 2013 #d to 175
ER-GS Geno Smith Mountaineers Exquisite Rookies 2013 #d to 175
ER-JF Johnathan Franklin UCLA Bruins Exquisite Rookies 2013 #d to 175
ER-JH Justin Hunter Tennessee Volunteers Exquisite Rookies 2013 #d to 175
ER-JJ Jawan Jamison Scarlet Knights Exquisite Rookies 2013 #d to 175
ER-JR Joseph Randle Oklahoma State Cowboys Exquisite Rookies 2013 #d to 175
ER-KA Keenan Allen California Golden Bears Exquisite Rookies 2013 #d to 175
ER-KS Kenny Stills Oklahoma Sooners Exquisite Rookies 2013 #d to 175
ER-LB Le'Veon Bell Spartans Exquisite Rookies 2013 #d to 175
ER-LJ Landry Jones Oklahoma Sooners Exquisite Rookies 2013 #d to 175
ER-MB Matt Barkley USC Trojans Exquisite Rookies 2013 #d to 175
ER-MG Mike Glennon North Carolina St. Wolfpack Exquisite Rookies 2013 #d to 175
ER-MT Manti Te'o Notre Dame Fighting Irish Exquisite Rookies 2013 #d to 175
ER-MW Markus Wheaton Oregon State Beavers Exquisite Rookies 2013 #d to 175
ER-RN Ryan Nassib Syracuse Orange Exquisite Rookies 2013 #d to 175
ER-RO Denard Robinson Michigan Wolverines Exquisite Rookies 2013 #d to 175
ER-RW Robert Woods USC Trojans Exquisite Rookies 2013 #d to 175
ER-TA Tavon Austin Mountaineers Exquisite Rookies 2013 #d to 175
ER-TB Tyler Bray Tennessee Volunteers Exquisite Rookies 2013 #d to 175
ER-TW Tyler Wilson Arkansas Razorbacks Exquisite Rookies 2013 #d to 175
ER-ZD Zac Dysert Redhawks Exquisite Rookies 2013 #d to 175
Exquisite Rookies 2013 //
ER-AD Aaron Dobson Thundering Herd Exquisite Rookies 2013 // #d to 1
ER-BA Montee Ball Badgers Exquisite Rookies 2013 // #d to 1
ER-CH Cobi Hamilton Arkansas Razorbacks Exquisite Rookies 2013 // #d to 1
ER-CK Collin Klein Kansas State Wildcats Exquisite Rookies 2013 // #d to 1
ER-CP Cordarrelle Patterson Tennessee Volunteers Exquisite Rookies 2013 // #d to 1
ER-DH DeAndre Hopkins Tigers Exquisite Rookies 2013 // #d to 1
ER-DR Da'Rick Rogers Exquisite Rookies 2013 // #d to 1
ER-EL Eddie Lacy Crimson Tide Exquisite Rookies 2013 // #d to 1
ER-EM EJ Manuel Seminoles Exquisite Rookies 2013 // #d to 1
ER-GB Giovani Bernard North Carolina Tar Heels Exquisite Rookies 2013 // #d to 1
ER-GS Geno Smith Mountaineers Exquisite Rookies 2013 // #d to 1
ER-JF Johnathan Franklin UCLA Bruins Exquisite Rookies 2013 // #d to 1
ER-JH Justin Hunter Tennessee Volunteers Exquisite Rookies 2013 // #d to 1
ER-JJ Jawan Jamison Scarlet Knights Exquisite Rookies 2013 // #d to 1
ER-JR Joseph Randle Oklahoma State Cowboys Exquisite Rookies 2013 // #d to 1
ER-KA Keenan Allen California Golden Bears Exquisite Rookies 2013 // #d to 1
ER-KS Kenny Stills Oklahoma Sooners Exquisite Rookies 2013 // #d to 1
ER-LB Le'Veon Bell Spartans Exquisite Rookies 2013 // #d to 1
ER-LJ Landry Jones Oklahoma Sooners Exquisite Rookies 2013 // #d to 1
ER-MB Matt Barkley USC Trojans Exquisite Rookies 2013 // #d to 1
ER-MG Mike Glennon North Carolina St. Wolfpack Exquisite Rookies 2013 // #d to 1
ER-MT Manti Te'o Notre Dame Fighting Irish Exquisite Rookies 2013 // #d to 1
ER-MW Markus Wheaton Oregon State Beavers Exquisite Rookies 2013 // #d to 1
ER-RN Ryan Nassib Syracuse Orange Exquisite Rookies 2013 // #d to 1
ER-RO Denard Robinson Michigan Wolverines Exquisite Rookies 2013 // #d to 1
ER-RW Robert Woods USC Trojans Exquisite Rookies 2013 // #d to 1
ER-TA Tavon Austin Mountaineers Exquisite Rookies 2013 // #d to 1
ER-TB Tyler Bray Tennessee Volunteers Exquisite Rookies 2013 // #d to 1
ER-TW Tyler Wilson Arkansas Razorbacks Exquisite Rookies 2013 // #d to 1
ER-ZD Zac Dysert Redhawks Exquisite Rookies 2013 // #d to 1
Exquisite Rookie Signatures
61 Dan Herron Ohio State Buckeyes Exquisite Rookie Signatures Inscription "Go Buckeyes" #d to 99
62 B.J. Cunningham Spartans Exquisite Rookie Signatures Inscription "Go Spartans" #d to 99
63 Marc Tyler USC Trojans Exquisite Rookie Signatures Inscription "Go Trojans" #d to 99
64 Matt Kalil USC Trojans Exquisite Rookie Signatures Inscription "Go Trojans" #d to 99
65 Laron Byrd Miami Hurricanes Exquisite Rookie Signatures Inscription "Go Hurricanes" #d to 99
66 Stephon Gilmore Gamecocks Exquisite Rookie Signatures Inscription "Go Gamecocks" #d to 99
67 Dre Kirkpatrick Crimson Tide Exquisite Rookie Signatures Inscription "Go Crimson Tide" #d to 99
68 Janoris Jenkins Exquisite Rookie Signatures Inscription "Go Lions" #d to 99
69 Casey Hayward Vanderbilt Commodores Exquisite Rookie Signatures Inscription "Go Commodores" #d to 99
70 Andre Branch Tigers Exquisite Rookie Signatures Inscription "Go Tigers" #d to 99
71 Shea McClellin Broncos Exquisite Rookie Signatures Inscription "Go Broncos" #d to 99
72 Whitney Mercilus Illinois Fighting Illini Exquisite Rookie Signatures Inscription "Go Fighting Illini" #d to 99
73 Josh Gordon Bears Exquisite Rookie Signatures Inscription "Go Bears" #d to 99
75 Michael Brockers LSU Tigers Exquisite Rookie Signatures Inscription "Geaux Tigers" #d to 99
76 Kendall Reyes Connecticut Huskies Exquisite Rookie Signatures Inscription "Go Huskies" #d to 99
77 Mike Martin Michigan Wolverines Exquisite Rookie Signatures Inscription "Go Wolverines" #d to 99
78 Alameda Ta'amu Washington Huskies Exquisite Rookie Signatures Inscription "Go Huskies" #d to 99
80 Dont'a Hightower Crimson Tide Exquisite Rookie Signatures Inscription "Go Crimson Tide" #d to 99
81 Mychal Kendricks California Golden Bears Exquisite Rookie Signatures Inscription "Go Bears" #d to 99
82 Bobby Wagner Aggies Exquisite Rookie Signatures Inscription "Go Aggies" #d to 99
83 David DeCastro Stanford Cardinal Exquisite Rookie Signatures Inscription "Go Cardinal" #d to 99
84 Cordy Glenn Georgia Bulldogs Exquisite Rookie Signatures Inscription "Go Bulldogs" #d to 99
85 Lavonte David Nebraska Cornhuskers Exquisite Rookie Signatures Inscription "Go Cornhuskers" #d to 99
86 Ryan Lindley Aztecs Exquisite Rookie Signatures Inscription "Go Aztecs" #d to 99
87 Chandler Harnish Huskies Exquisite Rookie Signatures Inscription "Go Huskies" #d to 99
88 Tyler Hansen Colorado Buffaloes Exquisite Rookie Signatures Inscription "Go Buffaloes" #d to 99
89 Jordan Jefferson LSU Tigers Exquisite Rookie Signatures Inscription "Geaux Tigers" #d to 99
90 Stephen Garcia Gamecocks Exquisite Rookie Signatures Inscription "Go Gamecocks" #d to 99
91 Jarrett Lee LSU Tigers Exquisite Rookie Signatures Inscription "Geaux Tigers" #d to 99
92 Ronnie Hillman Aztecs Exquisite Rookie Signatures Inscription "Go Aztecs" #d to 99
93 Alfred Morris Owls Exquisite Rookie Signatures Inscription "Go Owls" #d to 99
96 Dwayne Allen Tigers Exquisite Rookie Signatures Inscription "Go Tigers" #d to 99
97 Michael Egnew Missouri Tigers Exquisite Rookie Signatures Inscription "Go Tigers #d to 99
98 Ladarius Green Exquisite Rookie Signatures Inscription "Go Cayenne" #d to 99
100 Brandon Thompson Tigers Exquisite Rookie Signatures Inscription "Go Tigers" #d to 99
101 T.J. Graham NC State Wolfpack Exquisite Rookie Signatures Inscription "Go Wolfpack" #d to 99
102 Devon Wylie Fresno State Bulldogs Exquisite Rookie Signatures Inscription "Go Bulldogs" #d to 99
103 Keshawn Martin Spartans Exquisite Rookie Signatures Inscription "Go Spartans" #d to 99
104 Greg Childs Arkansas Razorbacks Exquisite Rookie Signatures Inscription "Go Razorbacks" #d to 99
105 Marvin Jones (2012) California Golden Bears Exquisite Rookie Signatures Inscription "Go Bears" #d to 99
106 Marvin McNutt Iowa Hawkeyes Exquisite Rookie Signatures Inscription "Go Hawkeyes" #d to 99
107 Rishard Matthews Wolf Pack Exquisite Rookie Signatures Inscription "Go Wolf Pack" #d to 99
108 Jeremy Ebert Northwestern Wildcats Exquisite Rookie Signatures Inscription "Go Wildcats" #d to 99
110 Jarius Wright Arkansas Razorbacks Exquisite Rookie Signatures Inscription "Go Razorbacks" #d to 99
111 Dwight Jones North Carolina Tar Heels Exquisite Rookie Signatures Inscription "Go Tar Heels" #d to 99
112 Jermaine Kearse Washington Huskies Exquisite Rookie Signatures Inscription "Go Huskies" #d to 99
113 Marquis Maze Crimson Tide Exquisite Rookie Signatures Inscription "Go Crimson Tide" #d to 99
114 Nelson Rosario UCLA Bruins Exquisite Rookie Signatures Inscription "Go Bruins" #d to 99
115 Tyler Shoemaker Broncos Exquisite Rookie Signatures Inscription "Go Broncos" #d to 99
116 Lavasier Tuinei Oregon Ducks Exquisite Rookie Signatures Inscription "Go Ducks" #d to 99
117 Cyrus Gray Texas A&M Aggies Exquisite Rookie Signatures Inscription "Go Aggies" #d to 99
118 Melvin Ingram Gamecocks Exquisite Rookie Signatures Inscription "Go Gamecocks" #d to 99
119 Jeff Fuller Texas A&M Aggies Exquisite Rookie Signatures Inscription "Go Aggies" #d to 99
120 Tauren Poole Tennessee Volunteers Exquisite Rookie Signatures Inscription "Go Volunteers" #d to 99
Exquisite Rookie Signatures //
61 Dan Herron Ohio State Buckeyes Exquisite Rookie Signatures // #d to 1
62 B.J. Cunningham Spartans Exquisite Rookie Signatures // #d to 1
63 Marc Tyler USC Trojans Exquisite Rookie Signatures // #d to 1
64 Matt Kalil USC Trojans Exquisite Rookie Signatures // #d to 1
65 Laron Byrd Miami Hurricanes Exquisite Rookie Signatures // #d to 1
66 Stephon Gilmore Gamecocks Exquisite Rookie Signatures // #d to 1
67 Dre Kirkpatrick Crimson Tide Exquisite Rookie Signatures // #d to 1
68 Janoris Jenkins Exquisite Rookie Signatures // North Alabama Lions #d to 1
69 Casey Hayward Vanderbilt Commodores Exquisite Rookie Signatures // #d to 1
70 Andre Branch Tigers Exquisite Rookie Signatures // #d to 1
71 Shea McClellin Broncos Exquisite Rookie Signatures // #d to 1
72 Whitney Mercilus Illinois Fighting Illini Exquisite Rookie Signatures // #d to 1
73 Josh Gordon Bears Exquisite Rookie Signatures // #d to 1
75 Michael Brockers LSU Tigers Exquisite Rookie Signatures // #d to 1
76 Kendall Reyes Connecticut Huskies Exquisite Rookie Signatures // #d to 1
77 Mike Martin Michigan Wolverines Exquisite Rookie Signatures // #d to 1
78 Alameda Ta'amu Washington Huskies Exquisite Rookie Signatures // #d to 1
80 Dont'a Hightower Crimson Tide Exquisite Rookie Signatures // #d to 1
81 Mychal Kendricks California Golden Bears Exquisite Rookie Signatures // #d to 1
82 Bobby Wagner Aggies Exquisite Rookie Signatures // #d to 1
83 David DeCastro Stanford Cardinal Exquisite Rookie Signatures // #d to 1
84 Cordy Glenn Georgia Bulldogs Exquisite Rookie Signatures // #d to 1
85 Lavonte David Nebraska Cornhuskers Exquisite Rookie Signatures // #d to 1
86 Ryan Lindley Aztecs Exquisite Rookie Signatures // #d to 1
87 Chandler Harnish Huskies Exquisite Rookie Signatures // #d to 1
88 Tyler Hansen Colorado Buffaloes Exquisite Rookie Signatures // #d to 1
89 Jordan Jefferson LSU Tigers Exquisite Rookie Signatures // #d to 1
90 Stephen Garcia Gamecocks Exquisite Rookie Signatures // #d to 1
91 Jarrett Lee LSU Tigers Exquisite Rookie Signatures // #d to 1
92 Ronnie Hillman Aztecs Exquisite Rookie Signatures // #d to 1
93 Alfred Morris Owls Exquisite Rookie Signatures // #d to 1
96 Dwayne Allen Tigers Exquisite Rookie Signatures // #d to 1
97 Michael Egnew Missouri Tigers Exquisite Rookie Signatures // #d to 1
98 Ladarius Green Exquisite Rookie Signatures // UL Lafayette Cayenne #d to 1
100 Brandon Thompson Tigers Exquisite Rookie Signatures // #d to 1
101 T.J. Graham NC State Wolfpack Exquisite Rookie Signatures // #d to 1
102 Devon Wylie Fresno State Bulldogs Exquisite Rookie Signatures // #d to 1
103 Keshawn Martin Spartans Exquisite Rookie Signatures // #d to 1
104 Greg Childs Arkansas Razorbacks Exquisite Rookie Signatures // #d to 1
105 Marvin Jones (2012) California Golden Bears Exquisite Rookie Signatures // #d to 1
106 Marvin McNutt Iowa Hawkeyes Exquisite Rookie Signatures // #d to 1
107 Rishard Matthews Wolf Pack Exquisite Rookie Signatures // #d to 1
108 Jeremy Ebert Northwestern Wildcats Exquisite Rookie Signatures // #d to 1
110 Jarius Wright Arkansas Razorbacks Exquisite Rookie Signatures // #d to 1
111 Dwight Jones North Carolina Tar Heels Exquisite Rookie Signatures // #d to 1
112 Jermaine Kearse Washington Huskies Exquisite Rookie Signatures // #d to 1
113 Marquis Maze Crimson Tide Exquisite Rookie Signatures // #d to 1
114 Nelson Rosario UCLA Bruins Exquisite Rookie Signatures // #d to 1
115 Tyler Shoemaker Broncos Exquisite Rookie Signatures // #d to 1
116 Lavasier Tuinei Oregon Ducks Exquisite Rookie Signatures // #d to 1
117 Cyrus Gray Texas A&M Aggies Exquisite Rookie Signatures // #d to 1
118 Melvin Ingram Gamecocks Exquisite Rookie Signatures // #d to 1
119 Jeff Fuller Texas A&M Aggies Exquisite Rookie Signatures // #d to 1
120 Tauren Poole Tennessee Volunteers Exquisite Rookie Signatures // #d to 1
Exquisite Rookie Signature Patch Tier 2
121 Kendall Wright Bears Exquisite Rookie Signature Patch Tier 2 #d to 150
122 Brock Osweiler Arizona State Sun Devils Exquisite Rookie Signature Patch Tier 2 #d to 150
123 Nick Foles Arizona Wildcats Exquisite Rookie Signature Patch Tier 2 #d to 150
124 A.J. Jenkins Illinois Fighting Illini Exquisite Rookie Signature Patch Tier 2 #d to 150
125 Case Keenum Houston Cougars Exquisite Rookie Signature Patch Tier 2 #d to 150
126 Kellen Moore Broncos Exquisite Rookie Signature Patch Tier 2 #d to 150
127 Russell Wilson Badgers Exquisite Rookie Signature Patch Tier 2 #d to 150
128 Kirk Cousins Spartans Exquisite Rookie Signature Patch Tier 2 #d to 150
129 Isaiah Pead Cincinnati Bearcats Exquisite Rookie Signature Patch Tier 2 #d to 150
130 LaMichael James Oregon Ducks Exquisite Rookie Signature Patch Tier 2 #d to 150
131 Bernard Pierce Temple Owls Exquisite Rookie Signature Patch Tier 2 #d to 150
132 Coby Fleener Stanford Cardinal Exquisite Rookie Signature Patch Tier 2 #d to 150
133 Brian Quick Mountaineers Exquisite Rookie Signature Patch Tier 2 #d to 150
134 Stephen Hill Georgia Tech Yellow Jackets Exquisite Rookie Signature Patch Tier 2 #d to 150
135 Alshon Jeffery Gamecocks Exquisite Rookie Signature Patch Tier 2 #d to 150
136 Ryan Broyles Oklahoma Sooners Exquisite Rookie Signature Patch Tier 2 #d to 150
137 Rueben Randle LSU Tigers Exquisite Rookie Signature Patch Tier 2 #d to 150
138 DeVier Posey Ohio State Buckeyes Exquisite Rookie Signature Patch Tier 2 #d to 150
139 Mohamed Sanu Scarlet Knights Exquisite Rookie Signature Patch Tier 2 #d to 150
140 Travis Benjamin Miami Hurricanes Exquisite Rookie Signature Patch Tier 2 #d to 150
141 Jarius Wright Arkansas Razorbacks Exquisite Rookie Signature Patch Tier 2 #d to 150
142 Nick Toon Badgers Exquisite Rookie Signature Patch Tier 2 #d to 150
143 Juron Criner Arizona Wildcats Exquisite Rookie Signature Patch Tier 2 #d to 150
Exquisite Rookie Signature Patch Tier 1
144 Robert Griffin III Bears Exquisite Rookie Signature Patch Tier 1 #d to 99
145 Ryan Tannehill Texas A&M Aggies Exquisite Rookie Signature Patch Tier 1 #d to 99
146 Brandon Weeden Oklahoma State Cowboys Exquisite Rookie Signature Patch Tier 1 #d to 99
147 Trent Richardson Crimson Tide Exquisite Rookie Signature Patch Tier 1 #d to 99
148 Doug Martin Broncos Exquisite Rookie Signature Patch Tier 1 #d to 99
149 Justin Blackmon Oklahoma State Cowboys Exquisite Rookie Signature Patch Tier 1 #d to 99
150 Michael Floyd Notre Dame Fighting Irish Exquisite Rookie Signature Patch Tier 1 #d to 99
Exquisite Rookie Signature Patch Tier 2 //
121 Kendall Wright Bears Exquisite Rookie Signature Patch Tier 2 // #d to 50
122 Brock Osweiler Arizona State Sun Devils Exquisite Rookie Signature Patch Tier 2 // #d to 50
123 Nick Foles Arizona Wildcats Exquisite Rookie Signature Patch Tier 2 // #d to 50
124 A.J. Jenkins Illinois Fighting Illini Exquisite Rookie Signature Patch Tier 2 // #d to 50
125 Case Keenum Houston Cougars Exquisite Rookie Signature Patch Tier 2 // #d to 50
126 Kellen Moore Broncos Exquisite Rookie Signature Patch Tier 2 // #d to 50
127 Russell Wilson Badgers Exquisite Rookie Signature Patch Tier 2 // #d to 50
128 Kirk Cousins Spartans Exquisite Rookie Signature Patch Tier 2 // #d to 50
129 Isaiah Pead Cincinnati Bearcats Exquisite Rookie Signature Patch Tier 2 // #d to 50
130 LaMichael James Oregon Ducks Exquisite Rookie Signature Patch Tier 2 // #d to 50
131 Bernard Pierce Temple Owls Exquisite Rookie Signature Patch Tier 2 // #d to 50
132 Coby Fleener Stanford Cardinal Exquisite Rookie Signature Patch Tier 2 // #d to 50
133 Brian Quick Mountaineers Exquisite Rookie Signature Patch Tier 2 // #d to 50
134 Stephen Hill Georgia Tech Yellow Jackets Exquisite Rookie Signature Patch Tier 2 // #d to 50
135 Alshon Jeffery Gamecocks Exquisite Rookie Signature Patch Tier 2 // #d to 50
136 Ryan Broyles Oklahoma Sooners Exquisite Rookie Signature Patch Tier 2 // #d to 50
137 Rueben Randle LSU Tigers Exquisite Rookie Signature Patch Tier 2 // #d to 50
138 DeVier Posey Ohio State Buckeyes Exquisite Rookie Signature Patch Tier 2 // #d to 50
139 Mohamed Sanu Scarlet Knights Exquisite Rookie Signature Patch Tier 2 // #d to 50
140 Travis Benjamin Miami Hurricanes Exquisite Rookie Signature Patch Tier 2 // #d to 50
141 Jarius Wright Arkansas Razorbacks Exquisite Rookie Signature Patch Tier 2 // #d to 50
142 Nick Toon Badgers Exquisite Rookie Signature Patch Tier 2 // #d to 50
143 Juron Criner Arizona Wildcats Exquisite Rookie Signature Patch Tier 2 // #d to 50
Exquisite Rookie Signature Patch Tier 1 //
144 Robert Griffin III Bears Exquisite Rookie Signature Patch Tier 1 // #d to 40
145 Ryan Tannehill Texas A&M Aggies Exquisite Rookie Signature Patch Tier 1 // #d to 40
146 Brandon Weeden Oklahoma State Cowboys Exquisite Rookie Signature Patch Tier 1 // #d to 40
147 Trent Richardson Crimson Tide Exquisite Rookie Signature Patch Tier 1 // #d to 40
148 Doug Martin Broncos Exquisite Rookie Signature Patch Tier 1 // #d to 40
149 Justin Blackmon Oklahoma State Cowboys Exquisite Rookie Signature Patch Tier 1 // #d to 40
150 Michael Floyd Notre Dame Fighting Irish Exquisite Rookie Signature Patch Tier 1 // #d to 40
Exquisite Rookie Signature Patch Tier 2 Spectrum //
121 Kendall Wright Bears Exquisite Rookie Signature Patch Tier 2 Spectrum // #d to 1
122 Brock Osweiler Arizona State Sun Devils Exquisite Rookie Signature Patch Tier 2 Spectrum // #d to 1
123 Nick Foles Arizona Wildcats Exquisite Rookie Signature Patch Tier 2 Spectrum // #d to 1
124 A.J. Jenkins Illinois Fighting Illini Exquisite Rookie Signature Patch Tier 2 Spectrum // #d to 1
125 Case Keenum Houston Cougars Exquisite Rookie Signature Patch Tier 2 Spectrum // #d to 1
126 Kellen Moore Broncos Exquisite Rookie Signature Patch Tier 2 Spectrum // #d to 1
127 Russell Wilson Badgers Exquisite Rookie Signature Patch Tier 2 Spectrum // #d to 1
128 Kirk Cousins Spartans Exquisite Rookie Signature Patch Tier 2 Spectrum // #d to 1
129 Isaiah Pead Cincinnati Bearcats Exquisite Rookie Signature Patch Tier 2 Spectrum // #d to 1
130 LaMichael James Oregon Ducks Exquisite Rookie Signature Patch Tier 2 Spectrum // #d to 1
132 Coby Fleener Stanford Cardinal Exquisite Rookie Signature Patch Tier 2 Spectrum // #d to 1
133 Brian Quick Mountaineers Exquisite Rookie Signature Patch Tier 2 Spectrum // #d to 1
134 Stephen Hill Georgia Tech Yellow Jackets Exquisite Rookie Signature Patch Tier 2 Spectrum // #d to 1
135 Alshon Jeffery Gamecocks Exquisite Rookie Signature Patch Tier 2 Spectrum // #d to 1
136 Ryan Broyles Oklahoma Sooners Exquisite Rookie Signature Patch Tier 2 Spectrum // #d to 1
137 Rueben Randle LSU Tigers Exquisite Rookie Signature Patch Tier 2 Spectrum // #d to 1
138 DeVier Posey Ohio State Buckeyes Exquisite Rookie Signature Patch Tier 2 Spectrum // #d to 1
139 Mohamed Sanu Scarlet Knights Exquisite Rookie Signature Patch Tier 2 Spectrum // #d to 1
140 Travis Benjamin Miami Hurricanes Exquisite Rookie Signature Patch Tier 2 Spectrum // #d to 1
141 Jarius Wright Arkansas Razorbacks Exquisite Rookie Signature Patch Tier 2 Spectrum // #d to 1
142 Nick Toon Badgers Exquisite Rookie Signature Patch Tier 2 Spectrum // #d to 1
143 Juron Criner Arizona Wildcats Exquisite Rookie Signature Patch Tier 2 Spectrum // #d to 1
Exquisite Rookie Signature Patch Tier 1 Spectrum //
144 Robert Griffin III Bears Exquisite Rookie Signature Patch Tier 1 Spectrum // #d to 1
145 Ryan Tannehill Texas A&M Aggies Exquisite Rookie Signature Patch Tier 1 Spectrum // #d to 1
146 Brandon Weeden Oklahoma State Cowboys Exquisite Rookie Signature Patch Tier 1 Spectrum // #d to 1
147 Trent Richardson Crimson Tide Exquisite Rookie Signature Patch Tier 1 Spectrum // #d to 1
148 Doug Martin Broncos Exquisite Rookie Signature Patch Tier 1 Spectrum // #d to 1
149 Justin Blackmon Oklahoma State Cowboys Exquisite Rookie Signature Patch Tier 1 Spectrum // #d to 1
150 Michael Floyd Notre Dame Fighting Irish Exquisite Rookie Signature Patch Tier 1 Spectrum // #d to 1