Rookie Premiere: Panini bringing back acetate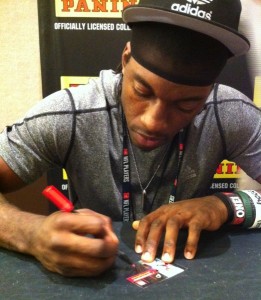 By Susan Lulgjuraj | Contributing Editor
The 2012 NFL Players Rookie Premiere is a great way to preview the upcoming football card season. With the pictures card companies are putting together, every little image helps in helping collectors find the cards they want to chase.
On the first day of the Premiere, the companies were big on getting on-card autographs.
In Panini America's session, the company showed off dozens of photos. But take yours off the athlete and look at what they are signing. Some autographed strips of leather from a football or manufactured patch cards.
But what is so special about the picture above with Robert Griffin III?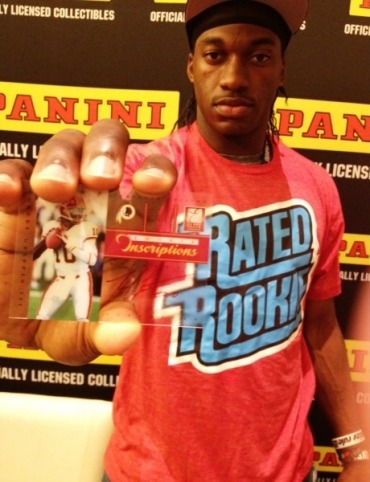 Check out the card. Is RGIII signing a black card with a red marker? Nope. It's a clear card he's signing with the color of the table showing through.
It seems as though the clear Rookie Inscriptions are going to appear in 2012 Elite. And, apparently, these were quite the popular card.
"A highlight-filled first day included Panini America unveiling the welcome return of acetate Rookie cards (a development met by rave reviews from both the players who signed them and the football-loving)," Panini spokesperson Tracy Hackler wrote on the company's blog.
The cards are reminiscent of other acetate cards in 2000 Bowman Football or hockey's 1996-97 Upper Deck Ice Acetate parallels. But they more closely resembled other acetate autograph sets such as Upper Deck's 2003-04 Hardcourt Clear Commemorative Autographs where players signed on top of a clear panel with no background or the baseball product 2001 Topps HD Clear Autographs.
The newest cards by Panini will feature some of the best rookies from this year's draft. The top three draft picks from 2012 were at the Premiere: Andrew Luck,  Griffin and Trent Richardson. In total, 35 rookies made it to the Los Angeles-based event.
Susan Lulgjuraj is a contributing editor for Beckett Media. You can email Susan here. Follow her on Twitter here.