Beckett.com By the Numbers: 2012 Bowman baseball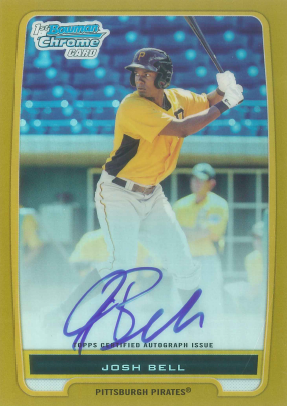 By Chris Olds | Beckett Baseball Editor
The auctions have ended, the numbers have been crunched. The ranges have been tabulated and the OPG has been posted.
The 2012 Bowman baseball card set from Topps has arrived on Beckett.com with the newest prospects, some of baseball's hottest rookies and more. Let's take a look inside the numbers crunched by Beckett Baseball Senior Market Analyst Brian Fleischer  — and see even more — after the jump.
[youtube]http://www.youtube.com/watch?v=rNTt5rNNK84[/youtube]

Did you miss the recent Box Busters episode? Catch it right here.
—
Total value … of all priced cards in product: $29,124.35.
Average price … of all priced cards: $10.45.
Highest-priced card … Bowman Chrome Rookie Autographs Gold Refractors #209 Yu Darvish ($1,300-$1,500)
Other notable cards:
— Darvish's first Bowman Chrome autograph cards.
— The super-hot Bowman Lucky Redemption cards 1, 2 and 3.
— Bowman AFLAC Autographs.
— Bowman Chrome Prospect Autographs of Jackie Bradley Jr., Josh Bell, Gerrit Cole, Danny Hultzen, Anthony Rendon, Dante Bichette Jr., Oscar Taveras and Xander Bogaerts.
— Bowman Chrome Rookie Autographs of Jesus Montero and Matt Moore.
Fleischer's Focus: Fans of Bowman will not be disappointed with this year's offering. While much of the product is almost identical to previous year's Bowman products, there are plenty of new chase elements like the Darvish autographs, the Lucky Redemptions and the Debut Golden Contract. Almost half of the Prospect/Rookie autographs are priced at $20 or more, so there's a pretty good chance that collectors will pull top prospect's signature.
Olds' Opinion: Bowman is a hobby staple — if not THE hobby staple — these days, so it can seemingly do no wrong whether it's a strong crop of rookies and prospects or not. This year is looking pretty darn strong.
Chris Olds is the editor of Beckett Baseball magazine. Have a comment, question or idea? Send an email to him at colds@beckett.com. Follow him on Twitter by clicking here.