First Look: 2012 Topps Five Star (with polls)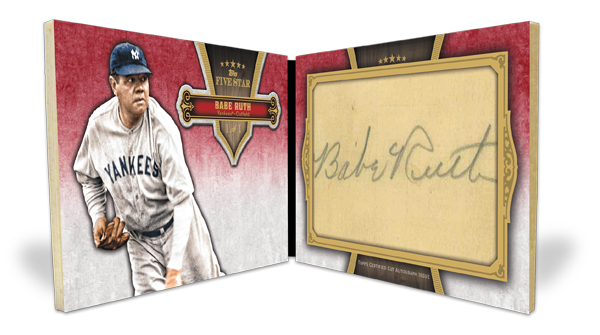 By Chris Olds | Beckett Baseball Editor
Topps' high-end baseball brand has arrived.
The company pulled back the curtain on 2012 Topps Five Star Baseball on Monday, a new high-end brand that will pack two autographs, one autographed Relic, one autographed booklet or extra autograph and a jumbo Relic, bat nameplate or bat knob card in every single box.
Of the standard autographs, one will be of an active player and one will be of a retired star with every card in the product signed directly on the cards themselves, not stickers.
Five Star is set to arrive on Oct. 31 and it will pack a high-end price. Factory cost for three-box cases of the product are starting north of $1,000, so a $400- to $500-per-pack cost should be expected.
See more after the jump.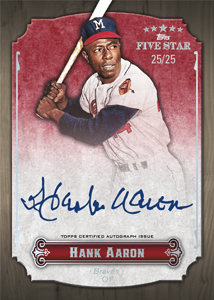 Autographs
For the autograph lineup, there will be as many as 40 active players signing for the product with each card numbered to 150 or less. These cards will have Rainbow parallels numbered to 25. Quotable Autographs will include an inscription from some of the players and will be limited to just 10 copies. For retired players, there will be as many as 30 past stars in the product, each limited to 208 or less with Rainbows to 25 and inscriptions to 10.
Among the active players set to sign for the product, according to a preliminary checklist, are just four rookies — Brett Lawrie, Yu Darvish, Matt Moore and Yoenis Cespedes. Notable veterans will include Cy Young winners Clayton Kershaw and Justin Verlander along with Matt Kemp, Evan Longoria, Prince Fielder, Ryan Braun, Albert Pujols, Josh Hamilton, Roy Halladay, Mike Trout, Buster Posey, Chipper Jones and Jose Bautista to name a few.
For retired signers, some of the headline-worthy names include Nolan Ryan, Cal Ripken Jr., Stan Musial, Reggie Jackson, Ken Griffey Jr., Ernie Banks, Carl Yastrzemski, Sandy Koufax, Willie Mays, Hank Aaron, Will Clark, Mike Schmidt, Willie McCovey, Ryne Sandberg and John Kruk to name a few.
—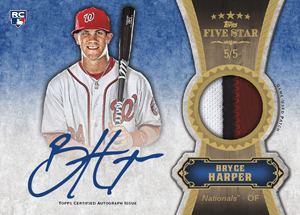 Autographed Relics
The standard Five Star Autograph Relics will be numbered to 97 or less with as many as 40 players showcased. They will have Gold parallels limited to 55, Rainbows to 25.  Patches will be limited to five copies.
For the autographed Relics, it's a bit younger crop of new and old players with some of the notable signers including Bryce Harper, Kemp, Kershaw, Lawrie, Verlander, Hamilton, Felix Hernandez, Carlton Fisk, Tony Gwynn, George Bell, Cecil Cooper, Pablo Sandoval, Bautista, Moore, Sandberg and Frank Thomas to name a few.
—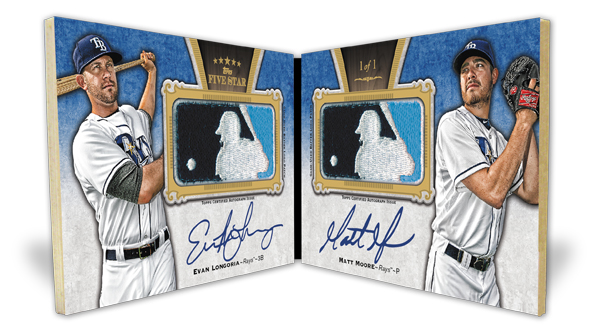 Autographed booklets
First there will be the Three-piece Signature Booklets limited to 99 or less, while Golds will be limited to 10 and Rainbow patches will be 1/1s. Also to hunt for will be four-piece Relics with the same quantities and Jumbo Relic booklets, too. They will have the same breakdown. Five Star Dual Signatures booklets will have as many as 30 pairs with both players signing. These will be limited to 10 or fewer copies, while patch versions also will be limited to 10.
As many as 10 Five Star Cut Signatures booklets will be made — all 1/1s — while Five Star Quadographs will group four players and four autos per card. Those will be limited to 10, whole the six- and eight-signature versions will be limited to five apiece.
Rounding out the booklets will be Dual Signatures Logo Patches — the MLB logo from the back of the jersey — pairing as many as 50 total players on as many as 25 cards with each signed and 1/1s.
Signers here tentatively include Darvish, Don Mattingly, Rickey Henderson, Dennis Eckersley, Griffey — and his father — Nolan Ryan, Sandberg, Banks, Fielder and many of the previous signers. Patch booklets are planned for many of the players including pairings of Braun-Kemp, Kemp-Andre Ethier, McCovey-Posey, Harper-Ryan Zimmerman, Harper-Darvish, Darvish-Hamilton and more.
Dual logoman cards are planned for Pujols with Mike Trout, Kemp and Kershaw, Hamilton and Darvish, Harper and Zimmerman to name a few.
—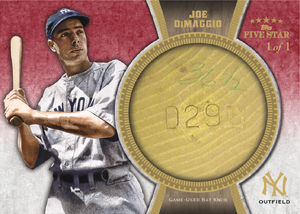 Jumbo jerseys and patches
First, there will be active player Jumbo Jersey Relics for as many as 50 players — each limited to 92 or less — with Gold parallels limited to 25 and 1/1 Rainbow Jumbo Patch cards for as many as 30 of the players.
Then, there will be Letters patches (50 cards) with game-used letters — each 1/1s — along with Legends Relics for 25 players  each limited to just 25. Beyond that, there will be Dual Legends Relics limited to 10, Dual Patches and Triple Patches Quad Patches limited to five. Also in there will be Quad Patch booklets (limited to five), 1/1 bat nameplates and 1/1 bat knobs.
Among the Relic players not previously mentioned will be World Series MVP David Freese, Curtis Granderson, Cliff Lee, Tim Lincecum and Stephen Strasburg to name a few, while Legends Relics will feature Roberto Clemente, Ripken, Harmon Killebrew, Willie Mays, Jackie Robinson, Babe Ruth, Mickey Mantle, Stan Musial, George Brett, Joe DiMaggio and many others.
Bat nameplates are planned for Fisk, Ralph Kiner, Killebrew, Mantle, Roger Maris, Joe Morgan, Musial, Phil Rizzuto, Frank Robinson, Jackie Robinson, Ruth, Ty Cobb, Gary Carter, Lou Gehrig, Mays, Brett and Goose Gossage.
Bat knobs planned will include Ruth, Eddie Mathews, Musial, Mantle (twice), Maris, Schmidt, Cobb, Gehrig, Snider, Jackie Robinson, Ozzie Smith, Morgan, Carter, Mattingly, Sandberg, Gibson, Tom Seaver and Robin Yount. 
—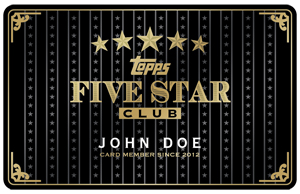 Five Star Club
Lastly, Topps is introducing the launch of the Five Star Club with the product, what it bills as "an exclusive club that provides year-round benefits for select collectors" and comes with a personalized membership card, "exclusive Five Star Football and Baseball cards, a quarterly call with Topps employees and VIP Status at national events that Topps attends."
Take our five polls and see more images in the gallery below.
—
Loading ...
—
Loading ...
—
Loading ...
—
Loading ...
—
Loading ...
—
Chris Olds is the editor of Beckett Baseball magazine. Have a comment, question or idea? Send an email to him at colds@beckett.com. Follow him on Twitter by clicking here.