Coming soon: 2012 Upper Deck Football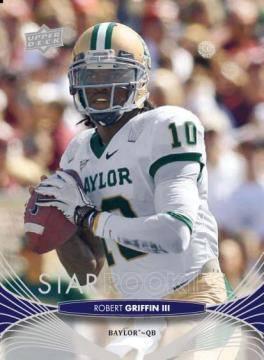 By Andrew Tolentino | Football Editor
Next up in the non-NFL-licensed product lineup is a college-centric showcase from a major manufacturer. 2012 Upper Deck Football is slated for an April  24 street date, and should land to the delight of NCAA football fans far and wide.
Unlike other card makers, Upper Deck operates with a collegiate contract, allowing for use of NCAA logos and full team names. The lack of airbrushing lends itself to a clean design made even more desirable in the case of on-card autographs and other opportunities featuring the incoming draft class.
The Ultimate Collection subset features 60 rookie subjects on cards numbered to 450 or less, and boasts 21 hard-signed pieces from some of the top 2012 newcomers. Upper Deck also upped the ante in its Star Rookie Stripes redemption program, offering up to 200 different one-of-one cards that can be exchanged for 15 autographed copies of the featured player(s).
Collectors can expect the following in each 20-pack (six cards per pack) box break:
Two Star Rookies per pack
Three autographs per box, which could be comprised of

Hard-signed Rookie Lettermen Signatures
Hard-signed Ultimate Collection Rookie Signatures
Star Rookies autographs
1993 SP Football Autographs

Two Ultimate Collection Rookies (numbered to 450)
Four 1993 SP Football cards
Case busters should find:
12 boxes (plus the above odds, on average)
Two rare parallels numbered to 10 or less
Four College Mascot Patches (with variations)
Again, operating with NCAA imagery, the base set looks to be deep and comprehensive with 197 rookie subjects and 50 retired players. Stay tuned to Beckett.com for the upcoming Box Busters episode featuring 2012 Upper Deck Football.