What would you do if you pulled the big hit?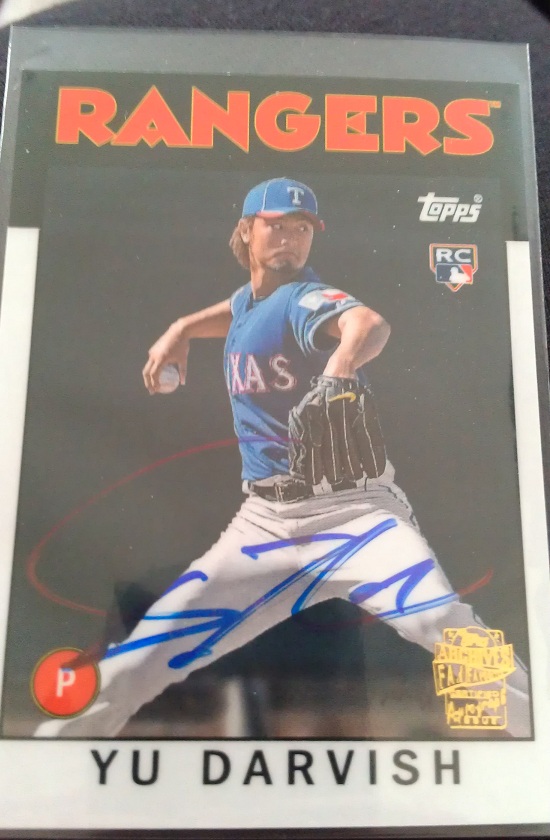 By Susan Lulgjuraj | Contributing Editor | Commentary
Opening packs of baseball cards is a gamble. We all say it. We all know it. But we continue to do it in hopes we beat the odds and get that beautiful big hit.
On Wednesday, I bought two boxes of 2012 Topps Archives. Just the packs alone filled me nostalgia with its design. Yep, these cards had that 1980s feel all the way. It was great seeing current players on former designs, many of the designs that were around when we first got into collecting.
There was one pack I opened that more special than the rest. I slowly scanned the cards and saw one with Rangers written across the top in block letters. I realized the card was signed and then it hit me. This wasn't a Fan Favorite auto, but Texas Rangers rookie Yu Darvish.
I actually yelled and threw both hands in the air as though I just hit a perfect landing.
Immediately, I tweeted my great news. I received responses about my massive hit and how much money I was going to make off the card.
Guess what? I'm not selling it.
There are several reasons and the first is my boyfriend is a Texas Rangers fan. If I am going to get rid of this card, it's going to go to someone I care about and not a faceless person from eBay. For the record, I did offer him the card, but he turned it down until he could trade it to me for something of similar value. He wouldn't take it from me.
Secondly, I don't feel it necessary to sell my big hits. I'm a baseball card collector. Not a baseball card seller. While it may not seem prudent to many to hold on to a card that's commanding about $500 at the moment, I didn't get into this hobby to wonder how much money can I make if the reels spin the right way.
I like baseball cards. I like having them. I like having a card that many people want to own. And if Darvish turns out to be a bust and I didn't capitalize when I had the chance that's not going to bother me.
I don't treat card collecting like it's the stock market. That's not my personal interest. But I do know there are many who do – and I have no problem with that.
In fact, I like those people because I do buy cards and if not for them, cards would sit in collections around the world.
I have bought boxes – even cases of cards – and have sold off cards that don't have personal value to me. I pulled a Daisuke Matsuzaka Rookie Card with no autograph out of 2007 Topps Moments and Milestones and sold it for about $200 (the card has a Beckett value of about $20). I didn't care about that card because he was part of the Boston Red Sox.
But I do regret selling a Ken Griffey Jr. autograph I pulled out of 2007 Upper Deck Artifacts. I am sure I can get that card and five others like it if I sold the Darvish auto, but I am keeping the one I pulled.
Susan Lulgjuraj is a contributing editor for Beckett Media. You can email Susan here. Follow her on Twitter here.