1986-87 Fleer Basketball Box Fetches $66,000
The mid-1980s aren't generally known for their expensive wax prices. But exceptions exist and big ones at that. A 1986-87 Fleer Basketball box sold for $66,000 in Heritage Auctions' 2017 June 29 Premium Sportscard Catalog Auction.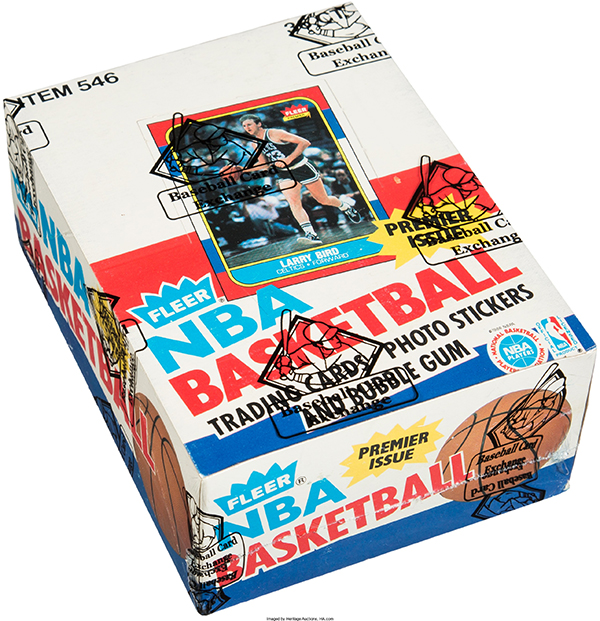 That works out to over $1,800 per pack.
Of course, 1986-87 Fleer Basketball is a modern classic release. As far as basketball goes, it's importance could be compared to what 1952 Topps is for baseball. The checklist features lots of big-name Rookie Cards, including Charles Barkley, Karl Malone and Hakeem Olajuwon. Oh, yeah, there's that Michael Jordan fellow, too.
The 1986-87 Fleer Basketball box came accompanied by a letter from Steve Hart of Baseball Card Exchange, noting its condition as, indeed being complete as it was originally packaged. Among the notable attributes is the fact that one of the packs shows a Michael Jordan Rookie Card on top.
Also, the extra fourth Stickers include a Jordan and an Olajuwon.
Less than two months earlier, Heritage sold a 1986-87 Fleer Basketball box for $40,800. The big difference in price could be attributed to the fact that it appeared that two packs were originally removed and replaced with new ones. This box had just two of the Jordan Stickers.
The $66,000 paid for this latest box includes the buyer's premium. By comparison, the price is the same as a 1951 Bowman Mickey Mantle Rookie Card graded an 88 NM/MT by SGC sold on the same night. It's also over $15,000 more than a PSA 8 1951 Willie Mays Rookie Card, which sold for $50,400.