Upper Deck 2017 National Convention Plans and Exclusive Cards
When you click on links to various merchants on this site, like eBay, and make a purchase, this can result in this site earning a commission.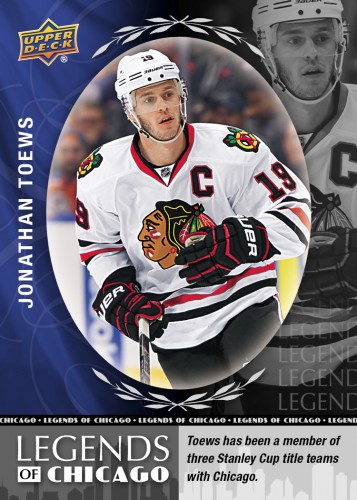 By Stephen Laroche | Beckett Hockey Editor
Upper Deck plans to have a big presence at the 2017 National Sports Collectors Convention in Chicago during the last week of July and is once again holding a wrapper redemption program for collectors that stop by its booth.
Those that come to the Upper Deck booth with an eligible product purchased from a Certified Diamond Dealer at the show and a voucher will receive at least one Prominent Cuts pack which will contain cards of greats from several sports and the world of entertainment. There is potential to pull cards from the Prominent Cuts base set along with Top Shelf Rookies and even autographs.
In order to get a redemption pack, hockey card collectors will need to open either 10 packs of 2016-17 Upper Deck Series Two or 2016-17 Fleer Showcase, or alternatively, five packs of 2016-17 Upper Deck ICE or 2016-17 SP Authentic. Breaking open a pack of 2016-17 Upper Deck Ultimate Collection or 2016-17 Upper Deck Premier will result in three redemption packs.
Expect Upper Deck to also hold a program for case breakers which offers up incentives like premium autograph cards – including cut autographs from local legends like George Halas, Eddie Vedder, and Theo Epstein. To participate, a collector will need to bust open a sealed case of 2016-17 Ultimate Collection (eight boxes) or 2016-17 Upper Deck Premier (five boxes) that was purchased from a Certified Diamond Dealer at the National. They will have the bonus of no waiting time in line and will get 10 redemption packs plus a case breaker raffle ticket which can immediately be handed over for a prize.
VIP attendees will also receive a five-card exclusive set and there is an additional wrapper redemption program which features cards Chicago Legends like Michael Jordan and Bobby Hull. To get a Chicago Legends card, you only need to open up five packs of an 2015-16 Upper Deck product at the booth.
Upper Deck Authenticated also has its first blind box memorabilia product releasing at the show. Dubbed Upper Deck Monumental Multi-Sport Volume 1, there are only 100 boxes being produced and they will contain a sampling of five different signed items inside. The retail price is expected to be $1,000.00 and all of the company's spokesmen will have items that could potentially be found inside.
Additionally, Upper Deck will be hosting a private reception for Diamond Club candidates and members on the Friday evening of the show (July 28). Collectors interested in membership and the opportunity to attend this exclusive event should speak with an Upper Deck representative at the National.
As expected, Upper Deck will be running popular programs such as its Random Acts of Kindness scavenger hunt, free raffles, and a collation game tournament which has a grand prize of a signed Wayne Gretzky poster from Upper Deck Authenticated. Be sure to visit Upper Deck's booth for a schedule and full details.
Here is the official checklist for some of Upper Deck's redemption cards available at the National:

2017 Upper Deck National VIP Checklist
VIP-1 Michael Jordan
VIP-2 Connor McDavid
VIP-3 LeBron James
VIP-4 Ben Simmons
VIP-5 Patrick Kane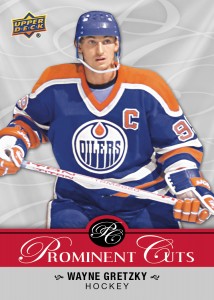 2017 Upper Deck Prominent Cuts Checklist
PC-1 Michael Jordan
PC-2 Patrick Kane
PC-3 Bobby Hull
PC-4 Connor McDavid
PC-5 Amanda Nunes
PC-6 Ben Simmons
PC-7 Max Holloway
PC-8 LeBron James
PC-9 Jonathan Toews
PC-10 Wayne Gretzky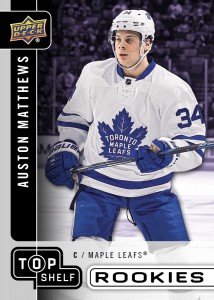 2016-17 Upper Deck Top Shelf Rookies Checklist
TS-1 Brandon Montour
TS-2 Mitch Marner
TS-3 Anthony DeAngelo
TS-4 Patrik Laine
TS-5 Auston Matthews
TS-6 Matthew Tkachuk
TS-7 Zach Werenski
TS-8 Timo Meier
TS-9 Thatcher Demko
TS-10 Pavel Buchnevich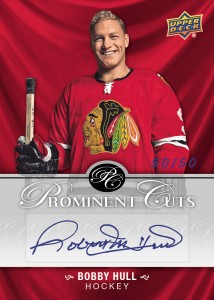 2016-17 Upper Deck National Autographs Checklist
PCA-AN Amanda Nunes Prominent Cuts /75
PCA-BH Bobby Hull Prominent Cuts /50
PCA-CM Connor McDavid Prominent Cuts /5
PCA-JT Jonathan Toews Prominent Cuts /25
PCA-MH Max Holloway Prominent Cuts /75
TSA-AD Anthony DeAngelo Top Shelf Rookie Auto /75
TSA-BM Brandon Montour Top Shelf Rookie Auto /50
TSA-MM Mitch Marner Top Shelf Rookie Auto /10
TSA-MT Matthew Tkachuk Top Shelf Rookie Auto /25
TSA-PB Pavel Buchnevich Top Shelf Rookie Auto /75
TSA-TD Thatcher Demko Top Shelf Rookie Auto /75
TSA-TM Timo Meier Top Shelf Rookie Auto /75
Stephen Laroche is the editor of Beckett Hockey, Beckett Basketball, and Beckett Sports Card Monthly magazines. Have a comment, question or idea? Send an e-mail to him at slaroche@beckett.com or follow him on Twitter @Stephen_Laroche.