Triple H, Stephanie McMahon Autographs Coming from Topps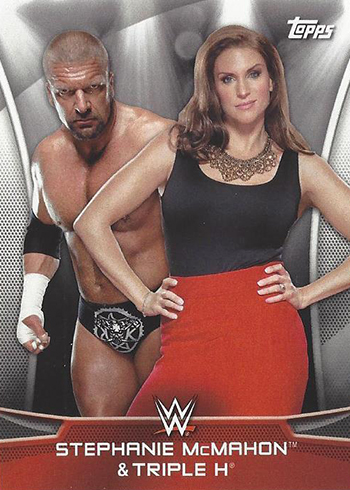 As far as wrestling cards go, Triple H and Stephanie McMahon autographs are some of the most elusive. With just three certified autograph cards between them, neither has signed in several years.
But that's about to change.
Topps has partnered with the couple to not only bring autographs to future WWE trading card products but to support Connor's Cure, a charitable fund focused on pediatric cancer research.
As part of the partnership, Topps is making a contribution to Connor's Cure. On August 21, the day after SummerSlam, a special Topps Now card will be released with Triple H and McMahon on it. Proceeds from the sales of the card, which is not signed, will be donated. Like other 2016-17 Topps Now WWE cards, this one will be sold on the Topps website for just 24 hours and printed to order.
Autographs from both will be included in upcoming Topps WWE products, although specifics have not yet been announced. They will also have live digital signatures in the Topps SLAM app.
Although both McMahon and Triple H are known largely for their on-screen roles over the years, the couple is among the WWE's top executives. McMahon is the company's Chief Brand Officer while Paul "Triple H" Levesque is the Executive Vice President of Talent, Live Events & Creative.
The two were inspired to establish Connor's Cure in memory of Connor Michalek, a young wrestling fan who passed away in 2014 due to cancer.
Until now, the lone Stephanie McMahon autograph card was released by Fleer back in 2001 WWF Championship Clash as part of the Divas Private Signings inserts.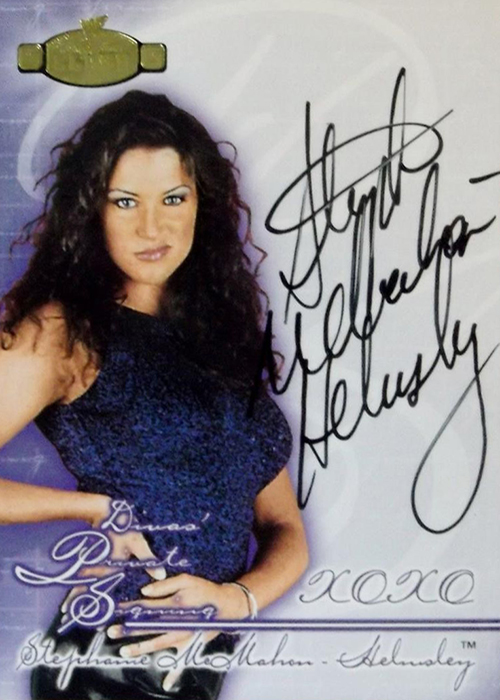 To date, Triple H also has just two certified autographs. The 2002 Fleer WWF All Access Off the Mat Autographs card is signed on a piece of ring canvas. A small number of autographs were also included in 2012 Topps WWE.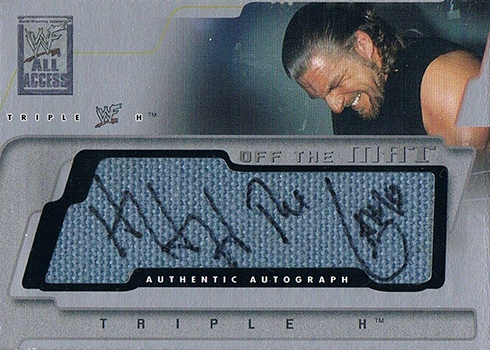 He was slated to have a couple more but redemptions from 2001 Fleer WWF Raw Is War and 2010 Topps WWE were not completed. Those sending in the Raw Is War card got the Off the Mat Autograph instead while the previously planned Topps autograph was replaced by a special John Cena autograph card.
Comments? Questions? Contact Ryan Cracknell on Twitter @tradercracks.