First look: 2011 Topps WWE trading cards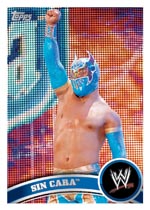 By Chris Olds | BSCM Editor
One of the WWE's newest talents is a high-flying Mexican luchador named Sin Cara, whose name translates to "faceless."
The latest pro wrestling release from Topps, which it unveiled Monday morning will be anything but that.
The 2011 Topps WWE set will include Sin Cara and plenty more inside its packs when it arrives in early September packing an autograph and an event-used Relic card into every 24-pack hobby box.
What else will be inside?
Oh, yeah, The Rock.
Read more — and see more images — after the jump.
How much of a presence will the former WWE champ-turned actor, Dwayne Johnson, have in his return to WWE cardboard? The autograph checklists are completely to-be-determined right now, but he does appear on the preliminary checklist for the base set as well as some insert cards.
Two autographed cards are shown among the product's teaser information, though, with an Alberto Del Rio autograph — his first — and a brotherly pairing of Cody Rhodes and Goldust on a dual.
As with the past two releases the brand will use the flagship Topps design that is seen on its MLB and NFL releases and the product also will include several parallel cards that will be seeded one per hobby pack. Among those are1/1 Reds, 1/1 Red Relics, 1/1 printing plates for both base cards and inserts and Gold parallels numbered to 50.
The base set will consist of 110 cards, a 50-card Topps Heritage insert set, a 25-card Electrifying Entrances set (oddly, a checklist lacking The Rock), 15 Prestigious Pairings, 10 Catchy Phrases, 20 Ringside Masterpieces, 25 Masters of the Mat and 15 Relics.
The Relic checklist will include "Stone Cold" Steve Austin, Randy Orton, The Miz, Sheamus, Wade Barrett, Santino Marella, Daniel Bryan and more.
Several of the WWE's relative newcomers will appear in the base set with many of the NXT competitors making debuts, while others include Alex Riley, Mason Ryan, Brodus Clay, Ricardo Rodriguez, Alberto Del Rio and Kaitlyn.
Chris Olds is the editor of Beckett Baseball. Have a comment, question or idea? Send an e-mail to him at colds@beckett.com. Follow him on Twitter by clicking here.