Awesome Inserts: 1997 E-X2000 A Cut Above
Baseball cards or flying ninja stars? One could argue the lines are blurred with 1997 E-X2000 A Cut Above.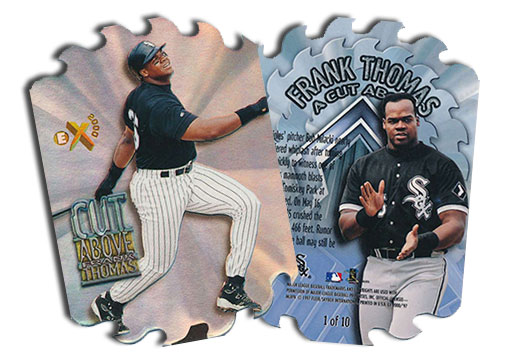 And that's a big reason why these inserts are awesome.
Taking die-cuts to extremes, the insert theme takes on a concrete form. All of the cards are cut to resemble a table saw blade. Holographic foil offers a metallic look, albeit one that's in line with the bold design trends that were taking place in the hobby at the time. But lots of sets use foil. Few have the sharp points and corners that 1997 E-X2000 A Cut Above has.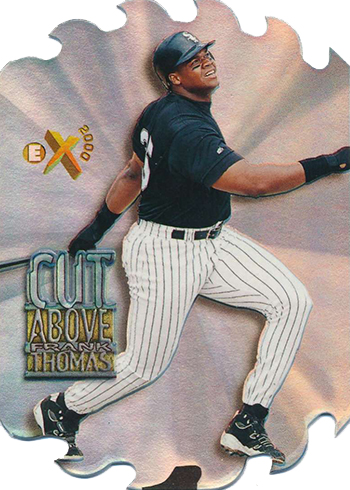 All these corners double as condition hazards, making it very easy to get a nick on at least one of them.
But that's only part of the story on why these cards remain standouts all these years later. One can't ignore their rarity. A Cut Above cards landed 1:288 packs. That works out to 1:12 boxes for any one card or 120 boxes to build the set (without getting any doubles).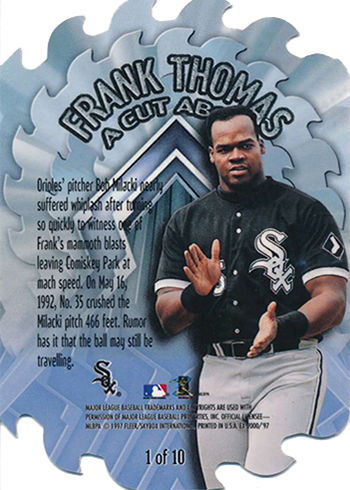 1997 E-X2000 Baseball was a high-end product when it came out. But rather than the autographs and memorabilia that dominate today's premium releases, most products back then were still largely set- and star-driven.
The ten-card checklist is dedicated to power hitters of the day. Top names today include Ken Griffey Jr. and Frank Thomas. But when you're talking sluggers from the late 1990s, steroids and PEDs come into play. Several players in A Cut Above have been either implicated directly or the subject of loud whispers on the subject. The likes of Barry Bonds, Alex Rodriguez and Mark McGwire are still popular in the hobby to varying extents but their place in history is also different.
Today, finding 1997 E-X2000 A Cut Above cards is tough. But that's understandable. Any 1:288 card from the 1990s was hard to find back then. Fast forward a couple of decades and most have long since been absorbed into personal collections or even forgotten about.
Thankfully, the set is fairly small. Piecing one together now probably won't happen overnight but a little patience and persistence should eventually pay off.
If you're interested in adding some 1997 E-X2000 A Cut Above inserts to your collection, here's what's currently available on eBay and the Beckett Marketplace.
1997 E-X2000 A Cut Above Checklist
Click on the links to see what's listed on eBay for specific cards.
1 Frank Thomas, Chicago White Sox
2 Ken Griffey Jr., Seattle Mariners
3 Alex Rodriguez, Seattle Mariners
4 Albert Belle, Chicago White Sox
5 Juan Gonzalez, Texas Rangers
6 Mark McGwire, Oakland Athletics
7 Mo Vaughn, Boston Red Sox
8 Manny Ramirez, Cleveland Indians
9 Barry Bonds, San Francisco Giants
10 Fred McGriff, Atlanta Braves
1997 E-X2000 A Cut Above Gallery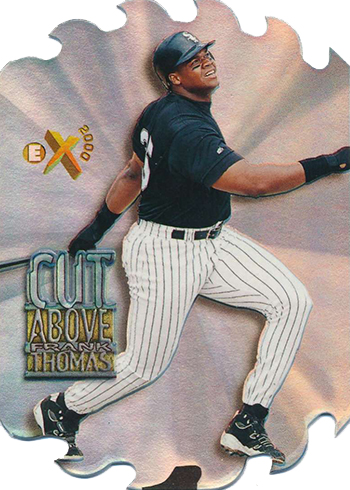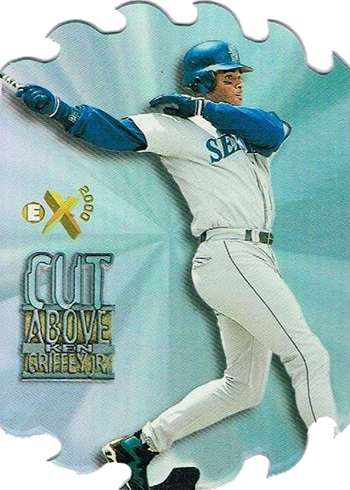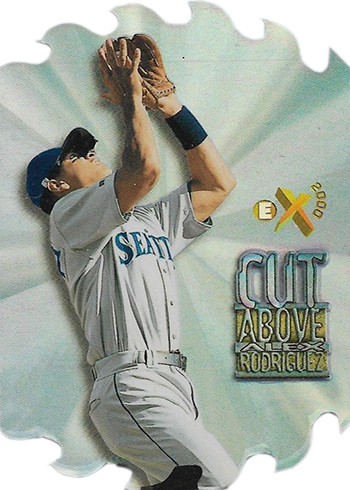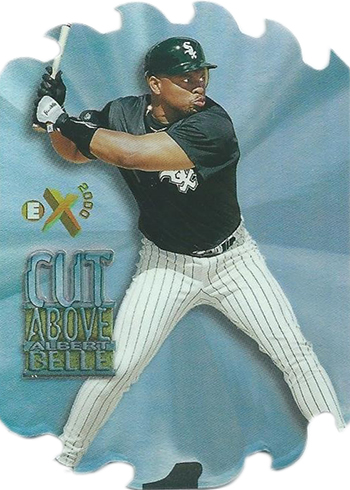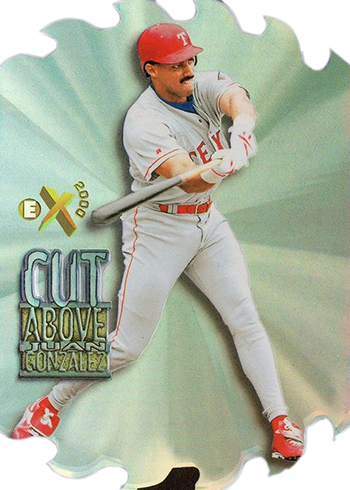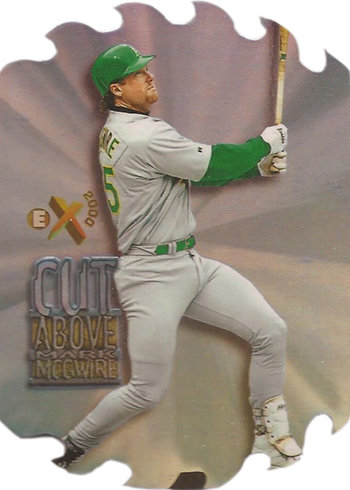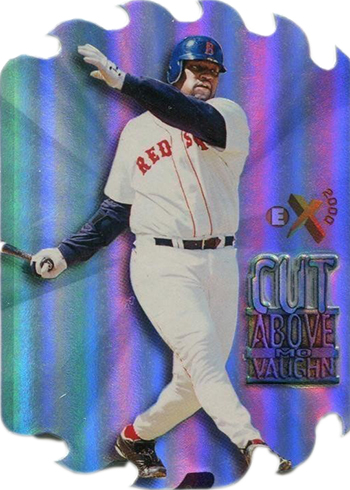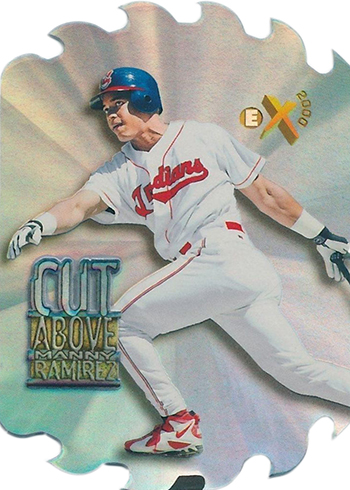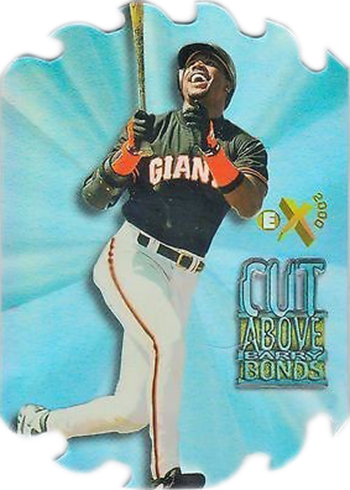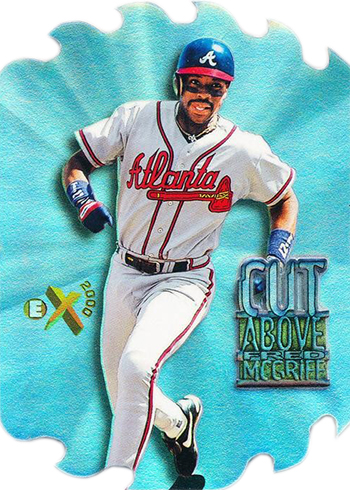 Comments? Questions? Contact Ryan Cracknell on Twitter @tradercracks.