Awesome Inserts: 1992-93 Topps Stadium Club Beam Team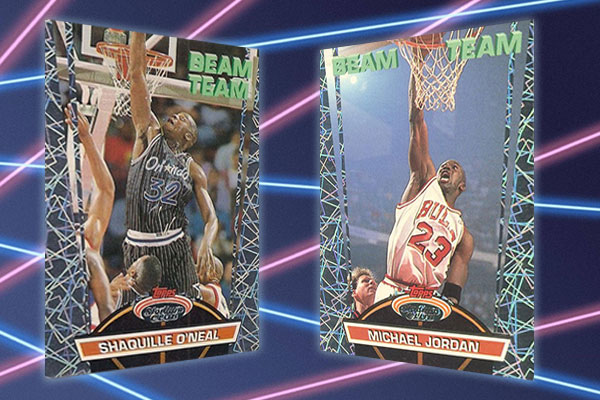 By Ryan Cracknell | Hobby Editor
Trading cards have a history of tying in with different things. We see it most often with food-issue releases and other oddball sets. But what about a laser show? That was the inspiration of 1992-93 Stadium Club Beam Team, one of the most popular basketball insert sets of the early 1990s.
Around the time the cards came out, Topps sponsored a laser show called "Beams Above the Rim." It ran six minutes but didn't include any Pink Floyd, one of the masters of early laser productions. Beams Above the Rim debuted at the All-Star Game before embarking on a multi-city tour to help promote the NBA.
If you're going to make a card set based on a laser show, there has to be some sort of connection. That comes through with the most distinct design feature on the cards, the light beams that make up the side borders. It's not nearly as fancy as some of the technological advances that would become common a few years later, but for the time, they stood out.
The 1992-93 Stadium Club Beam Team checklist has 21 cards, the most of which are very strong. Nine of the 12 members of the 1992 Dream Team are in the set. But it's the first and last cards that are the keys. Michael Jordan leads things off. At the end is Shaquille O'Neal. A rookie at the time, all of his 1992-93 cards were extremely hot back then.
Beam Team cards were included in Series 2 packs. Not the easiest to pull, they land 1:36 15-card packs.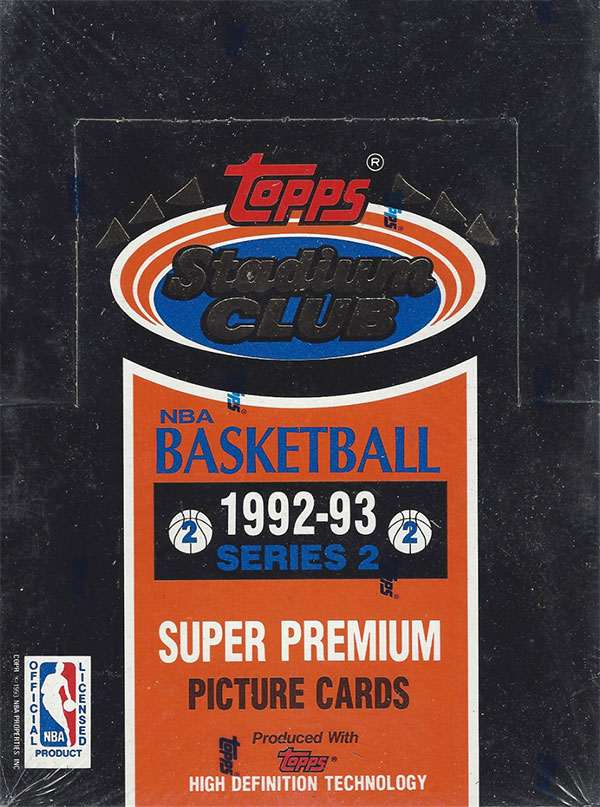 Values for the key 1992-93 Stadium Club Beam Team cards have held up. While some of the lesser names can be found for a couple of dollars, Jordan and O'Neal are much more.
All 21 cards have Members Only parallels that were exclusive to a special factory set. The print run was 10,000 copies with the only noticeable difference being a hard-to-see "Members Only" stamp on the front.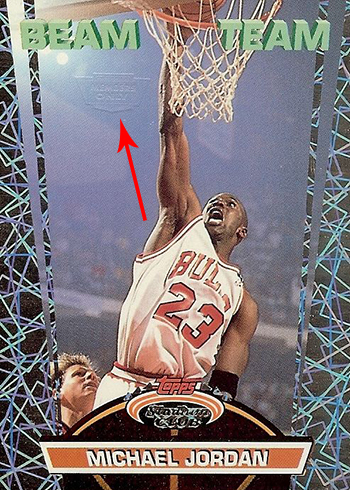 1992-93 Topps Basketball has it's own set of Beam Team cards. These have three players on the front and aren't nearly as popular today.
The Beam Team became synonymous with Stadium Club. It stuck with the brand, reappearing several times over the years and branching out into other sports. But none are as popular as the one that started it all, 1992-93 Stadium Club Basketball.
Looking to add some 1992-93 Topps Stadium Club Beam Team cards to your collection? Here's what's currently listed on the Beckett Marketplace and eBay.
1992-93 Topps Stadium Club Beam Team Checklist
Click on the links to shop for specific cards on eBay.
1992-93 Topps Stadium Club Beam Team Gallery
Comments? Questions? Contact Ryan Cracknell on Twitter @tradercracks.